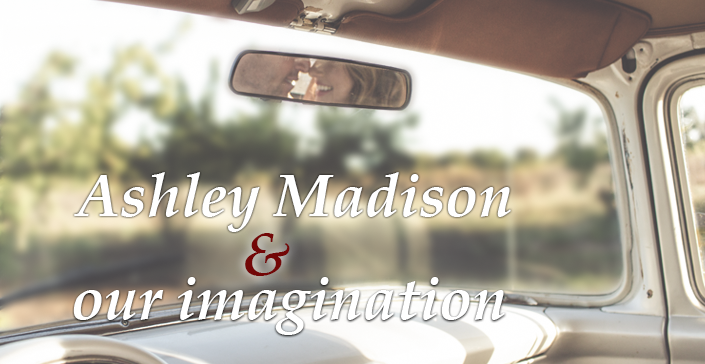 There was a data breach on the Ashley Madison (Life is short. Have an affair.) website. User information was exposed. Some of those users were church pastors and leaders. Are you one of those individuals? Do you know someone that had a user account on the website? How do we respond? How do we not fall into deceptive traps? How do we remain above reproach? Let's take a look at four Biblical principles that help, comfort, instruct and address these questions.
FIRST, USING GOD-GIVEN ABILITIES IS NOT WRONG.
It is not wrong to imagine. It is not wrong to express emotions. God, when forming us, created within each person the ability to imagine, to think, to express feelings. God stated that His creation of man and woman was very good thus the ability to imagine or use other faculties that make us human is a correct and proper function.
To say that something is "good" is to state that it is correct and proper. It is good that an apple tree produces apples. It is not good that an apple tree produces pears because that is not correct or proper in God's established natural order (Genesis 1:11).
Now, sin through Adam, entered the world continually corrupting the good use of these abilities (Romans 5:12). So, how we use our imagination or feelings in a given instance determines its intrinsic value. Raising the question: Is this particular imagination, fantasy or emotion honoring or dishonoring the statutes of God?
In the case with Ashley Madison, an individual imagined a service to encourage illicit relations as expressed by the company's slogan, "Life is short. Have an affair." A byproduct of this improper use of imagination yielded a website that promotes activities that are against the natural order of relations between married couples as established by God (Hebrews 13:4).
WHAT IS A PROPER USAGE OF OUR IMAGINATION?
A correct usage of this function is found with Jesus who often engaged the process of imagination. This is seen in the parables as they relate to the everyday life and circumstances of the people. As Jesus is setting the scene for the good samaritan one can imagine traveling and its difficulties and dangers (Luke 10:25-37). This allows an individual to imagine the scenario and what they might do in the given situation in contrast to Christ's actions.
Simply put, when the imagination causes a desire within us to delve deeper into knowing our Lord and Savior, we then are using it as God purposed.
Or as Jonathan Edwards states: "Natural imagination embraces nothing unless the soul through faith first embraces God. Only then is the imagination sanctified."
WITH AN UNDERSTANDING OF THE PROPER USE OF OUR GOD-GIVEN ABILITIES, WHAT HAPPENS TO THOSE THAT SINNED BY USING THE SERVICES OF ASHLEY MADISON?
This brings us to our second point. God's grace and mercy reigns. Galatians 6:1 "Brothers, if anyone is caught in any transgression, you who are spiritual should restore him in a spirit of gentleness. Keep watch on yourself, lest you too be tempted."
Ashley Madison website detracted many people as they engaged with the services provided by the company. We, as believers, too often begin to criticize in a prideful manner. How could that happen? I would never do that (fill in the blank). Is he even a Christian?
Yes, sin was committed. Ed Stetzer estimates that about 400 church leaders will be resigning as they had accounts on the Ashley Madison website. Repentance is needed in each individual.
Those of us in position to help, should follow Galatians 6:1 and restore these individuals in a spirit of gentleness while keeping watch on our own behavior.
Remember, David, a man after God's own heart, had an affair and then committed murder to cover up his actions (2 Samuel 11:1-27). Lot slept with his two daughters (Genesis 19:30-38). Judah slept with a prostitute (actually his daughter-in-law: Genesis 38:1-20). Peter said he would never deny Christ. Yet he did (John 18:15-27).
These examples do not justify or rationalize the sinful actions of the church leaders. Rather, these Biblical predecessors are a reminder that God's grace and mercy reigns to those with a repentant heart. Also, these events are a humble warning to evaluate our actions so we do not fall into a trap of deception.
HOW CAN WE KEEP OURSELVES FROM FALLING INTO THE TRAP OF DECEPTION?
By looking at our third point: Taking our thoughts captive. 2 Corinthians 10:5 "We destroy arguments and every lofty opinion raised against the knowledge of God, and take every thought captive to obey Christ."
We live in a time and age reminiscent of 79 A.D. with the exuberance, extravagance, lewdness of the Roman city of Pompeii. Visual stimulation or "eye candy" is prevalent throughout our society in movies, TV shows, music, magazine covers, billboards, ads, Super Bowl half-time shows and the list continues.
We are continually under the bombardment of marketing that tells us what we need, how we should dress, what is "sexy" and what makes us happy.
More than ever, we need to take these thoughts, and messages that enter our brains captive and bounce them off God's Word. Discarding what is vile and keeping what is holy and righteous in the sight of God (Philippians 4:8).
FINALLY, BE ABOVE REPROACH.
Philippians 2:15 "… that you may be blameless and innocent, children of God without blemish in the midst of a crooked and twisted generation, among whom you shine as lights in the world …"
Our actions, words and interactions with people should stand apart from the rest of the world (Romans 12:2).
Make no mistake, I do not have everything under control living a life without temptation, trials and failures. I am a web developer living in Southern California. That is an automatic double whammy in an area that is difficult for me — lust. Continually, I need reminding of Romans 13:14.
Instead, this article is a humble reminder that regardless of your sin and actions God loves you and His outstretched arms are reaching for you this very moment.
Repent, confess, establish accountability partners, and be reminded that God died for your past, present and future sins (James 5:16). Battles might be lost here or there but remain faithful in God, eliminate stumbling blocks, get up and continue forward helping others and encouraging others in a spirit of gentleness.
Remember, the war is already won (John 16:33)! Let us walk as new creations abiding in His Word and using our imagination to delve deeper into a relationship with our King, Jesus Christ (2 Corinthians 5:17).