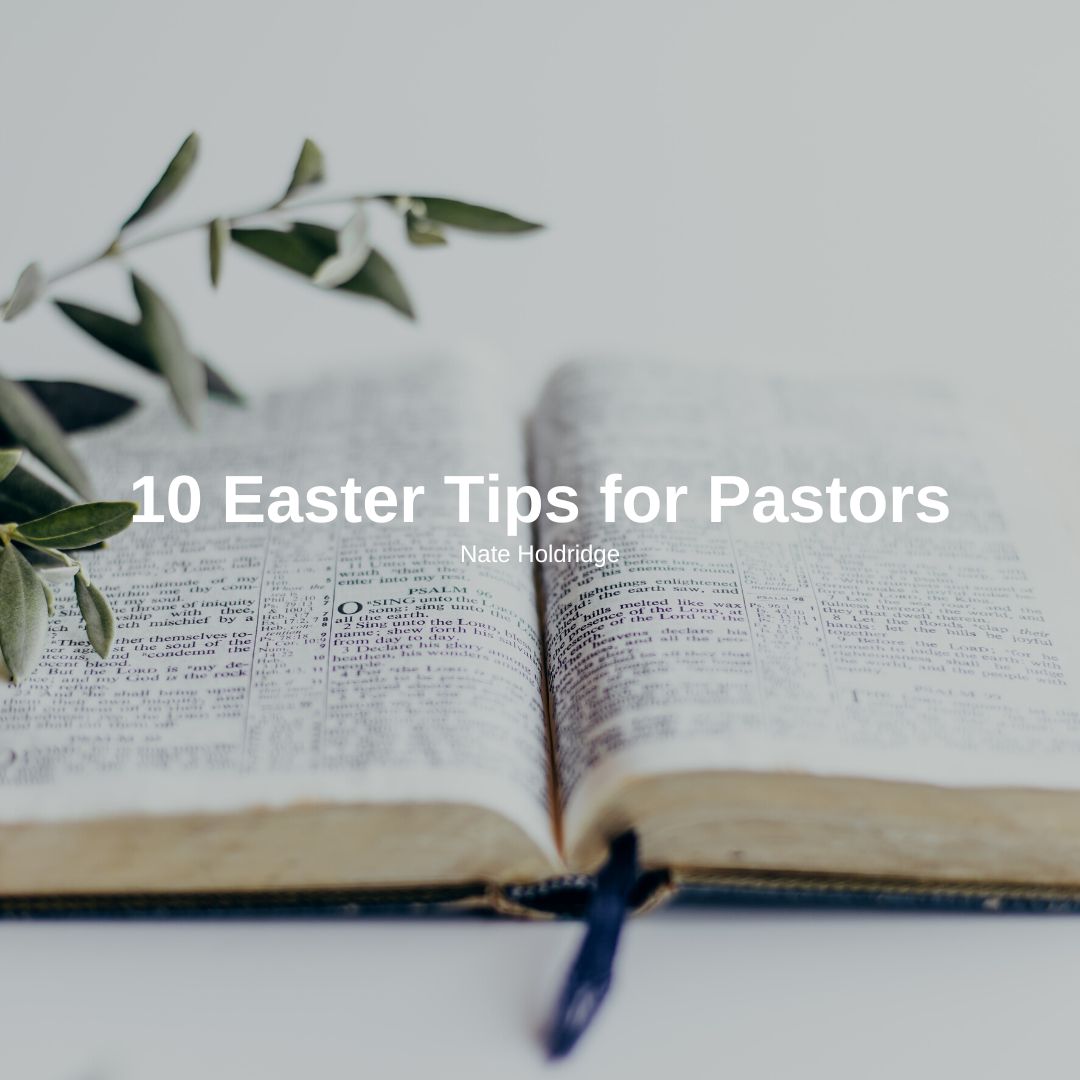 My first Easter as pastor of Calvary Monterey, I preached from John 20, and someone put some flowers in front of the pulpit—and that was as elaborate as it got back then. Nowadays, the run-up to Easter is tons of work, and the week itself is jam-packed with activity. Our Good Friday services have developed into a significant part of our church calendar, and Easter Sunday is our largest gathering of the year. Over the years, I have learned a lot about myself and how I best work through such a busy and blessed time, so here is some advice I would give to other pastors.
1. Keep Your Message Simple
It is tempting to think your Easter message has to be the most powerful message you have ever delivered. You might also feel you need to be creative or especially engaging on that day. You might find yourself frustrated with finding your unique "angle" or "take" on the resurrection, one that will surprise or delight your hearers. But all these temptations and feelings ought to be resisted, for it never gets old to hear the straightforward message of Christ's death, burial, and victorious resurrection. There are plenty of texts from which we can boldly declare Christ's victory and the power of the empty tomb. Let us clearly and passionately tell everyone in attendance how amazing Christ is for conquering sin and death. No flashiness required.
2. Fight for Margin
The lead-up to Easter has a lot of additional pressures and responsibilities attached to it. For me, beyond the preparation of the Good Friday and Easter Sunday messages, there are a million little responsibilities I need to take care of that week. Some of them are for the church, while others are for my family. For instance, for years our family has hosted a Sunday afternoon Easter party at our home, sometimes with around fifty people in attendance. You can imagine the work connected to hosting that many people. Moreover, on top of all the responsibilities of the week, throw in that I have been known to change my Easter message on Saturday night, and the week quickly becomes a monster. Knowing this, I try to strip my calendar of absolutely everything that does not need to be there that week. Margin and calendar flexibility are my friends the week running up to Easter.
3. Be Yourself
I am a pastor-teacher, and though I strive to do the work of an evangelist, I have never felt myself to be a little Billy Graham. But when Easter rolls around, I can feel pressure to become something that I am not. Inevitably, this leads to feelings of inadequacy. I have even wondered if I should ask other people to teach instead of me on Easter. But Easter is a time of great joy and rejoicing, and the people of the church would like to hear from their pastor on that great day. I have learned to be myself on that day, teaching and preaching as I usually would, with a special focus on the resurrection of Christ.
4. Don't Trip, Evangelize
One thing I have never gotten comfortable with on Easter is the fact that the church will swell in size on that particular day. As I consider the swell, I know it is due to a few factors. For one, most of the regular church will attend on Easter, as people work hard to rearrange their calendar to get to church on that day. So, a higher percentage of our church will be there. Secondly, they will sometimes invite others to attend services with them. Sometimes those folks know the Lord, and often they do not. Thirdly, there are bound to be people who have decided to attend church once or twice a year, and Easter is one of the days they visit. Finally, there will be some who do not know the Lord but who have seen a flyer or an invite and actually come!
The pastor in me wants to rejoice with the flock over the resurrection. The teacher in me wants to instruct the casual attendee on the importance of regular church engagement. The evangelist in me wants to share the gospel. And the prophetic part of me wants to rebuke those who have known better than to attend church once a year.
However, I work hard to get past negative feelings that come from myself, not the Lord, so that I can joyfully and passionately talk about my Lord and his victory to everyone who is there on that day.
5. Make It Special
Do not feel bad about making something special out of Easter Sunday. We know the Lord is risen 24/7/365, but it is a joy to remember and declare his resurrection in a special way on that day. We do not need to make an idol of it or kill ourselves trying to go beyond our abilities, but it is okay to put our best foot forward on that day. Some churches will want to (or need to) host a large family-style service at an alternative venue. Others will want to make their services look and feel like a typical Sunday but with appropriate decorations, food, music, hospitality, and message. We have done both at our church, and I think either is a win for various reasons. Just don't be the guy who continues his exposition of Ecclesiastes on Easter Sunday. Give the people the resurrection of Christ!
6. Schedule Recovery Time
Easter week is tiring for me. I will typically have to spend a good deal of my free time prepping messages from my house, and then the actual weekend is a bunch of work as well. For that reason, I try to pencil in a little bit of additional recovery time. With multiple services on a regular Sunday, I need a little recovery time anyhow, but the week after Easter weekend, my body's recovery will be exactly one day behind (i.e., on Tuesday I will feel like I usually do on Monday). My spirit and soul will also need some recovery, as much giving for the Lord needs to be replaced with receiving from the Lord. I need to remember this annually. On Monday morning, for instance, after sleeping in as long as possible, I enjoy listening to another pastor's Easter message so that I can personally drink in the joy of the resurrection.
7. Prepare for Changes
Since the Good Friday and Easter messages are different, I often do not know in advance exactly which Bible texts I will teach. And, it is not uncommon for me to think I have locked onto a passage, only to find another later on that I would rather share. I feel as wishy-washy as Charlie Brown on Easter week sometimes. One Easter, I changed my entire text and message during the opening worship time. This is so different from my normal week of preparation because, as an expositor, I am always preaching and teaching the next passage in whatever book of the Bible our church happens to be studying.
Because Easter week is so different, I have made a couple of helpful decisions to aid my preparation. For one, since I routinely preach the cross of Christ, I have decided to retell the passion week of Christ during our Good Friday services. It is one of my favorite church services of the year, and the message is very different from what I usually do. I work hard to memorize the harmony of every event (from Tuesday night, when Mary broke her alabaster flask, through the Friday burial) and then retell the story in my own words. This decision has been both a blessing to the church (because we love to hear about what Jesus did for us) and myself (because, though it takes work to prepare for, at least I know what I will be teaching when I head into the week). Secondly, I give myself some study prep time for the Easter message on the trail. In other words, I like to schedule some time to hike in the woods so that I can talk to God about the Easter message.
8. Breathe, Bro
It is easy, especially when you are first starting out in pastoral work, to get overly amped during the Easter message. After all, the band is rocking, the people are singing, and the house is full! But slow your roll. Calmly tell the people of Christ, and allow the goodness of the message to be the thing that stokes the fires of your heart. As you speak, unlocking the truths of the resurrection for the church, you will naturally become more impassioned and fiery. However, it will not be because of the crowds but the cross that you are fired up.
9. Lead Well
Leading up to Easter, in various ways for various churches, you will be required to lead well. Preparations for some churches must be made a year out (example: renting a large auditorium). Other arrangements will happen the week of. But whatever the state of the church you are part of, serve them well by leading well. In advance, point whatever team you have towards strong Easter services. Your voice and guidance will help them gain balance when it becomes too big of a deal. Your insights will help them think through who will be there on that day. Your encouragement will go a long way in their creativity and planning. Lead!
10. Rejoice!
Remember, Jesus Christ died on the cross for you. He rose from the dead and brought you life! We ought to rejoice over this every day of our lives, but Easter week is a great opportunity to take some time to recall this joyful truth. Celebrate Jesus. Do not neglect your personal joy for what he has done on this week. "Let the redeemed of the LORD say so, whom he has redeemed from trouble" (Psalm 107:2 ESV).