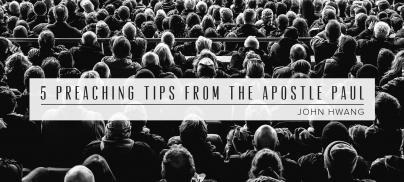 Preaching is the act of proclaiming God's word to people. In evangelism, it announces God's good news about Jesus and His salvation. In edification, it nourishes, encourages, and equips. Preaching is the Church's responsibility and privilege.
Homiletics is "the art of preaching." The word "homiletics" comes from a Greek word that means, "to assemble together." It aims to provide principles and methods for clear and effective preaching. Having said this, I understand that what we learn in homiletics is only as good as its source. If it is taught without an emphasis on the Bible, then preaching is reduced to human ideas and opinions. If it is taught without an emphasis on the Holy Spirit, then preaching is reduced to lifeless and powerless oration. People who desire to become better equipped in their calling as preachers need a good source of instruction. With this in mind, I have found the Apostle Paul to be a good teacher.
Paul dedicated over 30 years of his life to proclaiming the Gospel in the world and teaching Christians how to live and serve like Jesus. He did this humbly and passionately. He maintained clear objectives, and he emphasized godly character and integrity in his preaching. 2,000 years later, the Church and the world still feel the impact of his preaching. More than this, God continues to be glorified in it. Paul is a good source to learn homiletics from.
As can be expected, we can generate a long list from Paul's example of preaching –a list too long for this article–since space and time is limited. I will, however, make mention of five.
1. PAUL PREACHED CHRIST
Paul wrote, "HIM we proclaim" (Col. 1:28). This is "HIM-iletics." In his letters alone (excluding "Hebrews"), "Jesus" appears 213 times and "Christ" 375 times. The focus of his preaching was not history, science, politics, or pop culture. It was Jesus Christ – God in human flesh: holy and righteous, sacrificed and risen, ascended and exalted. In the same way, we must emphasize and exalt the Lord Jesus, looking for Him in the Scriptures and proclaiming Him in our preaching.
2. PAUL PREACHED THE SCRIPTURES
Paul charged a young pastor named Timothy, "Preach the word" (2 Tim. 4:2). Paul's preaching was Biblical. He expounded Old Testament Scripture. He explained New Testament doctrine. He believed the Bible to be God's inspired, infallible, converting, sanctifying, edifying, equipping, and sustaining Word and proclaimed it as such. He was unashamed of it and relentless in proclaiming it. Is this true about you and me? We must preach a Biblical Gospel, expound Biblical texts, and communicate Biblical truth.
3. PAUL PREACHED IN THE POWER OF THE HOLY SPIRIT
Writing to the Church in Thessalonica, Paul testified, "Our gospel came to you not only in word, but also in power and in the Holy Spirit and with full conviction" (1 Thes. 1:5). Paul's preaching was not limited to human wisdom and eloquence. In fact, it was the opposite, "And I, when I came to you, brothers, did not come proclaiming to you the testimony of God with lofty speech or wisdom" (1 Cor. 2:1). His preaching was marked by the power of the Holy Spirit, "My speech and my message were not in plausible words of wisdom, but in demonstration of the Spirit and of power" (1 Cor. 2:4). Without the Holy Spirit in preaching, people are left with sermons that inform and reform, but do not transform. We must make it a priority to seek God for the presence and power of His Spirit in our preaching.
4. PAUL PREACHED WITH A CLEAR CONSCIENCE BEFORE GOD AND PEOPLE
The character of the messenger either validates or discredits his message. How a preacher lives will determine how people will receive his preaching. Paul understood this. For this reason, he paid careful attention to maintaining a clean and clear conscience before God and people. He declared, "I always take pains to have a clear conscience toward both God and man" (Acts 24:16). Also, "We give no offense in anything, that our ministry may not be blamed. But in all things we commend ourselves as ministers of God"(2 Cor. 6:4). His life authenticated his sermons; his sermons overflowed from his life. We too must not neglect this part of our sermon preparation (Ezra 7:10). We need to attend to our character and integrity as Christ's representatives that hold forth God's Word to others.
5. PAUL PREACHED WITH A LOVE FOR GOD, AND A COMPASSION FOR SOULS
Paul preached, because he loved God, "Just as we have been approved by God to be entrusted with the gospel, so we speak, not to please man, but to please God who tests our hearts" (1 Thes. 2:4). Paul preached because he cared for the souls of people, "Being affectionately desirous of you, we were ready to share with you not only the gospel of God but also our own selves, because you had become very dear to us" (1 Thes. 2:8). Do we love God and care about others in our preaching? Do we aim to please God? Do we ache for Christ-less and condemned souls? Do we yearn for the progress and perseverance of God's people? If not, we need to pray for more of Jesus's heart to be conformed within us. When this happens, we will proclaim more than God's truth: We will transmit God's heart, "I will give you shepherds according to My heart, who will feed you with knowledge and understanding" (Jer. 3:15). This is God-praising and God-pleasing preaching.
As I write this, I have more than 25 years of preaching behind me. Looking ahead, Pauline Homiletics continues to challenge me and help me to become a better communicator of Christ and His truth. I never want to stop being challenged. I never want to stop learning. May God continue to shape us into God-exalting, Christ-centered, and Holy Spirit-empowered preachers. Amen and amen.