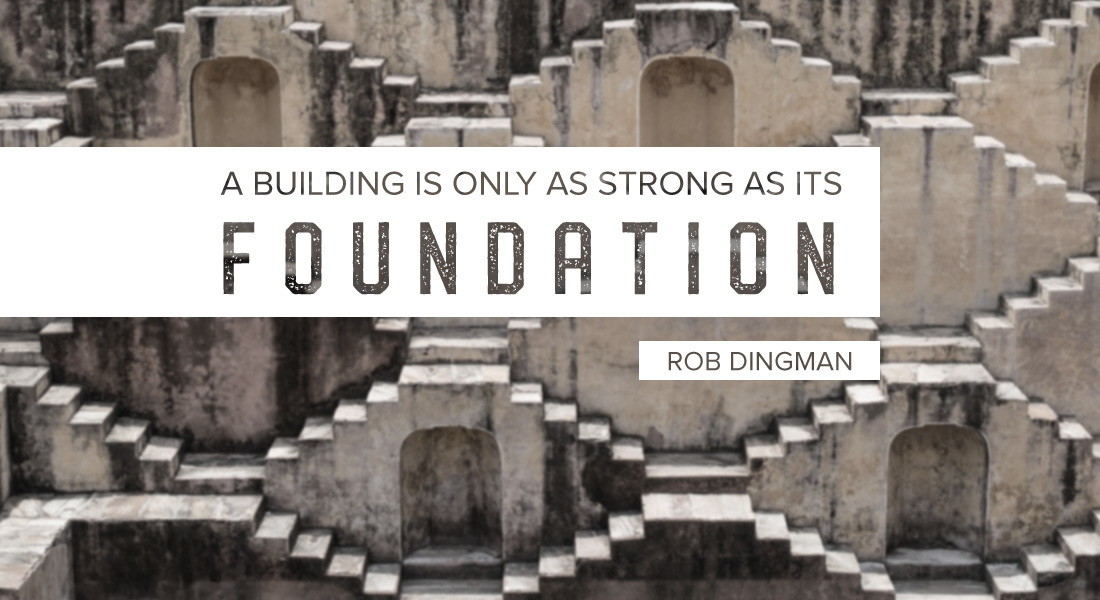 A building is only as strong as its foundation. The walls can't even support its own weight. But when that weight is transferred to the foundation, the whole building is stable.
I learned this as I meditated through Psalm 55:22: "Cast your burden upon the Lord, and He will sustain you; He will never allow the righteous to be shaken."
As I looked up words and studied this passage, I learned first that the word "burden" was used here only, not repeated anywhere else in the Old Testament. It means literally, "that which is given." I asked myself, What is given? Who gives it?
I realized that God is the one who gives, and He gives a person all there is to do with that person.
He gives life and existence. He gives gender and nationality. He gives health or lack of it. Height, weight, potential, ability, gifting, lack of gifting, weaknesses, strengths, status, opportunities, difficulties, setbacks, perplexing times, light and dark. Everything connected with our lives do not originate with us but from Him. "John answered and said, 'A man can receive nothing unless it has been given him from heaven'" (John 3:27). Like a standing wall, I cannot bear my own weight. I don't have stability. My own burden overwhelms me at the slightest tremble. I am a house of cards.
The Lord says, He actually commands us, to cast our burdens onto Him, and He will sustain us.
Transmit the weight of all that He has given you upon Him, all of it. Strengths as well as sins. Money as well as debts. Health as well as sickness. ALL of you. And He will bear up, carry, take the load. Stability comes from God taking upon Himself our burden. Isn't that presumptuous of us to dump all our baggage on God and expect Him to deal with it like a cosmic bellboy? Crazy enough, He has always intended to carry our burden.
"Bel has bowed down, Nebo stoops over; their images are consigned to the beasts and the cattle. The things that you carry are burdensome, a load for the weary beast. They stooped over, they have bowed down together; they could not rescue the burden, but have themselves gone into captivity. 'Listen to Me, O house of Jacob, and all the remnant of the house of Israel, you who have been borne by Me from birth and have been carried from the womb; even to your old age I will be the same, and even to your graying years I will bear you! I have done it, and I will carry you; and I will bear you and I will deliver you (Isaiah 46:1-4).
God made us to cast our burden on Him. It is perverse that we avoid what He expects us to do. Perverse as I am, I found myself objecting to the conclusion of the verse: He will never permit the righteous to be shaken? Can that possibly be true? I get shaken all the time! Have you ever felt like the promises are for everyone but you? That you're the exception?
As I considered and blew off some steam, I was reminded of Hebrews 12:27: "This expression, 'Yet once more,' denotes the removing of those things which can be shaken, as of created things, so that those things which cannot be shaken may remain."
And there is my answer: I might get shaken, but it shows where I am putting my trust. If I am trusting in something other than the Lord, that created thing cannot bear the burden; it will crumble and shatter. And when it does shatter, I cry out, "Lord! Help me!," and He does. I learn by valuable experience how foolish it is to trust in anything but the uncreated Lord. And then it happens all over again, in a different part of my life, more shaking, more abandoning of misplaced trust, more repentance and trusting in the Lord.
It is righteous to cast our burden on the Lord. It is unrighteous to not leave it with Him.
When does it end? When my life and all that I am has been fully cast upon the Lord, and all the crumbly dirt, rock, chaff and dross has been shaken and removed; and my life is founded on the unshakeable. What is left is eternal, more precious than gold, a foundation encrusted with rubies and precious stones, that nothing can shake.
Nothing lost in the process is worth keeping. That which remains is valuable beyond price. The Prince of Peace rules there, and great is His peace.
"Therefore, since we receive a kingdom which cannot be shaken, let us show gratitude, by which we may offer to God an acceptable service with reverence and awe; for our God is a consuming fire" (Hebrews 12:28-29).