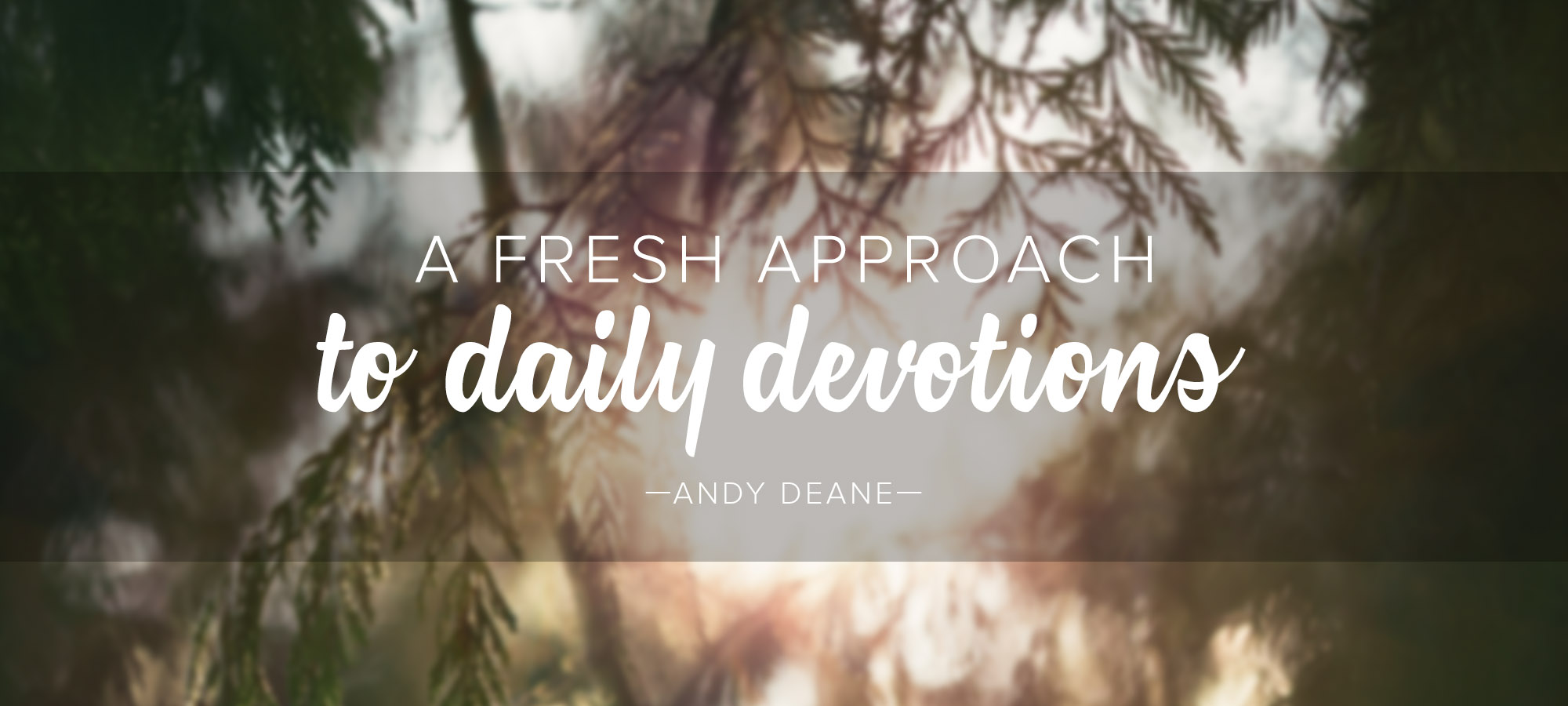 It may be necessary to vary daily devotionals to preempt the inevitable rut that ensues from a consistent routine. It's important to maintain daily reading of Scripture, prayer and other key aspects that ground the quiet time routine, but it doesn't hurt to shake up the method. The following is my favorite routine to date because it is utterly simple and almost impossible not to enjoy:
1. Buy a new Bible before starting a new routine.
You may struggle with the idea of parting with the Bible you've used for years, but a fresh start enables you to look at a passage without depending on your previous underlines and notes. Familiarity may bog new perspectives God wants to give. But if you aren't willing to get a new Bible, use a contrasting color pen or highlighter to differentiate from your previous markings.
2. Read one to four chapters of the Bible each day.
A chapter a day gets you through the whole New Testament in less than a year, but four chapters a day gets you through the whole Bible. I prefer to rotate my readings by alternating one Old Testament book followed by one New Testament book. For example, I start in Genesis and then read Matthew. Then I'm back to Exodus before moving on to Mark. This balances the readings throughout the year so that by the time the New Testament is finished, there is only the Minor Prophets left in the Old Testament.
3. Underline one verse for each chapter.
Choose the verse that impacted you the most and underline it. Restrain yourself to only choosing one verse per chapter. Why? This forces you to meditate more effectively on the passage. This rule may be a struggle when reading Leviticus, and there isn't a single verse you like—or when you are in Matthew 5 and want to underline the whole chapter—but limit yourself to one verse alone for this method.
4. Circle your favorite verse for the entire book.
After you've finished reading the entire book, take some time to go back and review each verse you underlined in every chapter. Decide which of these verses is your favorite verse of the entire book. This is helpful in slowing us down to consider the Scriptures thoroughly. On the title page of that book, write down the verse reference, so you'll always know which verse was your favorite just by turning to the first page of that book of the Bible.
5. Journal your reasons for each chosen verse.
For each verse you underline, pause and write one to three sentences in a journal about why you appreciated that passage. It'll only take a few extra minutes for each chapter, but it will help you remember your time with God. Close with a time of prayer based on what you've been meditating on that day.
After you've read the whole Bible using this method, you'll have 1,189 favorite verses underlined (one from each chapter) and 66 all time favorite verses (one from each book). You'll also have significant insight from the correlated passage in your journal. When you hear others speaking about Scripture, you can open your journal and join in the conversation. Imagine asking your friends what chapter they read for their devotions and always having something to encourage them with from that same chapter!
If you enjoyed this technique, you can always read your Bible a second time through, using a different color pen or highlighter to repeat the process—this time choosing a different verse. This is a simple but fruitful way to study the Scriptures, and I hope you enjoy it too.