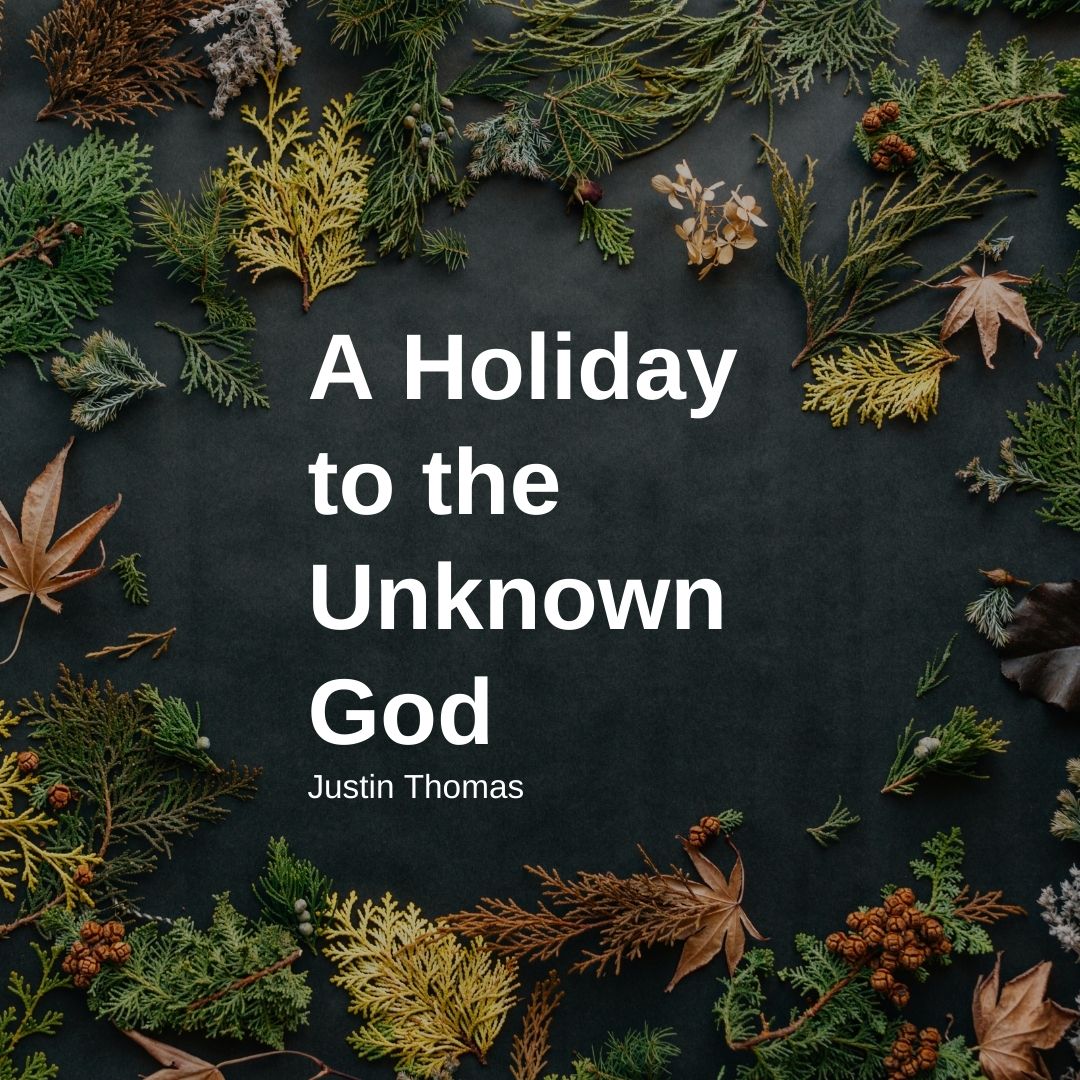 "What therefore you worship as unknown, this I proclaim to you." (Acts 17:23)
So begins Paul's address to the educated crowd at the Areopagus in Athens. He had discovered an altar established for an unknown God within the city, and he used that as an opening to share the good news about Jesus. This Thursday, as we gather with our families to celebrate Thanksgiving, we have a similar opening. For many of our family members, Thanksgiving is a holiday to an unknown god.
Thankful to Whom?
Regardless of religious background, many of us will take turns around the table and sharing what we are grateful for without considering who we are grateful to. The act of giving thanks is a relational gesture, and it implies a giver. Thanksgiving (Gk. eucharistia) is a response to giving (Gk. charis). To say thanks is to say thank you. Paul would recognize this as an open door. An opportunity to ask, could I tell you about the one you thank?
We can tell them about "the God who made the world and everything in it" who "gives to all mankind, life and breath and everything (vs. 24-25). To another crowd, Paul proclaims him as the one "who did good by giving you rains from heaven and fruitful seasons, satisfying your hearts with food and gladness" (Acts 14:17) and how he has done all of this so that all people, "should seek God, and perhaps feel their way toward him and find him." (Acts 17:27)
We can tell them about how humanity collectively, although deep down they know these things, has failed to honor God, or give him thanks and how rejecting such truths has made us vulnerable to lies and idolatry. (Rom. 1:21-22) For if we do not worship the Creator, worshiping created things is all that is left.
Black Friday
This ungratefulness and idolatry are not hard to illustrate. It can be easily seen in what follows our Thanksgiving celebration: Black Friday. What could make our gratitude more questionable than our actions the next day (and increasingly, Black Friday is encroaching on Thanksgiving Thursday)? Because we can't be satisfied with the giver and content in his gifts, we fight tooth and nail for the latest and greatest, trying to fill the void. Without true Thanksgiving, the feasting isn't enough to satisfy … barely enough for a single day.
Of course, we haven't even gotten to the good news yet: that the God we are introducing is gracious even to the ungrateful (Luke 6:35) and that his greatest gift is the Son he sent to save our selfish world. God's response to our making gods in our image was, as God, to come in the image of man. His life, death, burial, and resurrection bring freedom where there is slavery and life where there is death. This greatest gift produces the greatest gratitude. That is why when Christians remember what Jesus did for us, we call it the Eucharist (Thanksgiving).
A Life Defined by Thanksgiving
The Christian life, the response to God's great gift, is defined by thanksgiving. It is the earmark of Christian speech (Eph. 5:4). For we give thanks always and for everything (Eph. 5:20) and in every circumstance (1 Thess. 5:18). Whatever we do, in word or deed, we do in the name of Jesus and with thanksgiving (Col. 3:17). Our very lives are lived as a sacrifice of thanksgiving, responding to God's great mercy (Rom. 12:1). Even our desire to share with our family about this unknown God flows from a place of thanksgiving. We invite them to turn their "thanks" into "thank you" and join with all who say:
"I will give thanks to you, O LORD,
for though you were angry with me,
your anger turned away,
that you might comfort me.
"Behold, God is my salvation;
I will trust, and will not be afraid;
for the LORD GOD is my strength and my song,
and he has become my salvation.
"Give thanks to the LORD,
call upon his name,
make known his deeds among the peoples,
proclaim that his name is exalted.
"Sing praises to the LORD, for he has done gloriously;
let this be made known in all the earth." (Isaiah 12)