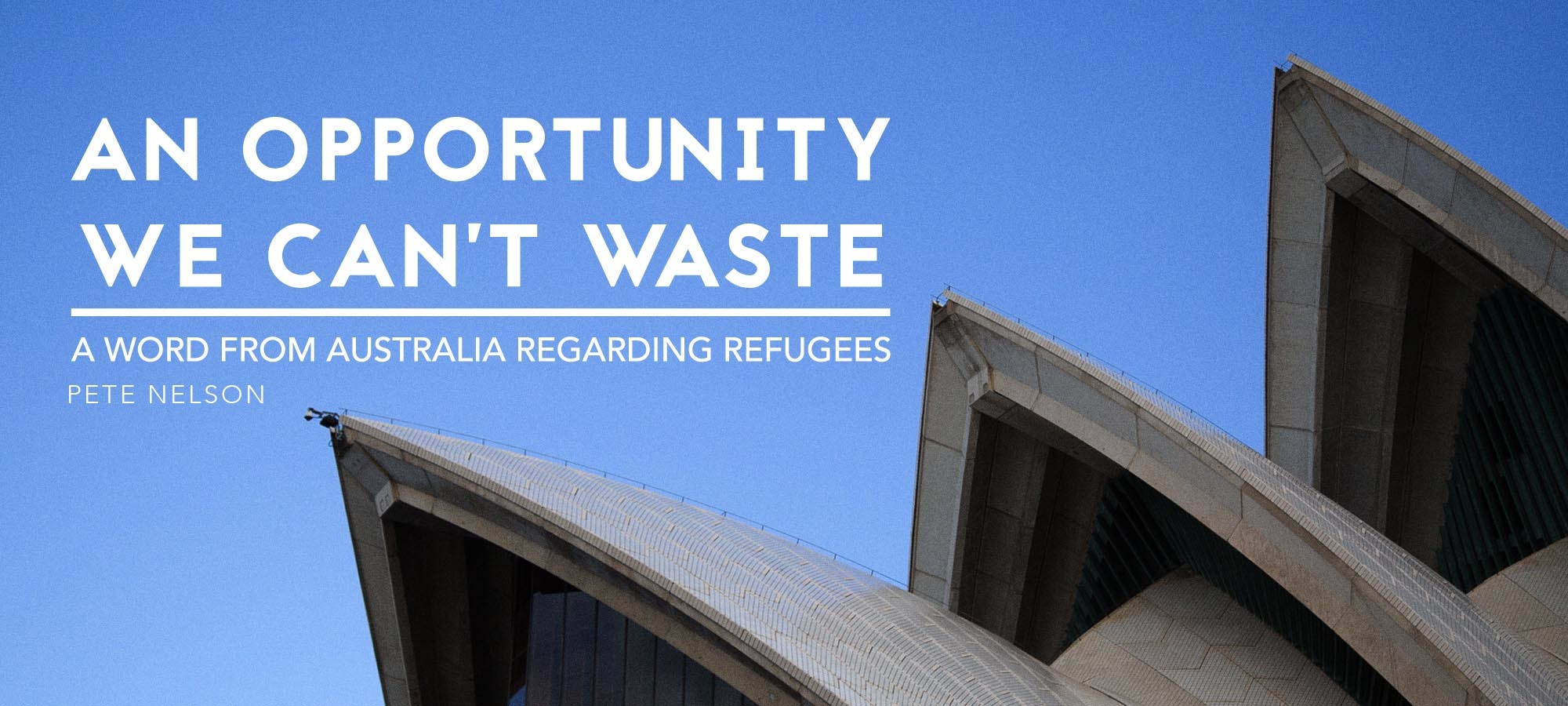 Here in Australia, the government began in January of 2016, an initiative to take in 12,000 refugees from the Middle East.
This opens up an incredible opportunity for the church in Australia. The refugee crisis seemed to reach its pinnacle in public awareness in 2015. News stories abounded worldwide, with pictures of refugees from the Middle East pouring into Europe. As a result, Christians have had to take a hard look at what our responsibility should be to the refugee crisis.
We have discovered that nearly 40% of Sydney residents speak a non-English language at home.
There are more than 250 languages spoken in Sydney. Arabic, which dominates the western suburbs, is the most widely spoken non-English language. Sydney has a huge population of Arabic speaking migrants who have sought asylum in Australia.
God has opened many doors for us to minister to the Arabic community here and to help with the decision-making teams that are settling the refugees. I have been ministering at the oldest Christian Arabic fellowship here in the western suburbs of Sydney. After services, many of the people come up to me to tell their stories. With tears and gratitude, they ask for prayers and help for their relatives still in the Middle East. Also, the churches in the northern beaches of Sydney have rallied to provide homes, resources and mentorship to arriving refugees. This group is working closely with the Premier of New South Whales' office.
In addition, part of our work is partnering the Arabic speaking churches with sympathetic Aussie churches to better receive the refugees. Unifying the church at large is so important in many aspects of evangelism within a community. We are also working with the Salvation Army who has a parachurch unifying presence in Sydney regarding issues like this. The Salvation Army's latest initiative, "The Big Hello," stands to support and welcome Syrian and Iraqi refugees to their new home of Australia.
How we welcome refugees impacts their future.
People who are warmly received gain a sense of belonging. The kind of welcome they receive impacts how they interact with others from the outset, as well as their long-term integration.
God gives us wisdom in His word as to how we should welcome refugees.
"When a stranger sojourns with you in your land, you shall not do him wrong. You shall treat the stranger who sojourns with you as the native among you, and you shall love him as yourself, for you were strangers in the land of Egypt: I am the Lord your God" (Leviticus 19:33-34).
Also, Job writes, "The sojourner has not lodged in the street; I have opened my doors to the traveler" (Job 31:32). Though we are not under the law, the wisdom and principles of God's law stand. And is it not mercy that crowns God's people? Micah 6:8 says that what God requires of us is to, "Do justly, love mercy, and walk humbly with thy God." Also, when Jesus was asked, "Who is my neighbor…" He explained through the parable of the Good Samaritan, the kind of love and mercy that a true neighbor has. We, God's children, are to be the ones who express a unique kind of mercy that is only found in the gospel (Luke 10:29-37). This mercy is to be shown to the "foreigner."
When you think about it, the entire Bible is a book of refugees. Throughout the scriptures, we see God working out His redemptive story through sojourning men and woman.
As Christians, we know in some way what it is to be a "foreigner" and a "stranger" in another land.
We live in a world that is not our home, and we long for our homeland heaven. Jesus also understands the plight of the refugee. He left this homeland to come to a foreign land where He was mocked, ridiculed and died at the hands of an unjust government. As God's people, we should have some understanding and compassion towards displaced people. We must remember that the outworking of the gospel in our lives is shown by mercy. Mercy involves sacrifice, forgiveness, benevolence and yes….even risk. Jesus said, "Blessed are the merciful…" (Matt. 5:7). God is "merciful and compassionate" and risked it all in order to rescue us. As we aim to discern our place in the refugee crisis, may God give us His mercy, compassion and wisdom.
I began my journey in better understanding this complex issue when I traveled to a gathering of church leader's in Istanbul, Turkey, last year. There I began to understand the plight of the refugee and how tremendous the problem is. For instance, in Jordan, up to 80% of the population are refugees. Refugees in any country are, by law, not allowed to work. The conditions in the camps are deplorable in many countries, and the people living in the camps are in complete despair – willing to risk their lives in a small raft at the hope of possible safety elsewhere.
Following my trip to Turkey, I became acquainted with Voice of the Refugees headquartered in Anaheim, California. They have been an incredible support and resource to us as we work with the churches in Australia on this issue. They provide some valuable information in answering basic questions about ministry to refugees.
Earlier this year, I was able to travel with a couple other pastors to Northern Iraq for inductive scripture training to encourage the workers in the IDP camps. (Internally Displaced Peoples are people that still live in their own country but are displaced from their homes, lives and work.) I experienced first-hand the conditions and heartbreak of these displaced people. Most of the IDP are well educated, middle class, home-owning families who have had to leave everything behind to literally flee for their lives, because of their unwillingness to give up their Christian faith to become Muslims.
The current worldwide refugee crisis is an opportunity for the church.
It also comes with risk. We can pray for our governments to have wisdom in handling this crisis. We should pray for our leaders! But as the church, we are called to go beyond our fears, take risks and minister God's love and truth to all people. In this time that we live, there is a profound opportunity for God's people to live out the gospel. This watershed issue will reveal our faith and our understanding of the gospel.