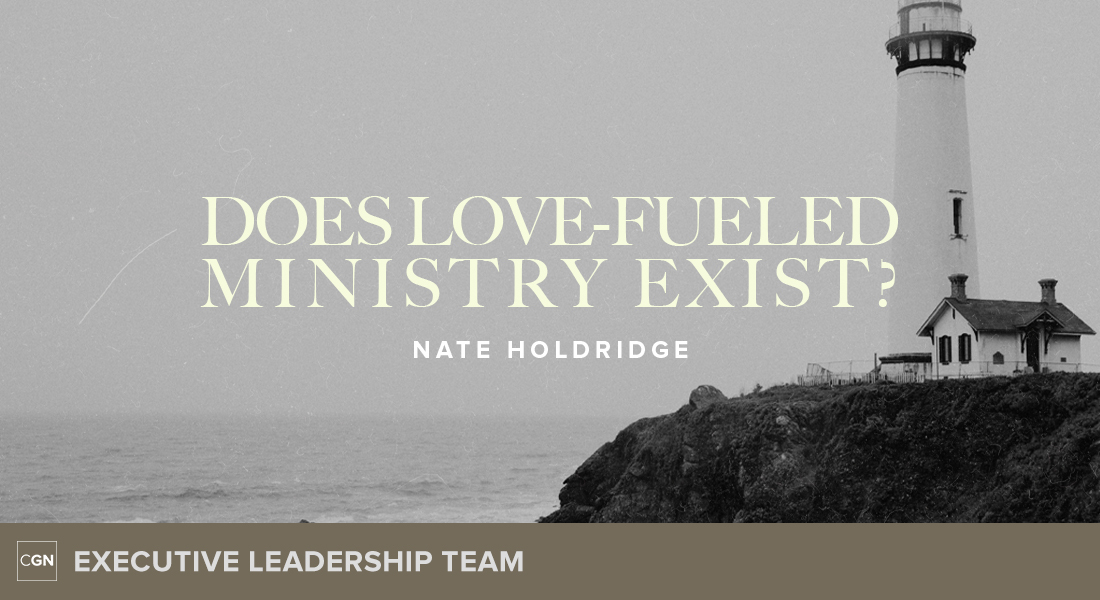 My start in ministry was unexpected. I'm the son of a church-planting pastor. My childhood memories consist of awkward church people, financial struggles and a fatigued father who was trying his best.
Many memories stand out, but here is one: One winter rain hit our community particularly hard. The church office, rented from another local congregation, was the only permanent space our church occupied. Being in the basement, the offices were situated below street level and would flood when heavy rains came.
On that Saturday afternoon, rains pouring, office entryway in the midst of flooding, my dad tried in vain and alone to fix the pump designed to divert the water back to the street. The offices flooded. He was drenched and tired. I remember thinking, "Isn't anyone going to help him?"
Memories like these made me sure I wanted nothing to do with church work. And, throughout my teenage years, I lived as if I wanted nothing to do with the church's Savior either. But the Spirit of God pursued me, and the grace of God moved me; and one night just after my high school graduation, alone and amid rebellion, the Lord captured my heart.
Still, I was uninterested in ministry life. What I did want, however, was a better understanding of God's Word. So, in a matter of a few weeks, my college plans changed, and I enrolled in Calvary Chapel Bible College in Murrieta, CA. There, the Living Word began shaping my mind and heart. Surrounded by great pastors, teachers and students, I began wanting God to use my life, just not in vocational ministry! So, I prayed, and God answered, but not in the way I expected.
Before any opportunities were opened to me, or any ministry desires or gifts grew in me, God began growing love for His people in my heart. I now know it was the embryonic stages of a Shepherd-Teacher calling, but back then, it felt so strange. After years of selfishness, my newfound care for others was a shock to my system.
It started when, as college students are prone to do, groups of friends and acquaintances would gather. As we laughed and talked and roamed, I found myself consistently locking onto one or two hurting or discouraged people. Even after the group dispersed, I often found myself engaged for an additional hour or so, encouraging and exhorting someone. I'm sure my counsel wasn't all that good, but by God's grace and the power of His Spirit, the Good Shepherd seemed to use it to help His hurting sheep. This continued in various groups and settings.
It wasn't until one afternoon when I plopped down next to our director at the time, a man more than twice my age, and found my encouragements to him filling his eyes with tears that I realized God had done something to me. A tiny sliver of His love had invaded my heart. I now loved His people.
And it wasn't until later that a desire to share His Word with His people also began to consume me. For me, the order of calling was all-important. Looking back, I can see how I needed to begin with love so that my desire to share God's Word would always carry that motivation.
I love His Word, but I also love His people, and I believe the combination greatly aids the delivery of the Word to His people.
Which brings me to my text. The Corinthian church, it seems, was highly gifted. Paul said they were "not lacking in any gift" (1 Corinthians 1:7).
My point is not to detail their giftedness or talk about spiritual gifts in general. Instead, I want to point out that the Corinthians were powerful and dynamic but lacking in love. This is why, after giving them some guardrails and directions for their giftedness, Paul said,"…And I will show you a still more excellent way" (1 Corinthians 12:31).
And the "still more excellent way" Paul would show them is found here, in 1 Corinthians 13. You know this chapter isn't primarily about married, parental or friendship love. Instead, it is first about love in the church; I'll call it "ministry love," and because of this, it serves as a powerful prescription for the modern servant of Christ.
Like a lighthouse exposing a jagged coastline, 1 Corinthians 13 exposes the dangers of a loveless ministry before showing us the attributes and benefits of love-fueled ministry life.
Certainly, Jesus approves of such a message. He said, "By this all people will know that you are my disciples, if you have love for one another" (John 13:35).
Let's enter the text to discover what Christ has for us.
Ministry Without Love (1 Corinthians 13:1-3)
"If I speak in the tongues of men and of angels, but have not love, I am a noisy gong or a clanging cymbal. And if I have prophetic powers, and understand all mysteries and all knowledge, and if I have all faith, so as to remove mountains, but have not love, I am nothing. If I give away all I have, and if I deliver up my body to be burned, but have not love, I gain nothing" (1 Corinthians 13:1-3).
Paul's Hypothetical Ministry
Paul is incredibly gracious here. Instead of saying, over and over again, "if you," he says, "if I." He was a great preacher and a true servant, so he didn't feel he needed to excoriate his audience! He'd already rebuked the Corinthians for many of their actual sins, so he felt no need to rebuke them for their hypothetical ones.
And I think Paul was able to do this because the gospel had convinced him he was the "foremost of sinners" (1 Timothy 1:15). Humbly, he said, "if I."
And Paul's hypothetical ministry is an astounding one. First, he describes outstanding oratory power and ability. He said, "If I speak in the tongues of men and of angels…" (1). In the context of 1 Corinthians, he'd just written to them about word-based spiritual giftedness. So, this first example imagines a man at the height of communicative ability, whether in known or unknown languages.
Second, he describes extraordinary intellectual power. He said, "If I have prophetic powers, and understand all mysteries and all knowledge…" (2). This second example is of someone who possesses keen insights into the "mysteries" of Scripture. Their "knowledge" exudes from them, and they can declare it to others, which is why they have "prophetic powers."
Third, he describes a person of incredible courage and boldness for God. He said, "If I have all faith, so as to remove mountains…" (2). Jesus spoke of this type of faith: "For truly, I say to you, if you have faith like a grain of mustard seed, you will say to this mountain, 'Move from here to there,' and it will move, and nothing will be impossible for you" (Matthew 17:20). This third example is of a person with an amazing and admirable faith in God.
Fourth, he describes a person of deep, personal sacrifice. He said, "If I give away all I have, and if I deliver up my body to be burned…" (3). This describes someone who first sells it all to give away, or simply gives it all away, to go preach in places they know they'll be persecuted. We might sing about it, but they had truly surrendered all.
Before moving on, we must pause to reflect on such a life. None of these attributes are seen as negatives. Paul knows this brand of life is valuable, to be desired by servants of Christ. In each example, there is spiritual power and ability.
Imagine a person like this! When it comes to their relationship with others, they are an effective spokesperson for God. When it comes to their relationship with Scripture, they have great understanding. When it comes to their relationship with God, they act out on deep trust in Him. And when it comes to their relationship with self, they are highly sacrificial.
I Help/Am/Gain Nothing
Three times, though, Paul says, "But have not love" (1-3). In his hypothetical ministry, though there was power and seeming effectiveness, there was no "love."
It's hard to say what the motivations for such a ministry would have been, but one can imagine. Perhaps ego or a sense of purpose or an inquisitive nature or a strain of legalism infected the minister. On they went, fueled by something other than love.
And notice what Paul said would result:
. I am a noisy gong or a clanging cymbal (13:1).
. I am nothing (13:2).
. I gain nothing (13:3).
Now, these statements have often bothered me. I don't know the heart of every servant of Christ and do not have the responsibility to judge them. But when I look out at Christianity throughout the world, it seems obvious many are in it for the wrong motivations. I don't think I'm making much of a leap there.
These are people who say nothing, are nothing and benefit nothing, but who are simultaneously received by the masses. They seem loveless in their ministries, yet they are loved. Their followers might object to the idea their ministry is fruitless.
Nonetheless, this is what Paul taught. And it must ring true from two vantage points.
. First, to God, a loveless ministry is pointless and empty. Even if what man sees is largesse and power and influence, God sees nothingness.
. Second, the long run of such a ministry is also pointless and empty. A loveless service of Christ is an abomination to God and will prove ineffective over time. Even if the immediate recipients swear by it, the impact of a loveless ministry will not endure.
Our Resolve
Let it not be so with us. Let us have love-fueled ministries. Let's divest ourselves of any motivation for service to Christ void of love. Instead, let's allow the flames of our love for Christ to burn, responding to His great love for us. Then, let's love His people as a way to love Him.
To strengthen this resolve, though, we ought to take a few moments to look at Paul's definition of love. And as we do, remember the context, because Paul was thinking of the ministry life when writing this robust definition. He'd already likened the church to a human body. He compared each member of the church as part of the body. Each part was to serve the whole in the way in which it was designed. Here, Paul tells us each part is meant to serve the whole body in love.