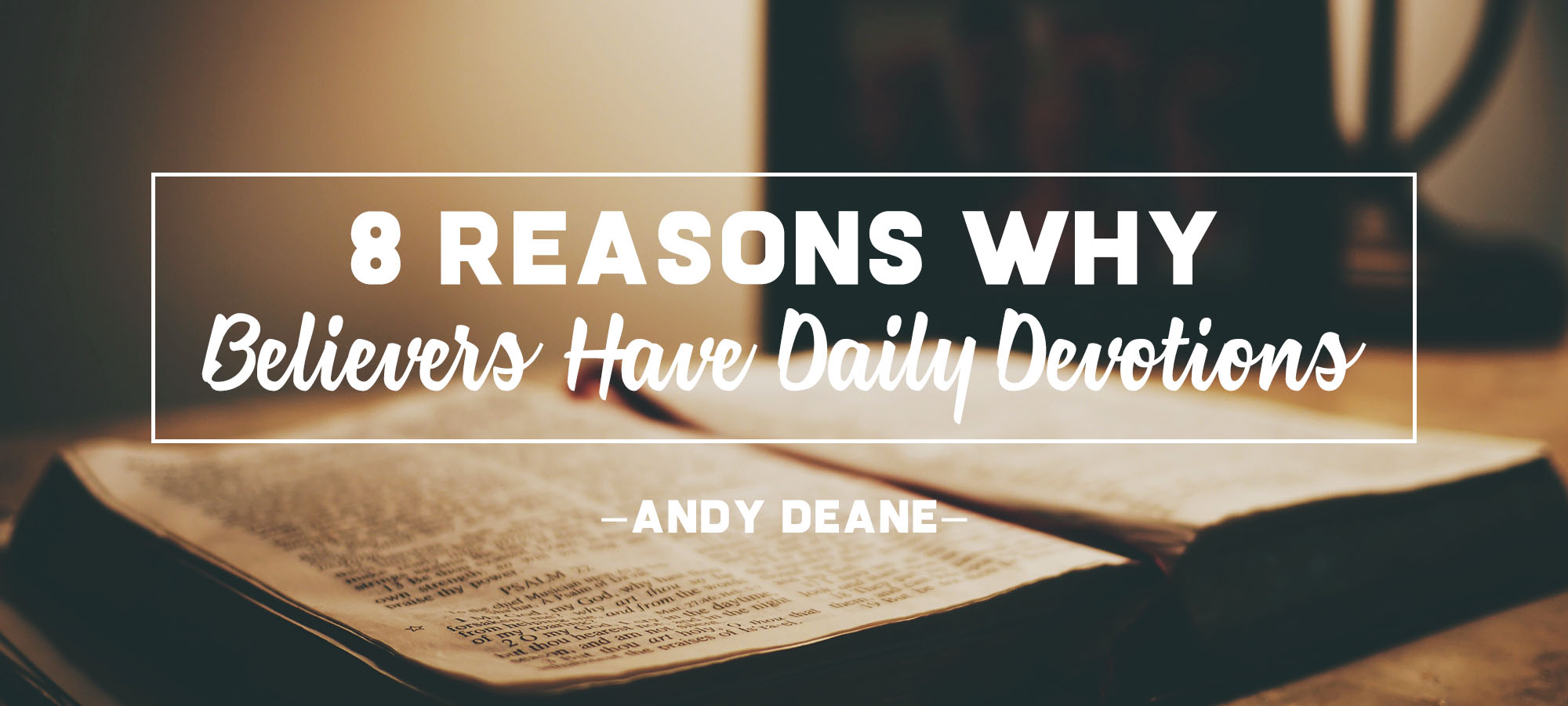 One of the greatest priorities that we can have in life is a decision to set aside time each day for personal devotion toward the Father. The purpose of this time is simply to quiet our hearts before the Lord and have fellowship with Him. Our daily devotions are not necessarily meant to be a time of in-depth Bible study, but instead a time to simply draw closer to the Lord through meditation in His Word and communion with Him in prayer. But before any in-depth discussion on what daily devotions are happens, it helps to understand why believers would want to set aside this time to seek the Lord. Below are eight reasons why it's worth it to make this time a priority in your life each day.
1. GOD CREATED US FOR FELLOWSHIP:
Humans are the only created beings that have the capacity for intimate fellowship with the One who created them (Genesis 1:26). When Adam sinned, fellowship between man and God was lost, but when Jesus Christ died and rose again, He restored the possibility for man to have fellowship with God. All who believe in Jesus have the privilege of enjoying a personal relationship with the Father (1 Corinthians 1:9; 1 John 1:3-4).
2. GOD MODELED IT FOR US:
Personal fellowship with His Father in heaven was a top priority of Jesus' life on earth (Mark 1:35; Luke 5:16; 22:39-44). Even when His days were filled with exciting ministry, He spent time in prayer (John 5:30). If a time of quiet prayer was a priority for Jesus, how much more do we need to make it a priority in our lives? Have you ever gone without food for a day? If so, you know how quickly hunger sets in. And if you go without food for too long, your strength will begin to diminish. The same is true in our spiritual lives. The Bible is our soul's food. It is a sign of health for a Christian to have an appetite for the Word of God. It is the only way that we will be well nourished and spiritually strong. Yet, many Christians consistently try to get by with only one meal a week—Sunday morning. You could not survive long, physically, if all you were eating was one meal a week, and neither can you make it spiritually, on such small portions of God's Word.
3. GOD CLEANSES US THROUGH HIS WORD:
How long would you go without bathing? A daily quiet time is like a spiritual bath (Ephesians 5:26; John 15:3). We wouldn't have many friends if we went for long periods without bathing. The Bible says that reading the Word of God is what cleanses us—our lives will begin to stink if we neglect the Word.
4. GOD BLESSES US AS WE SEEK HIM:
We gain tremendous rewards from having a quiet time. Another reason we should have a daily quiet time is the tremendous results it brings into our lives. God has promised many things to those who take the time to get to know him through His Word and prayer. Some of the rewards of having a daily quiet time include: joy (Psalm 16:11); success (Joshua 1:8); strength (Isaiah 40:29-31); answered prayer (John 15:7); and peace (Psalm 119:165).
5. GOD DESERVES OUR DEVOTION:
This time allows us to give to God instead of getting from Him. Psalm 29:2 says, "Give unto the LORD the glory due to His name; worship the LORD in the beauty of holiness." Many Christians overemphasize their work for God and neglect to spend time simply worshiping Him. God deserves and desires our devotion (John 4:23). How long has it been since you sat quietly with Jesus and simply told Him that you love Him? When was the last time you sang a worship song to Him outside of a church service?
6. GOD GIVES US DIRECTION:
What a necessary provision that we get direction from Him for our daily lives (Psalm 25:4-5; 40:8). When we sit quietly with the Lord, it gives us the opportunity to hear from God and to get the wisdom and direction we need. In our fast-paced world, we desperately need to slow down and hear from the One who knows the end from the beginning. Pascal once said, "All the troubles of man arise from his inability to sit still." Ask God to show you His will for your day and commit your schedule to Him.
7. GOD'S PRESENCE IS FULL OF JOY:
Another benefit of our personal time with the Lord is enjoying Him and basking in His presence. The secret of real joy comes from knowing God (Psalm 34:8; Philippians 3:10). Do you know Jesus Christ personally, or do you merely know about Him? When we know a person intimately, we: spend quality time together; enjoy meaningful communication; and know what each other's likes and dislikes are. When we expect to meet with Jesus during our quiet time each morning, we will never be disappointed. We will always find that He's waiting to meet with us too.
8. GOD MAKES US MORE LIKE HIS SON:
How do we become more like Jesus? We are made holy through the Word (John 17:17; Romans 12:2). Our sanctification comes directly through the time we spend in the Scriptures getting to know God intimately and allowing His Word to correct our hearts. Acts 4:13 shows us an example of this transformation when it says, "Now when they saw the boldness of Peter and John, and perceived that they were uneducated and untrained men, they marveled. And they realized that they had been with Jesus."
There are hundreds more reasons why we should set aside a private time to seek and honor the Lord, but these eight should be enough to cause us to put down our phone or computer right now if we haven't met with the Lord personally yet today. I'll abruptly stop writing in case you'd like to do that now.