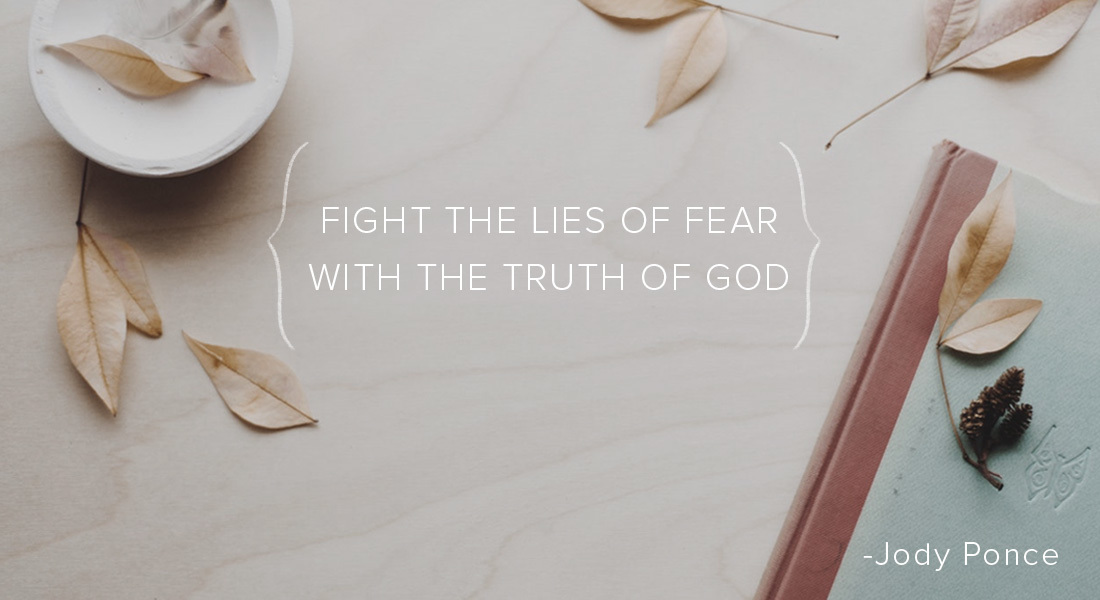 There was a time in my life when I was totally paralyzed by fear. I lived in a perpetual panic attack for a period of about six months. At that time, I believed that I was physically sick; I was having strange and terrifying symptoms that were all too real, and I became convinced that I was dying. I lived with the Damocles of imminent death hanging over my head daily, and it was terrifying. I felt I had lost myself to fear; I didn't recognize myself anymore. Gone was the joyful, fearless girl who had backpacked around the world (often alone). Now she was replaced by someone who was afraid of the dark, afraid of night time, afraid of everything!
Somewhere toward the end of the six-month period of being totally railroaded by the lie that I was sick, and I was going to die, I decided to tentatively look up a support website for anxiety. You must understand, that during this period of panic I didn't actually realize I was suffering from anxiety, I just thought I was profoundly, physically sick with some catastrophic disease the doctors simply hadn't discovered yet. When I went on that website and read the list of symptoms people with extreme anxiety suffer from, I couldn't believe it. They were all my symptoms! Just then, in that moment, I had the fleeting thought, like a ray of light breaking through the clouds, "Maybe I'm not sick; maybe this is all just anxiety."
That moment of clarity was brief. My fear wouldn't let me off the hook that easily. But I began to understand that there was a possibility that a lie has taken hold in my mind, and I had to do something about it. From that moment on, I started to fight the lie that told me I was dying. My recovery took two years of hard battle. When I say I fought, and when in this article I speak of fighting, please don't imagine someone standing tall, boldly declaring the word of God. Rather, picture my lying in on my side, trying to take slow, deep breathes and quietly mumbling, "God has not given me a spirit of fear but of power and love and a sound mind." During that time, I was so weak, and so in the grip of fear that there was very little more I could do, even praying scared me.
However, by continuously repeating God's truth in the face of the lies of fear, deliverance came. I have not suffered from any form of panic attacks or anxiety for over five years. God has brought total deliverance and restoration to me, and He will do the same for you.
FEAR WILL TELL YOU THERE IS NO WAY OUT
In order to understand God's power over fear, let's look at 2 Kings chapter six. Here there is a story about Elisha and the king of Syria. This king was continuously and relentlessly attempting to attack and defeat Israel. However his plans were always thwarted because God spoke to Elisha and told him where the Syrians were waiting in ambush to attack Israel. In this way God protected his people from the attacks of the Syrians. The king of Syria became so frustrated that he found out where Elisha was and sent "horses and chariots and a great army, they came by night and surrounded the city" (2 Kings 6:14). This is a great metaphor for how fear works. It likes to come at night, by the cover of dark. It likes to make us feel like we are surrounded, like there are no options for us, as though there is no way out. It closes in on us and paralyzes us until its surrounding presence is all that we know, and it captures our mind in its vice like a grip. There it holds us and presses and presses, and it will not relent. This is the home of anxiety and panic attacks. This is where fear is in it's element, holding your mind captive in the grip of it's all pervasive lies.
FEAR WILL MAKE YOU FEEL HELPLESS
When Elisha's servant woke in the morning, he saw that they were surrounded by a huge army. He ran to Elisha and lamented, "Alas master, what shall we do? This is a cry that many in the throws of fear have uttered. What shall I do; what shall I do? This is a feeling of being helpless, of not knowing what step to take next or how to find a way out. This helplessness is a lie; it is not true, but in the moment it feels so totally encompassing that any place of comfort and help seem far too distant to even be considered.
When the servant came to Elisha with his fear, Elisha said, "Do not be afraid for those who are with us are more than those who are with them" ( 2 Kings 6:17). Elisha then prayed to God and asked him to open his servant's eyes, and his servant saw "the mountain was filled with horses and chariots of fire all around Elisha." There is wonderful news for those of you who are in the grip of fear, while it may seem that you are surrounded and there is no way out. In fact, there is more with us than than there is with them! It is time to stop believing the lies of fear that have been gripping your mind for so long. It is time to fight those lies with the truth of God. The truth is that the fear that is defeating you daily is in fact a defeated foe. The power of God "his chariots of fire" are greater than the lies of your fear. It is time to open your eyes to the power of God and allow His truth to defeat the work of fear in your life.
IT'S TIME TO FIGHT
As I already mentioned, fear will not relent, so if you continue to let it railroad you, then that is what it will continue to do. It will not take a break and say, "Oh well, that's enough for today, I'll leave that poor defeated soul alone for a while now." No! It will just keep on crushing you. This means you need to take action. You need to fight the lies of fear with the truth of God.
2 Corinthians 10.5 tells us that, "We destroy arguments and every lofty opinion raised against the knowledge of God, and take every thought captive to the obedience of Christ." This is not an instruction to be passive but to be active. The imperative form of the verb, "take every thought…" is a command. It is an action we are being told to take rather than something God is going to do for us. The fact is, God has already done it all. He has already won victory for us over fear, but it is up to us to hold up that victory in the face of fear, to bring our every fearful thought into obedience with the truth of the victory Christ has won for us at the cross.
Back in 2 Kings, the "lofty argument" was that they were surrounded by enemy armies, but the truth was the fiery armies of God were also surrounding them; and they were much greater and more powerful than the armies of their enemies. What "lofty arguments" have taken hold in your mind? And what is the higher truth that can be used to defeat these destructive lies of fear? Here's an example of God's truth in the face of fear: "Do not fear, for I am with you; do not be dismayed, for I am your God. I will strengthen you and help you; I will uphold you with my righteous right hand" (Isaiah 41:10).
FEAR WILL BOW TO THE TRUTH OF GOD
Remember God's truth is greater than the lies you have been so thoroughly believing. To tear down those lies will take work, really hard work. It is the action of taking those lies captive and in their place, establishing the truth of God. But at the end of that journey lies freedom. In fact the freedom is already won, but to allow it to work in your life takes work from you.
Perhaps you think you are too far gone. Perhaps you think you have lost yourself forever to the grip of fear. I know what that feels like because I have had those very thoughts myself. Let me tell you, it is not true! There is hope for total restoration and complete freedom from fear for you. I know this to be true because I have experienced it in my own life. When fear comes in like a flood, with all its lies and convincing arguments, hold up the truth of God's word, take every thought captive to the obedience of Christ. Know that those lies will not persist indefinitely; they will eventually bow their knee to the truth of God.