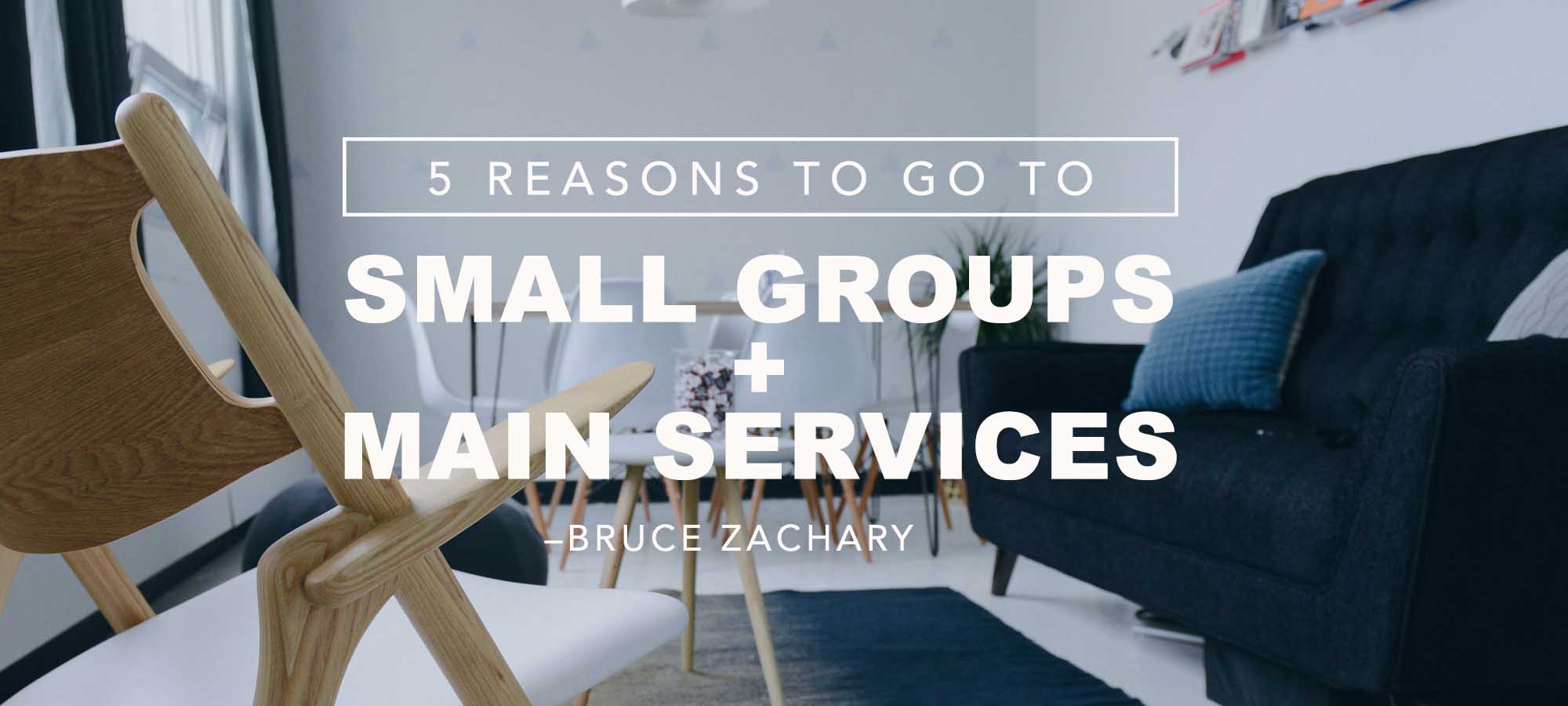 Some of us like the intimacy of a small community group gathering. Others like the experience and dynamic of a larger gathering associated with weekend worship. Most of us have a preference. If we had to choose the small group experience or the large group experience, we have an idea which one we would choose. Furthermore, week after week, month after month and year after year, people make preferences known by participating generally in one or the other.
What if God wanted us to experience the benefits of both the larger gathering and the small group? The early church met in the temple and house to house (Acts 2:46). This may be more than a mere description of their activity, but it may be prescriptive for us. Here are five reasons why we should gather in the temple and house to house:
1. The larger assembly of people can magnify and manifest the Presence of God.
The larger assembly (temple experience) can magnify and manifest the presence of God in a way that is distinct from the smaller group. In both a small and large group, believers assemble and God's presence is manifest. But in a larger assembly, the experience and dynamics may be different because of the critical mass. I love the experience of gathering with hundreds and thousands and praising God together. The early church continued with one accord in the temple (Acts 2:46). The Greek term homothymadon refers to being of one mind, with one passion. The word is used only 12 times in the Bible and 10 of them occur in the Book of Acts. The word is a compound of two words meaning to "rush along" and "in unison." The image of a larger community of faith, displaying common passion for God and one another, is beautiful to behold.
2. The larger assembly provides a setting for all to share their talents and amazing gifts to be leveraged.
Again, the larger assembly provides a setting for all to share their talents and gifts to be leveraged that is distinct from the smaller group. One aspect relates to the diversity of people and gifts and the generally much greater opportunity to use them. Another difference relates to the opportunity to receive from very gifted leaders. The people who have special gifts of hospitality, intercession in prayer, ministering to young children, serving youth, teaching the Bible and leading worship are available for us to receive from. Together, we can be blessed in a united experience that glorifies God as the giver of these gifts.
3. The small group helps to develop encouragement to love God and live His word.
The New Testament contains more than 25 distinct exhortations to "one another." We are to love, serve and pray for one another, to name a few. The small group (house to house experience) provides an ideal setting to grow in biblical knowledge and develop biblical character, "They continued steadfastly in the apostles' doctrine…" (Acts 2:42). It is an ideal setting to grow in our love for God. In a small group, we can test our love for God by how we treat and relate with one another. Small groups can be messy, because they should compel us to grow by revealing that others are messed up, and we are messed up; and all of us need to grow in Christ. When I think poorly of another person in my smaller community, I am often convicted that my attitudes are wrong, my judgment is inappropriate, and that they are a gift from God who is highly valued by Jesus. These experiences help me discover where I need to submit to Christ and grow in order to actually live His word.
4. The small group helps to develop community and accountability.
The house experience is likely the best place to create intimate community (koinonia or "fellowship"). The sharing of Christ, meals, prayers, praise, doctrine, resources and life builds bonds of unity (Acts 2:42-47). More than 25 years ago, I was in a home Bible study where I learned to love God and live His word and where I experienced biblical community. Despite the passage of a quarter century and moving to a new area over 20 years ago, many of those people are still dear friends. Their love and community and accountability to show up and grow up helped me to mature as a follower of Jesus. Smaller groups tend to create better accountability, because they promote relationships where we know one another. In a larger assembly (temple), people may not realize whether you are there or not. But in smaller community (house to house), people know if you are there or not. That accountability can help you grow.
5. The small group provides a platform to saturate a geographic area with the gospel and to more effectively love neighbors.
The temple can draw a larger group, but the temple has a limited geographic focal point. In essence, people have to come to the temple. On the other hand, the house approach of smaller groups creates a platform to saturate a community. Instead of saying, "Come and see," we can say, "Go therefore and make disciples." We can love our neighbors as we have been commanded. We can love where we live, work or go to school and play. If we join with others in geographic proximity to us and discover God's love, then we should love God, one another and our neighbors. That love is radically attractive and helps people desire Christ and respond to His gospel.
When we gather in the temple and house to house, we are likely to discover the added benefit, "…And the Lord added to the church daily those who were being saved " (Acts 2:47).
What other benefits of gathering both in the temple and house to house have you discovered?