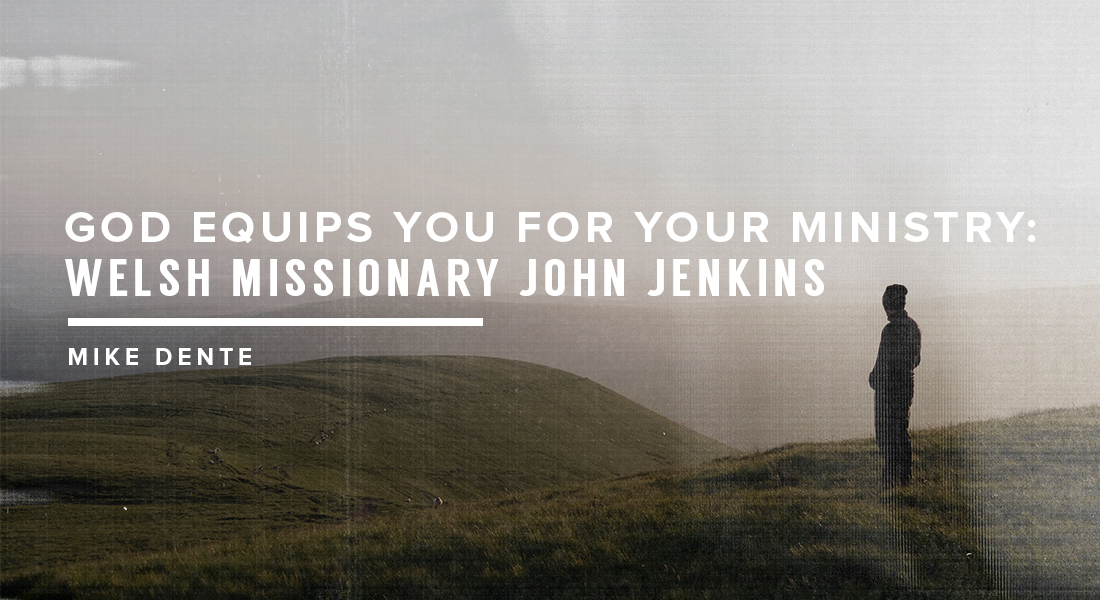 The missionary stories from the 19th century are filled with courageous people giving life and health for the Gospel. Some were lost at sea; others struck with malaria before they were able to complete their first year of service. In that time, a family life wasn't always an option. Rare are the stories of a family moving to the field in the 1800s and even less are those who thrived happily together in their calling. I recently discovered one such story—Welsh missionary pastor John Jenkins.
John grew up Baptist in a family of pastors. He was tall with wavy, white hair. In the few pictures that can be found, he smiles, which speaks of his joyful disposition. He spoke Welsh (Cymraeg), a Celtic language close to that spoken in Brittany (Breizh), France.
Why would a Welshman be drawn to France? Most likely due to the Lord's call.
By the time Jenkin's set foot in Brittany, Protestantism that once thrived in the region was reduced to a handful of churches.1
When John arrived with his family in the port city of Morlaix, he realized his native Welsh tongue was close to but not exactly the same as language spoken by the Bretons. Not only this, but the more he conversed with people, the more he discovered Catholic clerical expressions for everyday situations. This led him to refer back to a Catholic translation of the Bible into Breton by Jean-François Le Gonidec. However, he discovered that the Gonidec translation, although scholarly, was inaccessible to the average Breton who at that time was illiterate.2
Thus began Jenkin's life work, a translation of the New Testament into a Breton that the common man could understand. He began with the Greek Textus Receptus, used his English and Welsh translations as guides, and moved slowly toward his goal with help from poet Guillaume Ricou. He spent time with the people, learning local expressions and applying them to Biblical concepts. He also translated hymns into Breton and wrote songs using traditional Celtic music as his mastery of the language increased.
His form of missionary work was seen as revolutionary at the time, but the work continued until he finished translating the New Testament in 1847.
Immediately the British Bible Society took interest and ordered 3,000 copies of Jenkins' New Testament.3
Over the next 30 years, his translation became widely distributed in Brittany, though receiving heavy criticism by Catholic priests. As more Bretons came to faith, the need for them to grow in their Biblical knowledge made evident the need of an Old Testament translation. In the end, it was Jenkins' son, Alfred Llewellyn Jenkins, who accepted the challenge in 1882. Having grown up in Morlaix, his mastery of Breton surpassed his father's. With the encouragement of M.M. Rohan, he began a revision of the New Testament, followed by a translation of Genesis from Hebrew. His revisions continued through the decades, and his final version was printed in 1935.4 More than a Bible translator, Alfred Llewellyn, had adopted his father's love for the people. He was used to plant several churches in the surrounding areas and establish a school.5
John Jenkin's heritage is one born out of a love for the Word and the people he was sent to serve. He was able to go and discern the most urgent need, a readable Bible. He learned to adapt and spent years in language study. He adopted local culture, which testifies to a heart that wanted to communicate the Gospel. Language learning is a form of love in action. It lowers the missionary to a child's level and leads them to die to themselves. But as they seek the Lord to know how to communicate spiritual truths through limited vocabulary, they experience Jesus' resurrection power at work in them.
This was one of John Jenkins' strong points. He embodied Paul's vision for Gospel contextualization in 1 Corinthians 9:22b-23: "I have become all things to all men, that I might by all means save some. Now this I do for the gospel's sake, that I may be partaker of it with you."
He built lasting relationships, not just friends, but he drew people to Jesus.
Jenkins was known by his children. This wasn't always the case for missionary families at the time. Yet his children grew up in the ministry, and his son followed in the Mission. In fact, it is estimated that Alfred was able to accomplish more than his father, having grown up in Brittany as a Breton.6 No wonder the photos that have survived show John Jenkins so full of joy. He discovered the blessings of bringing his little ones to the Lord and watching Him do great things.7
This is a great heritage for anyone in the ministry—a love for the Word, for the people and a family that loves the Lord. Though he's not as well known as other missionaries of his time, his story inspires me as many of my mentors and pastors have through the years. He modeled a correct perspective on life and was empowered by the Spirit, as he worked toward a harvest for eternity.
Notes:
1 "John Jenkins 1." Les Protestants Bretons. https://protestantsbretons.fr/protestants/john-jenkins-1/.
2 Ibid.
3 "John Jenkins, Traducteur De La Bible -2." Les Protestants Bretons. https://protestantsbretons.fr/histoire/john-jenkins-traducteur-de-la-bible-2/.
4 Read the Bible. A Free Bible on Your Phone, Tablet, and Computer. | The Bible App | Bible.com. https://www.bible.com/versions/1799-jen1897-ar-bibl-santel-jenkins-1897.
5 John T. Koch, Celtic Culture A Historical Encyclopedia, ABC CLIO, 2006, "Christianity in the Celtic Cultures," p. 429.
6 John Hughs Morris,The History of the Welsh Calvinistic Methodists' Foreign Mission: To the End of the Year 1904, Indus Publishing, 1996, The Breton Mission, p. 259.
7
"John Jenkins": Credit: protestantsbretons.fr