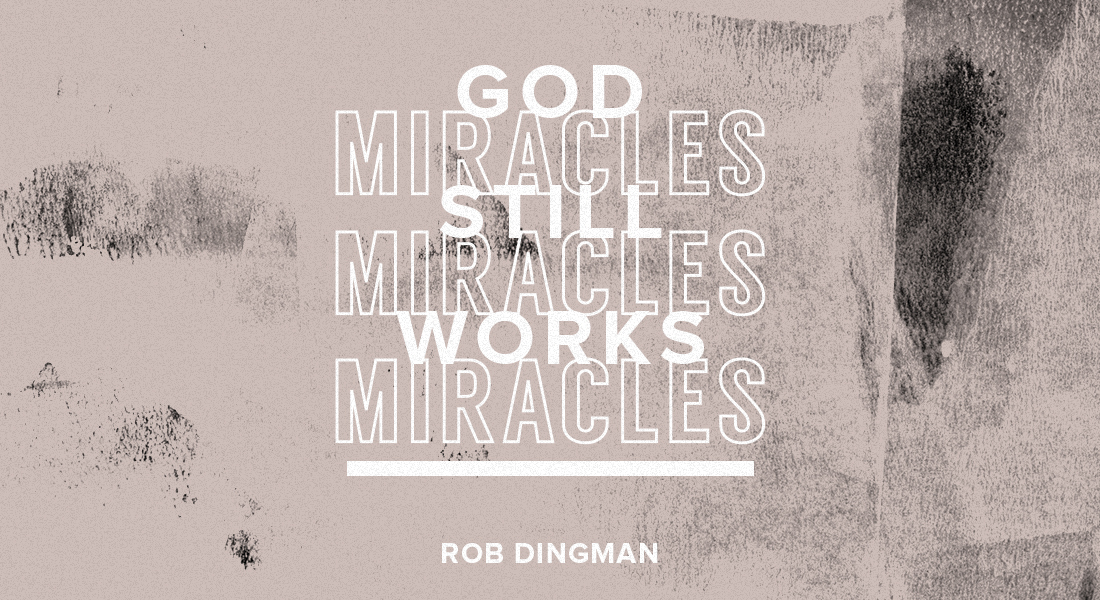 "Come and see the works of God, who is awesome in His deeds toward the sons of men. He turned the sea into dry land; they passed through the river on foot; there let us rejoice in Him!" (Psalm 66:5-6).
One effective temptation to despair is that our experience of Jesus doesn't seem very miraculous.
We read in the Bible of waters dividing, of food raining down from heaven and chariots of fire. But where is that in our lives? Here's a scripture that suggests we as believers in Jesus share in those major miraculous moves of God.
Notice the pronouns in verse six: "He turned the sea into dry land," "they went through the river on foot," "there let us rejoice in Him." It's about God, Israel, the psalmist and us. We all have something in common. We are in the middle of a miracle of God.
Do you see where we are encouraged to rejoice in God?
The psalmist is referring to two miracles. The first is when He made Israel cross the Red Sea on foot. He split the waters by an east wind blowing through the night, so that a way on dry land existed for the people to cross. They walked on this path between two enormous walls of water. The second is 40 years later, the next generation of Israel crossing the Jordan River in full flood. When the priests bearing the Ark of the Covenant stepped into the waters, they stood up in a heap far up the river, allowing the people to cross on a dry river bed.
But there's a problem, isn't there? That place where we are to rejoice is a place that only a particular group of people experienced once. These experiences were never repeated. Those places are underwater, inaccessible. So how can we go there in order to rejoice?
God was taking a group of people and saving them, delivering them and introducing them to a new life. And they were in the middle of that miracle.
Imagine if Moses had stopped in the middle of the Red Sea and said, "Hey, everybody, why don't we stop and have a little time of thanksgiving before we go much further?" I think it would have been charged with gripping emotion! Several things would have been abundantly clear to the worshipers:
"I'm doing something impossible!" "There wasn't a way forward, now there is!" "I'm being saved by the power of God!" "God is absolutely brilliant!" "God is for us!" "Let's do this quickly!"
What God did with a certain group of people is also what He is doing with us.
As long as they were in the Red Sea or the Jordan, they were in the middle of their salvation and deliverance and entrance into new life. That's where we believers in Jesus also are. The psalmist is saying that we are right in the middle of our salvation, our deliverance, our entrance into new life. We can rejoice in God in the middle of our miracle.
Our lives may not appear to be as miraculous as waters standing up vertically like walls. You might be tempted to consider your life completely ordinary and unremarkable. But every person being saved is a miracle of God. Merriam-Webster defines "miracle" as "an extraordinary event manifesting divine intervention in human affairs." It took the power of God intervening in your life for you to be saved (see 1 Corinthians 1:30-31). It takes the power of God intervening in your life to encourage, protect and keep you saved (see Psalm 27:13-14; Psalm 138:7; 1 Peter 1:5). You who believe in God through Jesus are an ongoing intervention of God's almighty power.
There, as though between walls of water, is where the psalmist invites we who believe in God to rejoice. And if we see our lives rightly, our worship can be gripping and intense.
We can rejoice that we are going to make it all the way through, just as they did. What God started He will also complete, until the day of Christ Jesus (Philippians 1:5). We can rejoice that the power that brings us through the waters is also the power that will destroy the enemies of our souls: sins, difficulties, devils. Through God we will outlast them all. We can rejoice that through Jesus we are being brought ever closer to laying hold indeed on eternal life.
Can you see God at work in your life? If you can't, then maybe you need to begin with turning to Jesus. Ask Him into your heart, to introduce you to His new life. Make Him your Savior and Lord.
Think about it and rejoice!