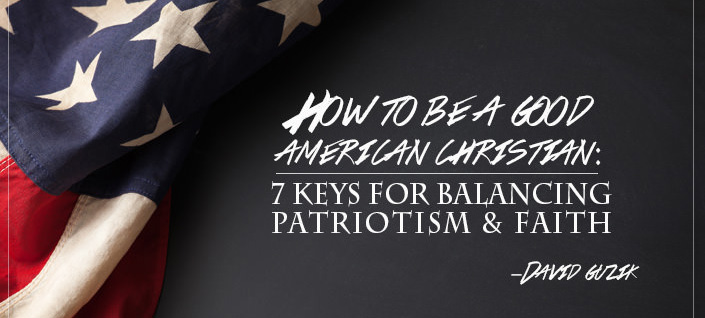 1. We Are Dual Citizens
God says that believers in Jesus Christ have citizenship in heaven (Philippians 3:20, Ephesians 2:19) and He told us to be good citizens on this earth (1 Peter 2:17). Jesus told us that we should render unto Caesar and unto God (Matthew 22:21). We have responsibilities in both areas.
2. Our Heavenly Citizenship Has Priority
Christians must do all they can to be good citizens in the nation in which God has placed them, even as 1 Peter 2:17 and Romans 13:1-6 tell us. Yet if there is a conflict between our obligations to the Kingdom of God and the earthly government over us, we should obey God rather than man (Acts 5:29). This is true not only in active obedience, but also in our heart. We should love the nation where we live and seek to make it better, but we must never love our nation more than God and His Kingdom.
3. Preach God's Kingdom
I am quite grateful for the United States of America and believe God has used the USA in remarkable ways to do much good in this world. Still, I recognize that in my preaching and ministry work I am an ambassador of the Kingdom of God and not of the USA.
4. Democracy Grants Stewardship
Jesus told a parable that emphasized the principle, "to whom much is given, from him much will be required" (Luke 12:48). Stewards are required to be found faithful (1 Corinthians 4:2). Living in a democracy gives one some voice to elect representatives and to decide ballot propositions. It's poor stewardship – perhaps even a sin – to not vote, and to not vote one's Christian conscience.
5. Emphasize Christian Individuals Not Christian Political Parties
I don't see a Scriptural command or pattern for Christian political parties. Yet there are principles and examples that promote the idea of individual participation in the political process. We should applaud and support the Joseph, the Daniel, or the Publius who is called to a political position and uses it to bring glory to God and good to the world.
6. Remember the Difference Between Goals and Methods
Rooted in the Bible, Christians for the most part should be able to agree and unite on our general goals for accomplishing good in this world. First and foremost we are ambassadors of Jesus Christ and messengers of His gospel. When it comes to practical and moral issues, we want to protect and promote life and we want to help the needy. What is important to remember is that Christians can agree on principles such as helping the needy while disagreeing on the best way to do it. Some think welfare programs and government subsidies work best. Others believe in opportunity in society and that private initiatives work better. Just because someone disagrees with my approach doesn't mean they disagree with my goal – and whether they agree or disagree, I must treat them with Christian love.
7. Have a Global Vision of God's Work
It's natural and appropriate for us to have concern first for what God may do in our own community, state, and nation. Yet because of our Kingdom citizenship we realize that we are connected to believers all over the world. It's good to learn, pray, and act with a global vision. It's also a blessing, because God is doing some amazing things in many parts of the world. I'm so happy that there will be redeemed ones from every tribe, tongue, people, and nation around God's throne (Revelation 5:9). This shows God's love for all the nations, His power to reach them, and that heaven will be more amazing than most of us imagine.