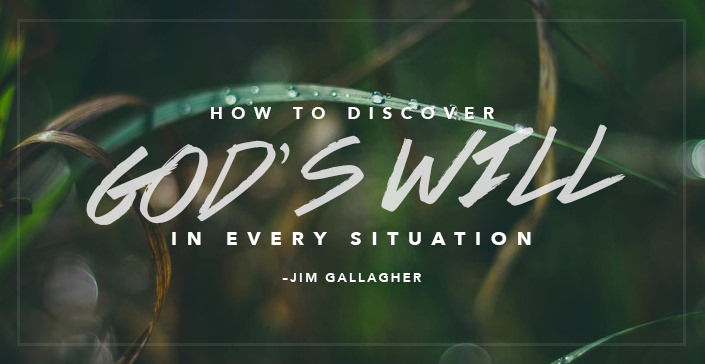 As we come to a crossroad in life, we look for an obvious sign to point us in the right direction, but it seems that oftentimes we find that the sign is illegible or non-existent. This is a very common experience for almost every Christian and can apply to numerous settings in everyday life. To discover the will of God can often be confusing and even somewhat frustrating.
Whenever we face decisions we face the dilemma of attempting to decode the will of God. I think there are two things we need to keep in mind if we are going to succeed in determining what God wants in any given situation.
First we need to remember that there remains for all of us what is called the general will of God. No matter who we are and what we might be facing, these things remain true for all of us. We know certain things to be true of God and these remain the constant in any equation we are seeking to solve.
Some of these constants include the following:
For this is good and acceptable in the sight of God our Savior, who desires all men to be saved and to come to the knowledge of the truth. 1 Timothy 2:3-4
I beseech you therefore, brethren, by the mercies of God, that you present your bodies a living sacrifice, holy, acceptable to God, which is your reasonable service. And do not be conformed to this world, but be transformed by the renewing of your mind, that you may prove what is that good and acceptable and perfect will of God. Romans 12:1-2
For this is the will of God, your sanctification: that you should abstain from sexual immorality. 1 Thessalonians 4:3
Whatever situation we are facing, the purposes of God will always include reaching the lost, or bringing us into a deeper commitment to Christ and sanctifying us––a process of making us more like Jesus. When we seek to make any decision, about a new job, a relationship or a difficulty in the home, we need to keep in mind the big picture that God wants to save souls and make us more like Jesus.
The second thing to keep in mind is that God not only has a general will that includes all of us, but He also has a specific will for each one of us. Paul explained that the Lord has "foreordained good works for us to walk in" (Ephesians 2:10). That is a beautiful way of saying that God is concerned with where we work, whom we marry and how we live. As we walk with Him we need to learn how to determine His will so that we can walk in His path. The Bible gives us practical ways to help discover His will. Consider these passages.
In whom are hidden all the treasures of wisdom and knowledge. Colossians 2:3
If any of you lacks wisdom, let him ask of God, who gives to all liberally and without reproach, and it will be given to him. James 1:5
"Therefore be careful to observe them; for this is your wisdom and your understanding in the sight of the peoples who will hear all these statutes, and say, 'Surely this great nation is a wise and understanding people.'" Deuteronomy 4:6
We learn that wisdom is hid in Christ, accessed through prayer and received in the pages of the Bible. In other words, when we are confused we can go to God in prayer and expect Him to speak to us through His Word. Sometimes the answers are easy to find. We might have an idea to do something and find that Scripture forbids it.
I recall when I first got saved that I began to pray about everything and I even asked God to bless things that His Word forbid. I recall being in a relationship that was clearly forbidden by Scripture, yet I continued to keep asking God to bless it. As time went on the relationship collapsed and I later learned that it was built on ungodly principles. To determine whether or not something is forbidden, we need to look at what the Bible has to say about the subject.
Sometimes we will find a wealth of information. If we are struggling in our marriage the Bible is filled with scriptures that address both marriage and relationships. If we begin to apply biblical principles to our circumstances, we will discover that the will of God begins to become very clear. Other times the Bible seems to be silent on the subject. It may say nothing regarding the promotion you have been offered or whether or not it is time to move into a new home. In those cases the words of Paul to the Colossians are priceless. He wrote in Colossians 3:15, "And let the peace of God rule in your hearts, to which also you were called in one body; and be thankful."
As believers we are not left simply with a road map to guide us, we are also filled with the Spirit of God who speaks to us. When I first sensed a call of God to ministry and realized I needed training, I made an appointment to tour a nearby Christian university that my friends attended. I had prayed and even asked for prayer from some of my Christian friends, but it was not until I walked onto the campus that I heard from the Lord. It became clear to me that this was not the path I was supposed to walk down and the clarity came from an overwhelming sense of the peace of God departing from me. Sometimes we can have a wide open door to do something, yet the peace of God is lacking. It is at those times we must trust that the Spirit of God is speaking to us and has a different route for us to take.
As you keep moving forward in your relationship with Christ, keep these principles in mind and remember that God desires to speak to you. It is not as though He is hiding His ways from us but has tucked them away in His Word and will reveal them to us as we daily walk in step with Him.