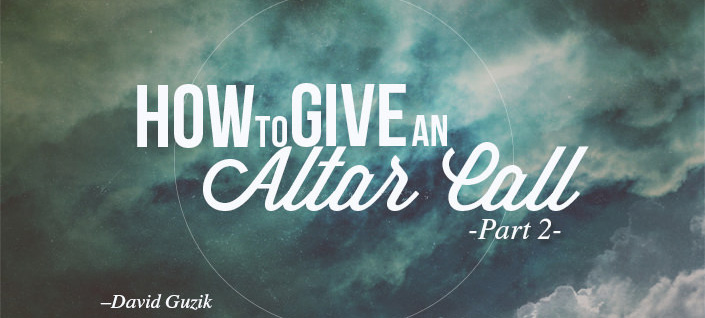 In a previous post I gave one important principle about the altar call: don't manipulate. We can manipulate in a call to decision by:
Using bait and switch tactics
Surprising our hearers with the call to decision
Extending the invitation for an unreasonable amount of time
Making the invitation so broad hoping that someone will decide
Using pretend converts to "prime the pump"
None of these have a place in a clear, honest call to decision. Without using manipulative tactics, there are definite ways to give an invitation. In calling people to declare a decision to repent and believe, we can invite them to show this in several ways. Sometimes the preacher or teacher asks them to raise a hand. Other times they ask those who decide to stand where they are. They may also ask them to come and speak with someone after the meeting is finished. Sometimes they ask the people to come forward, or perhaps a prayer is prayed with those who respond.
In our congregation at Santa Barbara, one way I have recently used to invite people to decision involves our prayer team. We are blessed to have an excellent prayer ministry at our services, which welcomes and prays for those who have any kind of need for prayer. I have used the prayer team as part of the invitation. I ask them to come forward, ready to pray with others as they normally do. Once the team is up front, I ask those who have put their faith in Jesus (and who desire to repent) to stand, come down an aisle, and meet with someone on the prayer team. This is a good way to call people to make a definite declaration of their faith, while at the same time connecting them with someone who can give individual attention to their new faith and spiritual needs.
No matter how the invitation is given, it's important to make some things clear in our invitation.
Make it clear that Jesus calls them to repent and believe. This was the message throughout the New Testament (Matthew 4:17; Luke 24:46-47; Acts 2:38; and Acts 26:19-20). We call people to repent of a life lived for sin and self, and to believe in who Jesus is, as well as what He did for them on the cross.
Make it clear that Jesus saves them, not their demonstration of a decision. It's a wonderful thing to ask listeners to raise a hand or come forward to the platform. Yet I like to remind people that it isn't the action of raising a hand, or coming forward that saves them. Jesus saves them and they receive it by faith. Responding to the altar call can be a demonstration of that faith.
Make it clear that their decision matters. We don't believe that God has established a system where human choice doesn't matter. Because our choices matter into eternity, God constantly appeals to our ability to choose. That's why Jesus said, "Therefore whoever confesses Me before men, him I will also confess before My Father who is in heaven" (Matthew 10:32). It's good to remind our listeners of just how important their decision is.
Since the decision matters, it's important that we do it right. In my next post, I hope to discuss some of the dangers of the altar call, and how to avoid them. Your comments and questions are appreciated, and I will respond to them as I am able.