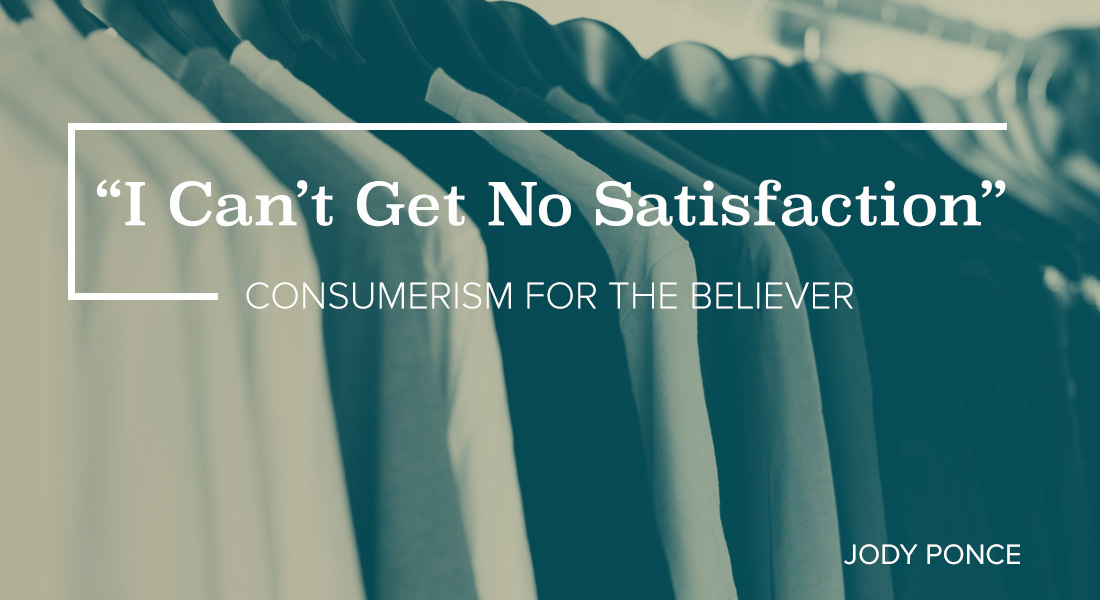 In the West we live in a consumer culture. By nature we are consumers. Let me list just a few of the items we consume daily: coffee, phones, fashion, handbags, shoes, house decor items, jewelry, watches, cars…the list goes on ad infinitum. Did I mention some of your items of consumption on this list?
Consumerism drives our western capitalist culture.
Businesses need consumers to purchase their product (supply and demand). Without consumers the whole capitalist system falls apart.
Think of the word "consume" for just a minute. What connotations come to mind? I think of eating; my husband can consume a Boston cream donut in less than 30 seconds. It's there, and then it's gone; it has been consumed. And let's face it, on occasion, eating just one Boston cream donut will not satisfy him, and so another one disappears in about the same time it took him to eat the first.
This brings up one very important aspect of consumerism, and that is the notion of satisfaction. If complete and eternal satisfaction was attained by a consumer after the purchase of their desired product, the whole capitalist system would fall apart because people would not want or need to buy anything else, ever.
The phenomenon of satisfaction does not, however, exist in the consumer culture we live in. If a person sees an item of clothing in a shop window and desires it, they picture themselves wearing it. They imagine how people will perceive them in it. They buy it and wear it, and for a while, it satisfies them. It makes them feel good, but sadly, it does not last. After some time, that item will be pushed to the back of their closet, replaced by a newer one.
Why, you ask, is there no lasting satisfaction in all our busy consumption?
Well, it is because the items we consume are inherently empty. They are made of plastic, metal, cotton, silk, wood and so on. These materials do not have the ability to ever satisfy a human soul. We look to empty, inanimate objects to define us and satisfy us, and it never works. Yet, from pop idols, to Hollywood stars, to your everyday Christian, we continue to run on this hamster wheel of unfulfilling consumerism. What then is the answer to this modern-day malady?
Well, the answer of course is to find true and lasting satisfaction. Mick Jagger famously sang, "I can't get no satisfaction." A man who seemingly had it all, said it with clarity and honesty: Satisfaction was outside of his grasp. If a person has an infinite supply of emptiness (all the possessions the world has to offer), it is no surprise that they will continue to feel empty. So then, how do we find true and lasting satisfaction?
Jesus addresses this very issue in the Gospel of John chapter four when He speaks to the Samaritan woman at the well.
Jesus and this woman have a conversation as she is drawing water from the well. In verses 13 and 14, Jesus says to the woman, "Everyone who drinks this water will be thirsty again, but whoever drinks the water I give him will never thirst again. Indeed the water I give him will become a spring of water welling up to eternal life." What a beautiful promise from our wonderful Savior. True satisfaction will never be found in consuming outside things. When we invite Jesus into our lives, He becomes, in us, a well of water springing up to eternal life. It is from His presence in our lives that we draw both our purpose and our eternal satisfaction. His ability to satisfy our heart's greatest needs will never run dry.
As Christians, with our eternal position in Christ secured, we must consciously choose to live in that truth daily and draw our satisfaction from the Gospel of Jesus Christ.
If we, as Christians, continue to look to consuming the things of the world to bring us satisfaction, then we will continue to strive pointlessly. In Luke chapter 12, we read about the rich, young fool who reaped a huge harvest. He built a bigger barn, stored up all his wealth, and decided to eat, drink and be merry for the rest of his days, but sadly, that very night, the young man died. Had he not died that night, however, history has proven to us that he still would not have lived merrily ever after. The fact is, he was putting his trust in wealth and possessions, and the whole course of human history teaches us that they do not bring happiness and satisfaction.
Therefore, let us stop pointlessly consuming the myriad of products this world has to offer, in a fruitless attempt to find satisfaction in them; instead, let us look to Christ, to the eternal salvation He has won for us. Let us drink from the fountain of His grace that wells up in us to eternal life. Certainly, do enjoy the pleasant possessions God has blessed you with, but never look to them to satisfy you, as they never will. Let us daily remember where to look for our satisfaction, to the only One who is capable of truly satisfying our souls, and let our prayer ever be, "Dear Father, 'Satisfy us each morning with your unfailing love, so we may sing for joy to the end of our lives'" (Psalm 90:14).