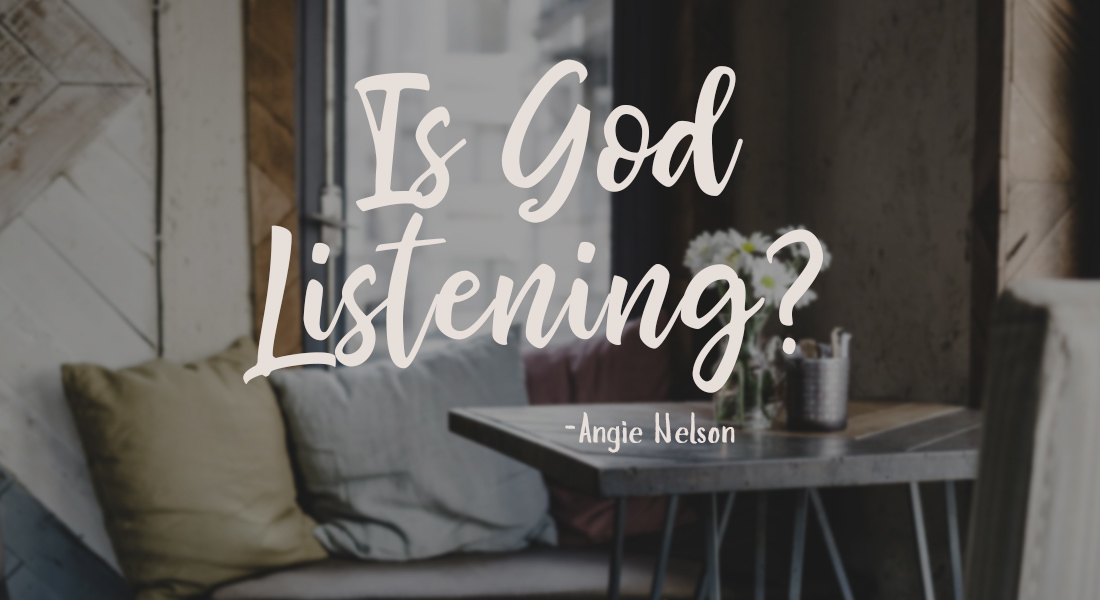 "O You who hear prayer, to You all flesh will come" (Psalm 65:2). I am so thankful for the character of the Living God! He is a good God…and He is a God who hears prayer!!
What if God was deaf to our prayers, or didn't care?
Many think of God that way. So many people do not pray because they think that God does not know or care about their lives. But the revelation of Scripture from beginning to end shows that Yahweh God is one who hears, cares and acts on behalf of human beings. In Genesis we see a God that walked with the people He created and was intimately aware and concerned for their wellbeing. He gave them everything they needed to live, be healthy and enjoy life together with their Creator. And when they got into trouble, He was the first One on the scene to instruct them and give them hope for their future (Genesis 3).
Scripture reveals God as One who "comes down" (See Genesis 18:20-21; Exodus 3:1-8; John 3:16-17). He is a God who invests in the life of His people. He is a God who is willing to get involved and even to leave the glory of His heavenly home to "come down" to earth and even allow His own Son to experience firsthand the consequences of sin and life on a fallen planet, all for those He has made.
The Psalms record the honest cries of people like us, who cry out to God, and rejoice when God answers. Psalm 116:1 says, "I love the LORD, because He has heard my voice and my supplications." I really appreciate the honesty of the psalmist here. I know this is a true statement for myself as well. I love the Lord because He hears my cries. I admit my shallowness in this, but just as a child loves a parent that is attentive to their needs, I can appreciate loving my heavenly Father because He is a good dad who hears my cries. That doesn't mean things always turn out the way I would like (Stay tuned for part two of this series next time, as I will write on the subject of "When prayer doesn't turn out the way we think it should").
But the point here is that God is listening to us.
He is aware, and He is helping us. And quite honestly, we love Him because of that.
This past week I read again the story of Hezekiah in Isaiah 37. Hezekiah was faced with an incredible, life-threatening challenge. The army of Sennacherib, King of Assyria, had been destroying city after city. Sennacherib and his army now threatened Jerusalem. Hezekiah's response to this threat was to take the letter of warning from the army of Assyria into his prayer closet and spread it before His God. Isaiah 37:14-20 records the event:
"And Hezekiah received the letter from the hand of the messengers, and read it; and Hezekiah went up to the house of the LORD, and spread it before the LORD. Then Hezekiah prayed to the LORD, saying: 'O LORD of hosts, God of Israel, the One who dwells between the cherubim, You are God, You alone, of all the kingdoms of the earth. You have made heaven and earth. Incline Your ear, O LORD, and hear; open Your eyes, O LORD, and see; and hear all the words of Sennacherib, which he has sent to reproach the living God. Truly, LORD, the kings of Assyria have laid waste all the nations and their lands, and have cast their gods into the fire; for they were not gods, but the work of men's hands—wood and stone. Therefore they destroyed them. Now therefore, O LORD our God, save us from his hand, that all the kingdoms of the earth may know that You are the LORD, You alone.'"
And the result of this prayer is recorded as well. God heard and answered this heartfelt prayer and powerfully rescued Jerusalem and Hezekiah from this threat. You can read on in Isaiah 37 to find out the amazing deliverance. And reading on into Isaiah 38, you will find more answered prayer as Hezekiah pleads with God to extend his life, and God does!
These experiences of answered prayer are not just old stories in a book written long ago.
They are experiences still happening today in the lives of Christian believers worldwide. I have my own stories, and I am sure you have yours too! For instance, each of my children have had near brushes with death. And they are still alive and worshiping God by His grace and answers to prayer!
Isaac, our oldest son, nearly choked to death at six months old. I remember crying out to Jesus as he turned purple and then blue. I knew 911 would not be fast enough to help us, and I could not get the food un-lodged from his throat. Yet as I was crying out to Jesus, He heard my cries and opened our son's throat! Our daughter, Lauren, caught a respiratory virus (RSV) at six weeks old and was hospitalized. The odds were very high that she would not survive the illness, since she was so young. Many people were praying for her, and she was released from the hospital in three days, already recovering! Our youngest son, Seth, fell from an eight foot high loft and hit a hard wood floor on his head at only four years old. He also turned purple and had a nerve- racking ambulance ride to the hospital. We were sure he would have broken his neck, back or worse, not even breathe again after hitting that hard floor! But amazingly he had no damage when he was examined and X-rayed at the hospital. They are all three alive and well, loving and serving Jesus!
There are so many more stories of answered prayer in our lives. I don't have time to write them all! But as a pastor's wife and missionary, we are so often literally living by faith "feeding on His faithfulness" (Psalm 37:3). And God has always taken such good care of us. As the Psalmist says, "I have been young and now am old; yet I have not seen the righteous forsaken, nor his descendants begging bread" (Psalm 37:25).
If you are wondering if God is listening, and if He cares, doubt no longer.
Open the pages of His word and see the revelation of His care from beginning to end. Cry out to Him with the burdens of your heart. It may not be immediate, and it may not be what you think, but He will be working in your life for good. That's the kind of God He IS!