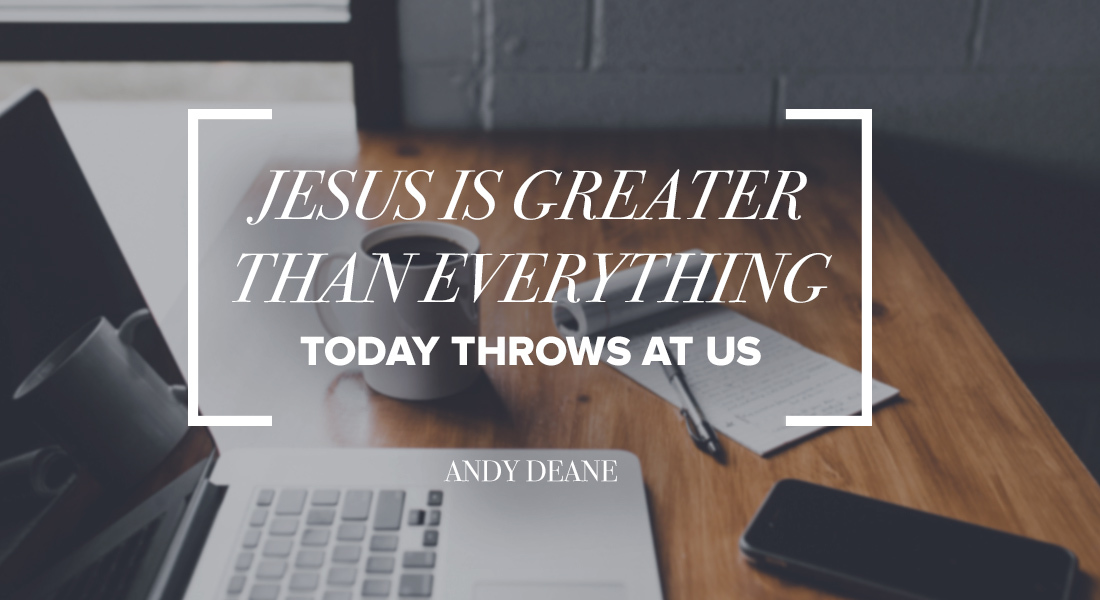 Whether you encounter difficult trials or unexpected joys today, it's imperative to remember that God is greater than anything you experience. He's bigger than any obstacle, enemy or tragedy, and He's better than any material blessing. The Scriptures testify to this. For example, the woman at the well doubted Jesus' claim that He could offer living water that would quench her thirst. She challenged Him, starting with the all too familiar phrase: "Are you greater than…" (John 4).
It's a question that each of us poses when we are tempted to discern whether the "passing pleasure of sin" is worth more than "choosing rather to suffer affliction with the people of God" (Hebrews 11:25). There are several instances in the New Testament where the Scriptures depict God as "greater than" our circumstances or temptations. Be encouraged that God is good—no matter what the day brings.
He's Greater Than…What Anyone In This World Can Give You:
"Are You greater than our father Jacob, who gave us the well, and drank from it himself, as well as his sons and his livestock?" (John 4:12). The woman at the well doubted Jesus could give her something better than what was already provided by Jacob, but she would soon learn that Jesus is the "Living Water" (John 4:14). There is no person in your life that is able to provide for you better than your Savior.
He's Greater Than…Our Idea of Service:
"Most assuredly, I say to you, a servant is not greater than his master; nor is he who is sent greater than he who sent him" (John 13:16). Although we may struggle to understand servanthood, Jesus is the embodiment of service. Today, when you see an opportunity to serve, ask the Lord to expand your heart and sync it with His.
He's Greater Than…Our Guilt:
"For if our heart condemns us, God is greater than our heart, and knows all things" (1 John 3:20). There's nothing the Devil likes to throw in our faces more than our mistakes. The blood of Jesus covers your sin so perfectly that our rebellion is totally forgiven by God. Confess your sins and put them behind you, because He's greater.
He's Greater Than…Our Perceptions of God:
"I say to you that in this place there is One greater than the temple" (Matthew 12:6). The religious leaders struggled with Jesus and His disciples because their understanding of God and His heart was misguided. Today, as you face confusion over God's character, remember that He is far more loving, good and powerful than we can ever understand.
He's Greater Than…Our Enemy:
"He who is in you is greater than he who is in the world" (1 John 4:4). Our adversary wants you to think that he is unstoppable and that his team is unbeatable. The truth is that the God of the universe dwells inside you, and Satan is no match for Him. We just need to believe this by faith and resist the Devil. God will protect you because He is greater (2 Thessalonians 3:3)!
He's Greater Than…The Wisdom of This World:
"The queen of the South will rise up in the judgment with this generation and condemn it, for she came from the ends of the earth to hear the wisdom of Solomon; and indeed a greater than Solomon is here" (Matthew 12:42). This queen overcame every obstacle to hear Solomon's wisdom. Today, you'll face many obstacles as you seek God's wisdom in the Word. Press on until you meet with Jesus, "…In whom are hidden all the treasures of wisdom and knowledge" (Colossians 2:3).
He's Greater Than…Any Believer That's Hurt You:
"The men of Nineveh will rise up in the judgment with this generation and condemn it, because they repented at the preaching of Jonah; and indeed a greater than Jonah is here" (Matthew 12:41). Jonah couldn't have been a worse representative for God. Unfortunately, even those in ministry will sometimes let you down. It can be discouraging when a pastor, elder or ministry leader sins against you. By faith, walk in forgiveness and aim for reconciliation. Praise Jesus for being a preacher with integrity. He will never let you down!
He's Greater Than…Death:
"Are You greater than our father Abraham, who is dead? And the prophets are dead. Who do You make Yourself out to be?" (John 8:53). The Jews struggled with Jesus' words and couldn't believe that Jesus was alive in Abraham's day. But we serve a God who is the "Author of Life" (Acts 3:15) and who is alive today. Let these words of Jesus comfort you, "I am the resurrection and the life. He who believes in Me, though he may die, he shall live. And whoever lives and believes in Me shall never die. Do you believe this?" (John 11:25-26).
Please take a minute to consider these scriptural truths, and thank God in prayer for being greater than anything you will encounter today. He's ready. He's not surprised. He has a plan to get you through and use it for good in your life. Praise God!