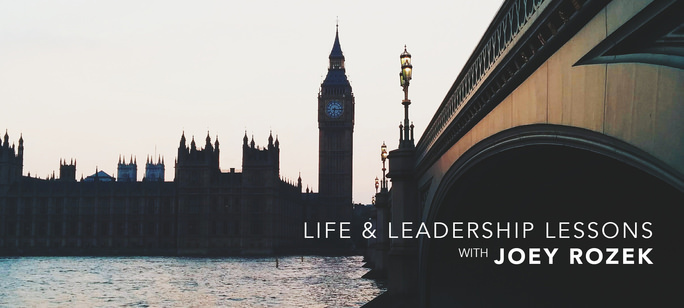 Name: Joey Rozek

Family: Tiffany, Madelyn (14), Josiah (12), and Jordan (8)

Years born again: 29 years

Years in ministry: Over 17 years

Ministry experience: Youth Pastor/Apologetics Bible Teacher, Evangelism, CC Costa Mesa (3.5 years), Youth Pastor, CC Old Bridge (4.5 years), Sr. Pastor, Calvary Chapel Cambridge (9 years)

Current ministry role & location of local church: Lead Pastor, Calvary Chapel Cambridge, Cambridge, England

Church website & social media: www.calvarycambridge.uk, joey@therozeks.com
What is the greatest life lesson the Lord has taught you recently?
The Lord has been teaching me about how to live in the simplicity of Christ by seeking to be obedient to what the Lord is saying in the present moment. It is easy to feel pulled in so many directions and to evaluate life by the results we are presently having or desiring to see. But all God requires of us is to live according to His voice alone. In other words, just simply obey the Lord who always knows what it best!
As we intentionally keep our focus on obeying what the Lord is saying to do right now, we will simplify our lives and find contentment in our present circumstances. This is the way to redeem our time and maximize the opportunities that we are given by God which are right in front of us. In every situation in our lives, there is an opportunity to bring glory to God and to invest in the people that God places in our sphere of influence. There is great joy in helping the people right in front of us to progress and be joyful in Christ.
I don't want to take anything for granted and I do not want to miss the opportunities to build up those around me and tell them just how much they truly mean to me.
What is the greatest ministry lesson the Lord has taught you recently?
The Lord has been reviving my heart to be drawing from the fullness of the supply of God's Spirit with greater confidence and expectancy in what God is both able and willing to do in my ministry unto Him. God has been showing me that in every good work that He has prepared for me, there is the necessary grace to accomplish that very work.
After years of immersing myself in the Scriptures and hiding the Word in my heart, the Lord is showing me more and more that He can draw from the well that is in my heart, that is full of His Word, and give me the appropriate words for the appropriate situation that I or someone else is dealing with. Jesus nailed both us and our sins to the cross and He sums up our great need with this single statement, "Apart from Me, you can do nothing." (John 15:5)
I believe we underestimate the power of God's Spirit and overemphasize the difficulty of our hardships. But is anything really hard for God? Our God is known by His mighty works and by making a way when there doesn't seem to be a way! Jesus has made it possible for us to live with the same supply of heavenly resources that He lived with when He was on the earth. He is the Source of the living waters of life. He said, "Out of [our] heart shall flow rivers of living water" (John 7:38). This is biblical and practical Christianity.
Our God did not just provide grace for our salvation but for every situation that we find ourselves in. Praise the Lord for this! Paul was given an amazing revelation of heaven, but was also shown that what is going on in heaven is actually available for all on earth who have the indwelling Spirit. Paul recorded these words of Jesus, "My grace is sufficient for you, for My strength is made perfect in weakness," and then said, "Therefore most gladly I will rather boast in my infirmities, that the power of Christ may rest upon me." (2 Cor. 12:9)
What are you looking forward to most at the CC Missions Conference?
I am looking forward to having the opportunity to hear how God is working in and through the lives of many of His servants from all over the world. I am looking forward to hearing what God has been stirring in their hearts at this present time and looking to see things confirmed and revealed in my own life. I desire to hear what the Spirit is saying to the churches at this present time in a real prophetic sense and I look forward to hearing the testimonies of those I will personally get to speak with.
It is always a great joy to come together with other like-minded brothers and sisters in Christ who are willing to lose their lives by giving their lives for the expense of His kingdom and for His name's sake.
What topic are you teaching on at the conference?
I will be sharing on "The Influence of Obedience." I am looking forward to sharing from the overflow of what Jesus has been most stirring in my heart concerning a life of simple obedience and how this extends to our greatest influence in the lives of others and in the world around us. Jesus modeled a life of reaching the world by simply doing the next thing the Father told Him to do. This is the secret to a life that is lived to the fullest and leaves a great impact.
Our simple obedience to God always leads to having a broad influence to others. The more we align ourselves with God's heart, the more we will touch people for eternity. Thus, our obedience is our influence.