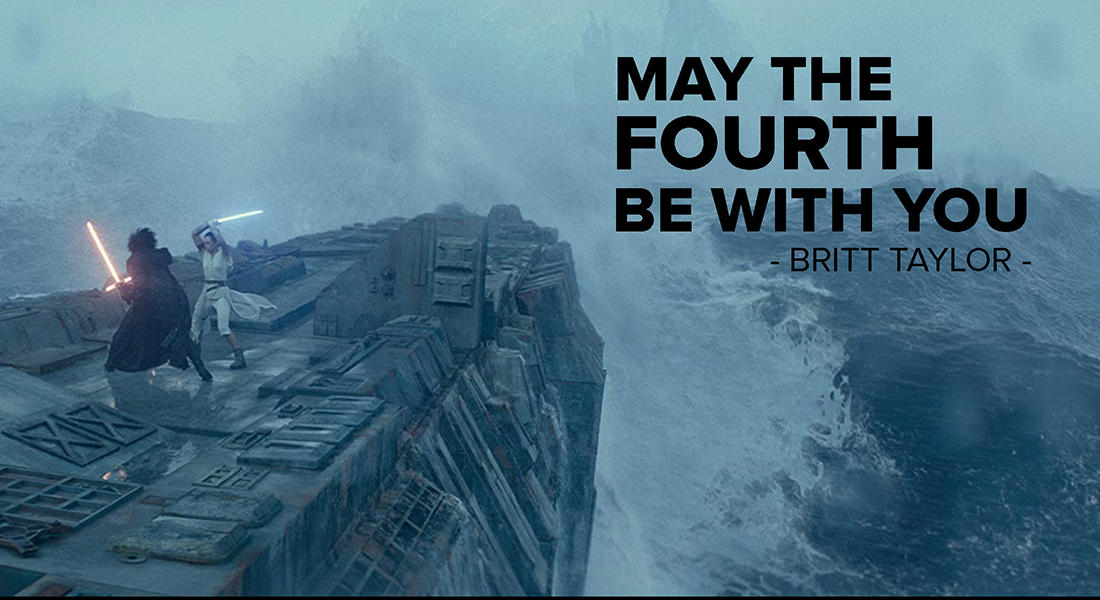 "The eyes of the Lord are in every place, keeping watch on the evil and the good" (Proverbs 15:3).
"Never tell me the odds," uttered the famous words from Han Solo (played by Harrison Ford) in the 1977 blockbuster film, A New Hope, that arguably shocked and radicalized the industry, and propelled the Star Wars franchise. Forty-three years later, here we are in 2020 with the ninth film, The Rise of Skywalker, newly released on Disney+, cheekily, today on "May the 4th."
May 4, 2019: I had a packed schedule in May 2019: conference planning at work, friends, day trips to LA, concerts, catching the late sunsets on PCH, and quite frankly, cramming every opportunity to use my annual pass at Disneyland before I was blocked through the impending summer season.
Who would have thought…? Who could have imagined…? How can I see past this…? Why did God allow this??
May 4, 2020: I'm sitting in my chair at home, "sheltering in place" for several weeks now, having one event date on my calendar this week: "May 4: watch Rise of Skywalker." Why is this reminder on my calendar more comforting than the prayers I have said, the passages of scripture I have read and the devotionals I have perused during this season? Then I recalled a few famous "Star Wars," quotes (not nerdy at all) that oddly seem relevant for today.
"Your eyes can deceive you. Don't trust them." – Obi-Wan Kenobi
Proverbs 15:3 proclaims God's omnipresence. He sees the good. He sees the evil. We are definitely facing a bad season: a time of confusion, fear, panic, stress, pain and suffering….but then, when do we not face these underlying foes on earth? David Guzik quotes G. Campbell Morgan:
"Keeping watch: 'The word employed describes a very active and purposeful seeing. The statement is far more than that God sees; it is that He is investigating, observing…He is keeping watch upon the evil. It is never out of His sight'" (Enduring Word).
Yes, we may believe that God is omnipresent, and as a believer, I should find comfort in this, right? That nothing remains unseen from Him. That He was with me through my past trials. That He promises to walk with me through my current situation. Understandably, there are many interpretations of this crisis: Some in the Church argue that this pandemic is the work of the enemy. Others say that God allowed this for a reason. Still, another group may say this is a consequence for the world's past sins. "Why, Lord?!", I have exclaimed more than once. "People are dying. People have lost their livelihood. Why, Lord?!"
Obi-wan encouraged Luke Skywalker to not limit himself by his own eyesight when Luke began training as a Jedi. Silly correlation; however, as the story explains, Obi-Wan had spoken from experience when having to face Luke's father, Anakin, who had completely turned away from good in his blinded fear and hatred and had become, quite literally in the end, a killing machine.
As I have come to moments of panic and sorrow in this season, I have been reminded of Proverbs 3:5-6: "Trust in the Lord with all your heart and lean not on your own understanding." As believers, we are not like Anakin, but we all have the potential to be (Jeremiah 17:9). Once sin entered the earth through the first Adam, so we all follow with the same evil intent and potential. I cannot trust my own sight because, if unchecked, I can fall down toward a very dark path. I need to take comfort in God's power. I need to cling to His promises that He sees the evil happening (Proverbs 15:3) and will avenge us all (Romans 12:19). The beauty of God's omnipresence is that no evil will remain unpunished. Perfect and absolute, He knows me, knows all my experiences, LOVES me and has not forsaken me thus far. That is comforting.
"I find your lack of faith disturbing." – Darth Vader (NOT GOD)
Just as this quote above is from one of the most iconic, on-screen villains, just so, Satan whispers conflicting thoughts to draw me away from God.
One of the most powerful passages in the gospels to me is when the Roman centurion sends for Jesus to heal his servant, having simple yet complete faith in Christ. This man wasn't previously a believer. His vocation spoke this much, as his allegiance, vocationally, was to the overtly pagan Roman empire, led by the formidable Caesar.
I have to remind myself that God is beyond human complexity. As I choose to have simple faith in God's power, His character and His promises, I want to remember His grace in my life. He does not reject me because of my lack of faith. He patiently guides me through the highs and lows.
"I need someone to show me my place in all of this." – Rey
David Guzik expounds on Proverbs 15:3 with a quote by Charles Bridges:
"And the good: 'The Lord's eyes also see the good. He sees them in outward destitution, in secret retirement, in deep affliction. He pierces the prison walls. He is with them in the furnace and in the storm'" (Enduring Word).
Beyond this very real battle against COVID19, there is that deeper battle that continues to rage between the seen and unseen. The enemy is seeking and striving to use every opportunity to drag the Church down. I have felt that spiritual oppression. Yet, will I truly surrender to Jesus, my Lord and Savior, and believe that He will see me through? That He will protect me in this spiritual battle? Will I accept that He truly is my "only hope?"
If there is one thing we can believe in right now, it's that He understands. Jesus stripped Himself of His divine position with the Father and lived the human experience on earth: felt every emotion, endured every trial and faced the ultimate suffering on the cross, to bear our sin and defeat the enemy once and for all. He has felt what we are feeling. He understands the confusion, pain, stress, panic, fear and suffering. He has already won the spiritual battle. He will see us through this pandemic.
It is very much OK to mourn over this season. We all have good reason to. The gravitas of this pandemic has been heavy, if not, straight-up scary. Yet, the Lord is so good to be with us through all emotions. He promises to never fail us and will see us through this life on earth (John 14:1-4; Matthew 28:20).
When I hear those dark whispers and lies from the pit of hell, those thoughts of despair and temptation to disregard God's promises, I strive to cling to Jesus. God has not given us a spirit of fear (2 Timothy 1:7). He has provided a way for us to face the trials, the pain, and ultimately, the enemy. He already conquered death itself on the cross. We are set free. Rest in this truth. I would encourage you to read/study the scriptures to be assured of this truth.
I am so encouraged to hear many people have tuned in to online church services and have come to faith in Christ, and that the gospel message is still being proclaimed in this season of "sheltering in place." Our place is right where God has us. He knows the beginning from the end. We can still fulfill the calling He has on each of our lives as believers. We have the hope of heaven. We will get through this.
For those who share in the nostalgia-love of this franchise, grab a seat and enjoy the complete ninth film of Star Wars today…heck, Zoom call your family/friends and nerd-out. And by Christ's grace and power, may the fourth be with you.
***

If you wish to read through a series of resources, we have a list titled, "CGN Sheltered in Place Resource List."
– God bless from the CGN & CalvaryChapel.com Team!

Star Wars is known for its central theme of "the force" as a belief system and a means of gaining power. CalvaryChapel.com & CGN do not necessarily agree with every element of the Star Wars story. By sharing this article, we aim to remind people of the hope and truth in Christ Jesus and encourage others toward the hope of Christ.
CalvaryChapel.com does not necessarily endorse or agree with every message or perspective in the diverse links posted. By providing these links, we hope to help you stay informed of important events and conversations taking place in the world that are relevant to the Christian faith.

Rise of Skywalker is rated PG-13 for sci-fi violence and action. The image above credited to Lucasfilms.