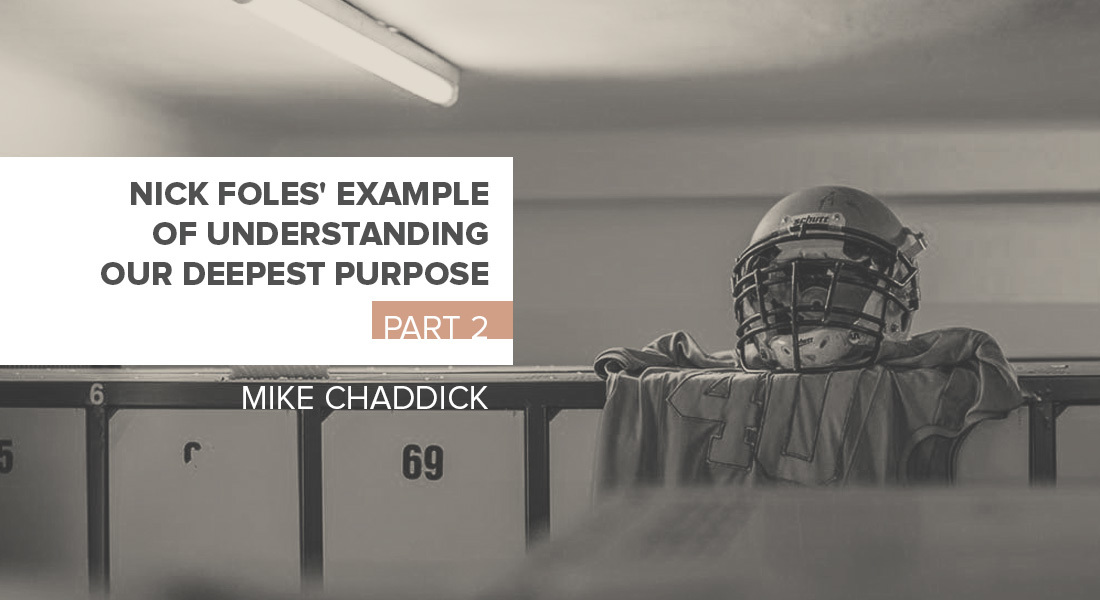 Last Thursday the city of Philadelphia welcomed home, for the first time ever, their Super Bowl champion Philadelphia Eagles. Somewhere between 700,000 and 2,000,000 people showed up to celebrate the Eagles' historic upset with a champions' parade downtown.1 And a big part of that remarkable win was due to the stellar play of Philly quarterback, Nick Foles. While Tom Brady has dominated football headlines for more than a decade, it was the unlikely back-up quarterback, Foles, who helped his team bring home the Lombardi trophy.
And as it turns out, Foles' personal story also speaks out about the human quest to find our deepest purpose.
About a year or so prior to his MVP performance in the Super Bowl, Foles was seriously considering leaving the game of football behind. He had been let go by the Rams in 2016 and could no longer see the purpose in playing football anymore. In fact, in one interview he revealed that he had simply lost all joy in playing the game. As he later recounted, "I think as people, we deal with struggles. And that was a moment in my life where I thought about it, and I prayed about it."2
As a follower of Jesus, Foles knew he had a big decision to make, and he didn't want to do it without his family and without the leading of the Lord. Ironically, what he prayed about specifically was whether to quit football and whether to become a pastor. He had been taking seminary courses and preparing for the day he would leave football, but the question of whether or not that moment had yet come was unclear. As a Christian, which would be the right call?
Some would answer that only a fool would give up a pro-football career to, of all things, be a pastor. Others might say the more glorifying thing to God would be to quit football and do "God's work." But as it turned out, Foles' theology was, in my opinion, better than many. He saw that it is not so much a matter of which is more important, football or pastoring, but of glorifying God. As it turns out, the answer to how best glorify God was to keep playing football. After praying about it, Foles explained, "It took a lot more faith to come back and play than it would've to go in the other direction…Either way would've been fine. Either way, I would've trusted in God. I would've done something else and glorified God in that instance."3
Foles' example of understanding the call to glorify God in all of life, wherever we are, in any vocation, is vital to the church's ability to be "salt and light" to the watching world.
Christianity is not supposed to be a retreat from the world, but an advancement as God's people into it. As the Apostle Paul said, "And whatever you do or say, do it as a representative of the Lord Jesus, giving thanks through him to God the Father" (Colossians 3:17). Any job becomes a calling, when we let Jesus speak and work through us.
As a pastor over the last 10 years, I have watched men and women come alive when it finally clicks with them that their jobs are not less spiritual than my job (or any other "ministry" position for that matter). But rather, when the reality that the place to which God calls you (which for most people will not be church employment) is the most spiritual place you can be, people become reinvigorated about their jobs. And why shouldn't they, the average person spends more time at work each week than any other place, including sleep!4 We need people at work both in the church and in the world in order to fulfill our calling collectively as the body of Christ. It will be crucial in the years to come to see whether Christians in America will, once again, integrate their faith and their work. In addition to a great game of football, Nick Foles' personal story becomes an illustration about how we can find our deepest purpose by following Jesus wherever He leads, especially to our places of work.
1 "Eagles' Parade Crowd Estimate Riles Disbelieving Fans"– The Inquirer
2 "Nick Foles Went from Thinking About Retirement to Super Bowl MVP in Just Two Years"– WGN 9
3 "Nick Foles Plans to Become a Pastor After Football"– ABC NEWS
4 Weisman, Michael and Beth Jusino, Choosing Higher Ground: Working and Living in the Values Economy, Santa Ana, CA: Nortia, 2016. Print.
CalvaryChapel.com does not necessarily endorse or agree with every message or perspective in the diverse pieces posted throughout media outlets. We hope to help you stay informed of important events and conversations taking place in the world that are relevant to the Christian faith.