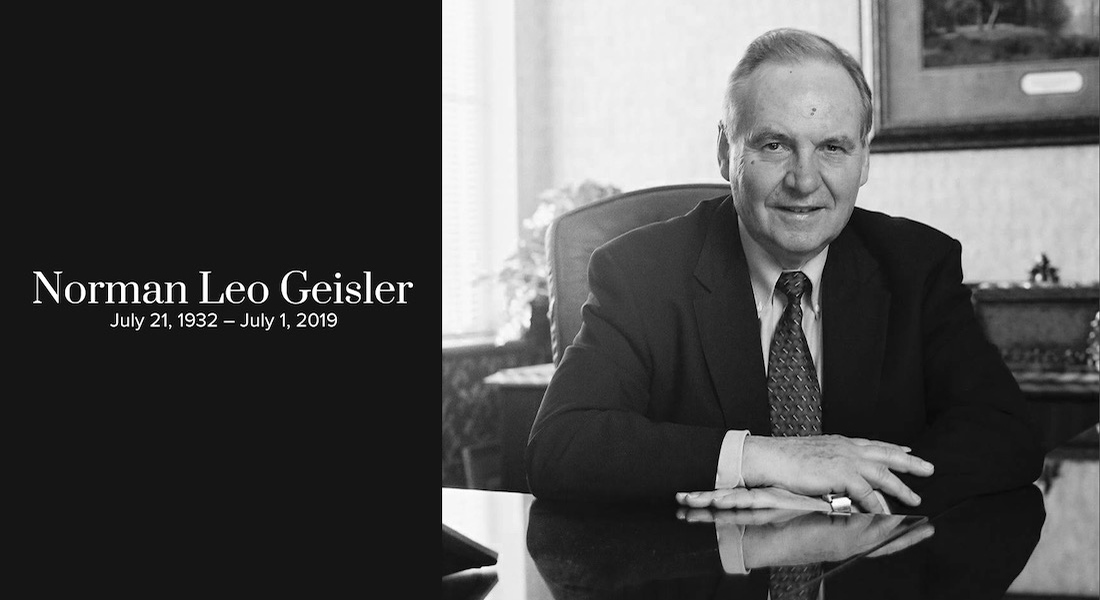 "The Man Who Didn't Have Enough Faith to be an Atheist"
"I am put here for the defense of the gospel" (Philippians 1:16).
On July 1, 2019, 20 days before his 87th birthday, we lost an eminent professor, lover of Jesus, defender of truth, brother and friend. The news of Norm's (as he liked to be called) passing in the early morning hours rippled across the country (and around the world) with supersonic speed. Christianity Today and various outlets reported the news to a Christian world that must now get used to not having the closest thing to a living theological and apologetic encyclopedia at its disposal. I often fantasized about an electronic device that every Christian should have, that would give clear and concise apologetic answers, called the "Pocket Geisler". Nobody should leave home without one! Though the device is but a fantasy, he has left a very real and influential legacy for the benefit of all of us. Simply put, his widespread influence and investment in the lives of his students and colleagues, his family, teaching, publishing, have made him the greatest apologist of the last half-century. His profound presence and Christlike example will be greatly missed!
Meeting Norm
After meeting Norm in 1995, when I moved from sunny Southern California to attend his seminary in Charlotte, North Carolina, I quickly found out how humble and personable he was. His inviting and friendly smile and light conversation quickly dispelled any notion that Norm was a heartless and cold academician. I quickly found out he loved playing baseball, had a great arm from third base, and could run like the wind in his playing days! This was very interesting to me and caught me by surprise. I quickly shared some stories of my professional baseball playing days in Mexico. Eventually, recognizing his love for the game, I gave him a professional Louisville Slugger wood bat that had my name engraved on it, which he kept in his office ever since. But when Sunday arrived, his attention was fixed on Jesus, and his afternoons were filled with his cherished Dallas Cowboys football team. If one hadn't known about Norm's apologetic ministry, some could have mistakenly identified him with a sort of modern day, lighthearted, Mr. Magoo, who had no rhyme or reason for anything he did. But this couldn't be farther from the truth. Norm's goal was to teach teachers, equip equippers and train trainers to share the gospel and defend the Christian Faith. He meant so much to so many, equipping an entire generation of apologists, theologians, pastors and Christians with his incisive logic and clear communication that made difficult concepts much easier to understand. Because of his clarity and concise systematic content, he endeared himself to a whole generation of Christian learners and pastors around the world. Among his many students is the influential Ravi Zacharias.
Early Days and the Need for Apologetics
Norm's love and appreciation of apologetics grew out of his many experiences. As a newly minted Christian, he spent many of his early days witnessing to the homeless and drunks in Detroit's "skid row." How hard can that be, right? On one such occasion, as he was sharing the gospel, an annoyed drunk stumbled up and snatched Norm's Bible away, rebuked him and clumsily turned the pages intently searching for a particular verse. Then, pointing his boney finger to the verse, he slurred to Norm, "See, you're not supposed to be giving the gospel. The Bible says, 'go and tell no man.'" It was after this troubling experience that Norm recognized his need for apologetics and the choice he had to make: Either stop sharing the faith or get answers to tough questions. Thank God he chose the latter. The rest is history.
Apologetics and a Warning to Students and Scholars
Dr. Geisler loved to teach and also loved his students, often warning them as a caring father that their philosophical (worldview) assumptions will determine their theological conclusions. For Norm, the negative Bible critics and even some evangelical scholars have fallen victim to this problem. Namely, the acceptance of bad ideas and faulty methods have led to an unorthodox/heretical reading of the Scripture, which inevitably leads to error. Norm always followed his warning with the axiom, "Garbage in, Garbage out!". As a trained philosopher, Norm was well aware that ideas have consequences, so he made it a priority in his teaching and writing to highlight the importance of good thinking and the devastating perils of faulty methods. To drive home this point, he often quoted A.W. Tozer's familiar refrain from his Knowledge of the Holy, "What comes into our mind when we think about God is the most important thing about you." Why? Because idols can be metal or mental, and worship can rise no higher than your concept of God. Norm's focus on the role of worldview ideas in discovering truth gave him his drive for classical apologetics and to take seriously the apostle Paul's warning to "beware of philosophy" (Colossians 2:9).
He viewed apologetics as having an offensive and defensive purpose. Offensively, it builds a case for the Christian Faith. Offensively, apologetics answers the crucial question: Why is Christianity true?
This offensive case is accomplished through 12 basic premises:
1. Truth about reality is knowable.
2. Opposites cannot both be true.
3. It is true that the theistic God exists.
4. Miracles are possible.
5. Miracles performed in connection with a truth claim confirm the truth of God through
a messenger of God.
6. The New Testament documents are reliable (textually and historically).1
7. As witnessed in the New Testament, Jesus claimed to be God.
8. Jesus's claim to be God was proven by a unique convergence of miracles (e.g., the
resurrection).
9. Therefore, Jesus was God in human flesh.
10. Whatever Jesus (who is God) affirmed as true, is true.
11. Jesus affirmed that the Bible is the Word of God.
12. Therefore, it is true that the Bible is the Word of God, and whatever is opposed to any
biblical truth is false.
Defensively, apologetics answers any sincere objection or question about the Christian Faith. For example, when objections arise to the existence of God, they may need to first understand the absolute nature of truth. Likewise, someone who questions the resurrection needs to understand the reliability of the New Testament. To put it another way, apologetics is pre-evangelism. That is to say, it is done before evangelism if needed or when an objection or question is raised.
Use of Good Philosophy
In addition to his love for Scripture and apologetics, Dr. Geisler, while in his early 40s, earned his Ph.D. in philosophy from Loyola University in Chicago. As an evangelical attending a liberal Catholic school, he found himself thinking deeply about the claims of some philosophers, and how they related to biblical statements. He recognized that while some philosophies (and philosophers) contradicted the Scriptures, others would provide useful support and clarification for Christian doctrine. Norm believed there is a difference between good philosophy and bad philosophy, and that the Scriptures command us to use our mind in worship (Isaiah 1:18; Matthew 22:37; John 4:24; 2 Corinthians 10:5) and the defense of the faith (1 Peter 3:15). Because of his love for the gospel and good philosophical reasoning, Norm was often described as a cross between Thomas Aquinas and Billy Graham.
Norm made extensive use of the works of Thomas Aquinas (c. 1224-1274), particularly the Summa Theologica (Bk I), Summa Contra Gentiles, On the Power of God, On Being and Essence, On the Soul, and many others. The most important topics Aquinas addressed related to apologetics include revelation, faith and reason, knowledge, reality, God, analogy (of religious language), creation, human beings, the problem of evil and ethics. On these issues, Aquinas adds significantly to a deeper understanding and better defense of the evangelical faith (see Geisler, Thomas Aquinas: An Evangelical Appraisal). Dr. Geisler views Aquinas' work as helpful in building a theistic foundation for doing apologetics and supporting the classical attributes of God such as His unchangeableness, eternity, infinitude and simplicity (unity). According to Norm, a Thomistic approach is the best corrective to finite views of God such as process theology and open theism.
Professional Experience
During his nearly six decade-long ministry, Norm has debated scores of atheists and skeptics and has shared the gospel around the world. What is more, he has co-founded two graduate schools, Southern Evangelical Seminary in Charlotte (NC) and Veritas International University in Santa Ana (CA), and has taught theology, philosophy and classical Christian apologetics on the undergraduate and graduate level at some of the most well-known seminaries in the United States, including Trinity Evangelical Divinity School and Dallas Theological Seminary.
Though space doesn't permit a full treatment of Norm's professional career, there are some key highlights worthy of note. Norm began his professional career at his ordination in 1956, pastoring churches in Michigan and Illinois until 1963, and again from 2003-2007 in Charlotte, NC. His academic career began as a graduate assistant in the Bible/philosophy department at Wheaton College in 1959, but more recently he served in various capacities which include, but are not limited to: first president of Evangelical Philosophical Society (1976), President of the Evangelical Theological Society (1998), President of Southern Evangelical Seminary (1999-2006), co-founder of the International Society of Christian Apologetics (2006), President of the International Society of Christian Apologetics, (2006-2008), Distinguished Professor of Theology and Apologetics, and Chancellor of Veritas International University (2008-2019), and general editor of the Defending Inerrancy initiative (2014-2018). Though he is best known for his uncompromising defense of the Christian worldview and his many publications, his love for family and students, humility and tireless work ethic is a major part of who he is.
Many recognize Dr. Geisler from his systematic and concise writing style reflected in his 127 books on various subjects such as ethics, apologetics, philosophy, Bible and theology, many of which are used in Bible colleges and seminaries across the nation.
Biblical Inerrancy
Dr. Geisler is also recognized for his involvement in the historic International Council of Biblical Inerrancy (ICBI) from 1979-1989. During his time with ICBI, he was a founding member (along with Jay Grimstead, Harold Lindsell, J.I. Packer, Greg Bahnsen, John Gerstner and R.C. Sproul), chief editor of ICBI publications and served as a framer of the Chicago Statement on Biblical Inerrancy (CSBI) and Chicago Statement of Biblical Hermeneutics (CSBH). These statements would eventually be signed by some 300 evangelical Bible scholars at the ICBI council and adopted by the Evangelical Theological Society (ETS) as their working definition of Biblical Inerrancy. The inerrancy issue was given priority by Dr. Geisler's, writing prolifically on the subject and often defending this important doctrine even when it was not popular to do so (see Geisler and Roach, Defending Inerrancy; Farnell, Geisler, Holden, et. al., Vital Issues in the Inerrancy Debate; and Farnell and Geisler, The Jesus Quest). For Norm, Biblical Inerrancy was a conclusion flowing from a thorough examination of the Scriptures and from recognizing that God doesn't make mistakes. His logic was as follows:
1. God cannot err.
2. The Bible is the Word of God.
3. Therefore, the Bible cannot err.
More recently (2014), Norm and other evangelical scholars, established the Defending Inerrancy initiative designed to raise awareness of the troubling trend within Christian academic institutions and among evangelical scholars to drift away from biblical Inerrancy.
The Kind of Man Norm Was
The best instance to illustrate what kind of man Dr. Geisler was is his involvement in the Scopes II trial in Little Rock, Arkansas. In 1981, the Arkansas legislature enacted a law that permitted the teaching of creation science alongside evolution in public schools. You can imagine what happened next, the ACLU sued the state and subsequently brought nearly three dozen aggressive lawyers to squash the law. The Arkansas state attorney general, who was not prepared or motivated to defend the new law, called upon Norm to be the only state witness. Norm was essentially the sole defense of the new law. For weeks the ACLU lawyers tried to argue their way to victory by overwhelming Norm with questions and debate day after day for hours on end and getting nowhere, leaving the courtroom absolutely frustrated. When the ACLU sensed they were not going to defeat Dr. Geisler by argument, they chose to use his previous writings to frame him (with the help of the media) as a religious fanatic. Unfortunately, the law was reversed. Despite the outcome, Norm is a fearless individual who believes in the strength of truth even amidst overwhelming odds. We need more believers like him, who like John the Baptist, ate locusts and wild honey, wearing camel hair clothing and speaking the truth no matter what the consequences may be. This is the kind of man God used for nearly 60 years to strengthen the church, which earned him the nickname "Stormin' Norman."
Family
Dr. Geisler is survived by his gracious wife, Barbara Jean (married 62 years as of 2019), a graduate of Fort Wayne Bible College (Taylor University), their six children, 15 grandchildren and three great-grandchildren! We pray for Barbara and the Geisler family who are facing the loss of Norm's profound presence with them. They are grateful for the opportunity to have enjoyed a strong and rich life in their years with such a man of God. We all take comfort knowing Dr. Geisler is in the loving arms of our Lord and Savior Jesus Christ. We will see him again!
Jesus said, "I am the resurrection and the life. He who believes in Me will live, even though he dies. And everyone who lives and believes in Me will never die. Do you believe this?" (John 11:25-26).


Notes:
1 For detailed archaeological and textual support see Joseph M. Holden and Norman L. Geisler. The Popular Handbook of Archaeology and the Bible: Discoveries that Confirm the Reliability of the Scripture. Eugene, OR: Harvest House Publishers, 2013.