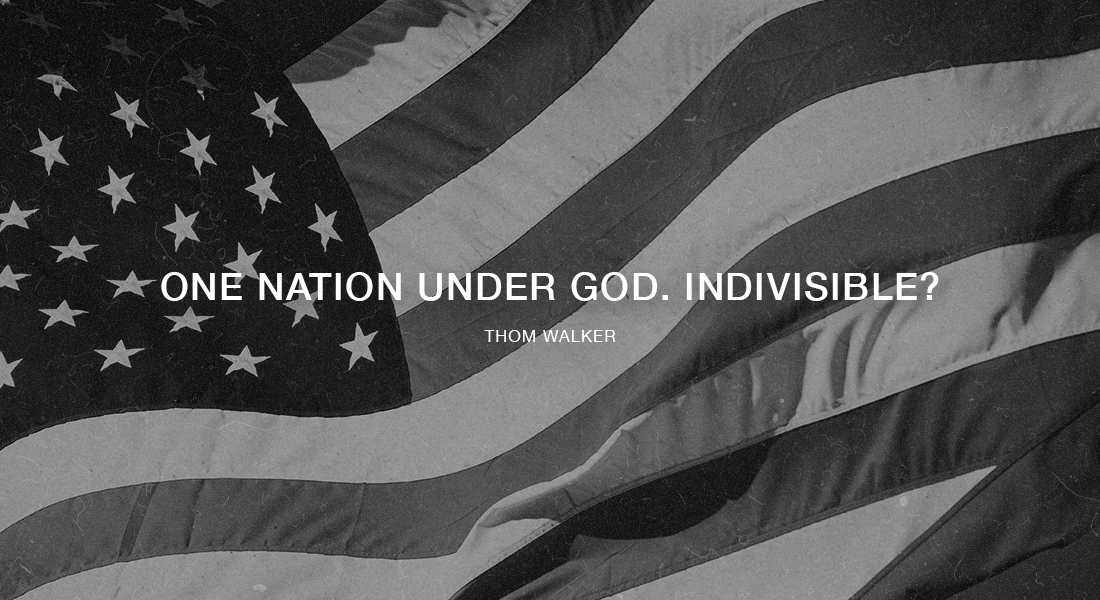 I'm an Englishman living in America. In California, to be more specific. I absolutely love the people, the culture, the architecture, the food, the beach, and the unity that is so evidently engraved into the fabric of its societal structure. The Pledge of Allegiance is what I believed truly knit the American society together, a shared liturgy of unity, so to speak. As a so-called "outsider" living amongst the people, it has been fascinating to join the rest of the world in watching the response of the American people, as this current epidemic of political, racial, and religious issues has taken over the everyday conversation of the last 12 months.
I recently read a tweet that outlined Mile's Law, which is a proposed law of human nature and a key theory within Bureaucratic Political Science. It states this: "Where you stand depends on where you sit." Interesting, right? Mile's Law originated as an explanation for behaviour of the people in bureaucracies, but the more I think about this statement, I believe that it could have a much broader impact. I believe that it can speak into the massive impact that our own social, religious, and cultural experiences influence our viewpoint (trust me here, my English experiences are what lead me to put these thoughts down onto paper!). Our subjective milieu affects the way we address the same words or phrases, the ways that we approach rules and sanctions, and most importantly, the way that we approach each other.
I can't help but notice the fragility of such experiences, though. We daily boast of our unity in the church, amongst our friends, and within our political persuasions, but the moment that outrage, disruption, and accusations of injustice arise, the unified foundations extolled in "the pledge" seemingly begin to crumble.
How United Are We?
The polarising of left/right and liberal/conservative has found me questioning that, perhaps this really isn't the "one-nation" country that I fell in love with.
Indivisible? I just have to turn on the news or scroll through my social media feeds to see that this isn't true.
Liberty and justice for all? Thousands have had to take to the streets to campaign for both.
We are left trying to balance competing claims, navigating our friends turning on each other, and also trying to keep our eyes desperately and unwaveringly focused on Jesus. Maybe the only thing that we really do have in common right now is this deep sense of disturbance in our very core, with the overwhelming sense that something really isn't right.
An Ageless Hope
But allow me to introduce you to the solution. Two thousand years ago,
a man named Jesus stood and addressed audiences composed of people like me and you—the right, the left, sinners, prostitutes, robbers, religious leaders, men, women, and children. He
commissioned them, he loved them, he lived amongst them, and most importantly (in relation to this article, at least), he challenged them to transformation.
One of my favourite Jesus moments in the entire Bible is where he feeds the 5,000. He both wanted to take care of the immediate physical needs of the crowd (Luke 9:13-17), but he also aimed to transcend their hunger in a way that surpassed their physical need for food. He preached the kingdom to them, demonstrated ways that he would one day bring the eternal kingdom (v. 11), and presented himself as the true bread of life (v. 22-59).
So, what would it look like for the church to mirror Jesus' pattern of caring for the physical and long term needs of those around them?
Following A Different Pledge
As Christians, we are called to follow Jesus' example of caring for the physical needs of others in order that the gospel witness of the kingdom may well and truly saturate the entire earth, resulting in open hearts and open conversation. Paul, by way of Jesus, had a clearer vision of what true unity looks like in Galatians 3:28: "There is neither Jew nor Gentile, neither slave nor free, nor is there male and female, for you are all one in Christ Jesus." It is my understanding that until we make it to heaven, Paul's vision of perfect unity is only ever something we can continually strive for, and until we reach heaven, we must constantly remind ourselves, and everyone around us, that because of Jesus, we are made for much more than the division placed in front of us in this moment.
Sometimes, pledging our loyalties and allegiance to Jesus comes with very few conflicts in the areas that God has placed us in. Other times, as we repeatedly see in the life of Jesus himself, it also comes with a great risk. The risks that I have seen over the last few months include: temporarily closing the doors of the church, prayerfully marching in the name of justice, leveraging our online influence to speak up for what is right, risking the strength of the economy in order to appropriately love our neighbours during a global pandemic … I could go on and on.
It's time for us, as Christians, to step into these risks to follow the Spirit into the uncomfortable, into the unknown, and into necessary dialogue with others about this current climate. As the body of Christ, we carry this compelling antidote to all of the issues: race, sex, rights, freedoms, and more.
A Unique Opportunity
I understand that this moment of American self-examination can cause anxiety; it can make us feel concerned for the future, and can suck every glimpse of hope out of us. It will take courage and obedience to the call and passion that God has placed in us to face up to these moments. If we play our part correctly in becoming the people that God redeemed us to be, we will leave the aroma of Christ within the fabric of this great nation. When the narrative of this time of tumult is recorded, the story of renewal through Christ will be at its core. And through his renewal, we can truly become "one nation under God, indivisible, with liberty and justice for all."
Jesus died to raise up a new, united humanity that would go out into the world and tear down the walls of hostility between humans, expose our real Enemy, and change the world with true lasting acts of reconciliation. And that reconciliation begins with us, friends.
So, where you stand depends on where you sit. My challenge to you is this: Where are you sitting today?
"All this is from God, who through Christ reconciled us to himself and gave us the ministry of reconciliation; that is, in Christ God was reconciling the world to himself, not counting their trespasses against them, and entrusting to us the message of reconciliation. Therefore, we are ambassadors for Christ, God making his appeal through us. We implore you on behalf of Christ, be reconciled to God. For our sake he made him to be sin who knew no sin, so that in him we might become the righteousness of God" (2 Corinthians 5:18–21).