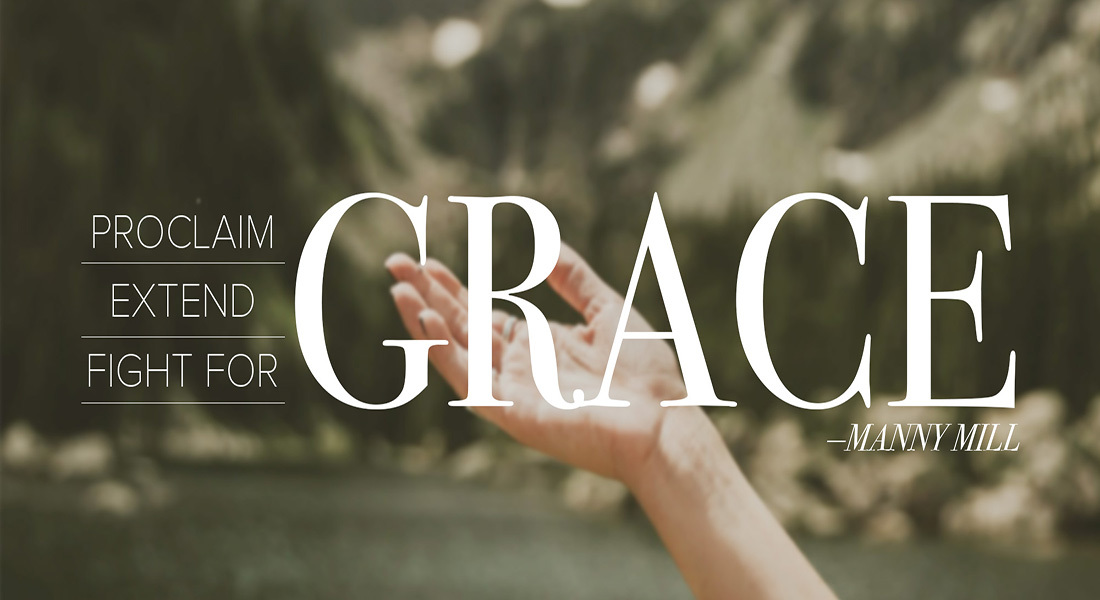 Grace is God our Father's super inclusive, irrevocable, uncompromising, radical, and unlimited power that will break the hold of sin in Christians. This marvelous gift from God will set us free with unspeakable joy, so we can do God our Father's will at all times without any regrets. The grace of God is the hope we desperately need to empower us with Biblical Courage.
Grace is God's one hundred percent underserved gift to us.
It became one hundred percent secured for us by our older brother Jesus Christ's very expensive and brutal bloody sacrifice of death, as our substitute on our cross. Consequently, our Father's radical grace is not ours to retain or restrain. We must radically proclaim, partake from, and freely extend this grace to others immediately, without reservation and fight for it, with our very lives so no one will be excluded from receiving it, regardless of what they have done or where they came from. This is grace driven by Biblical Truth, as prescribed in John 1:14-16.
Joshua sent two men to spy out the area around Jericho across the Jordan River from where the nation of Israel was camped. These men ended up at the house of a harlot named Rahab. She proclaimed that she knew the Lord had given the Israelites the land. She also rehearsed to them the history of God's great power shown when He dried up the waters of the Red Sea and also when He defeated the two kings Sihon and Og. What a confidence booster those reminders must have been as the two men remembered God's unlimited power and His one hundred percent faithfulness.
The story of Rahab gives a wonderful testimony of God's grace.
It was that Grace that broke through to the Harlot, Rahab, a most unlikely character that God chose, to bring salvation to herself, her family, the spies, Joshua and God's people. Rahab also became a type of savior (a vessel of mercy), and she received the huge and prestigious privilege and honor of being an ancestress of King David, hence in the Messianic Line of Jesus (Ruth 4:21-22; Matthew 1:5-6.)
This Biblical story from Joshua 2 should infuse into us a lot of super powerful grace that will produce unprecedented living hope in us. Then we can love God our Father so radically, that we will become much more compelled, every time we take a breath, to make Him really happy with our genuine joyful gratitude. In other words, that you and I will hallow our Father bigger and better every time.
Seven Radical Observations from Joshua 2:
1. God our Father is not a respecter of persons. He will choose and save the least probable of persons (you and me) to display and manifest His glorious grace.
2. God our Father divinely chose a most unlikely character, Rahab, to deliver her, her family, and the spies, from ungodly Jericho. Even in a doomed city, or country, a greatly depraved and wicked person can experience the all-powerful grace of God our Father.
3. Even Rahab's lie, not to be taken as an example, was motivated by her belief that God our Father would destroy Jericho as had been predicted.
4. God our Father is faithful. He will always, one hundred percent of the time, keep all of His promises.
5. God our Father, in the Power of His Spirit, through Jesus Christ (the famous one) is the same yesterday, today, and forever (Hebrews 13:8.)
Yahweh's powerful reputation was known throughout the land. He will keep exalting and spreading His reputation of super power, through the large number of His children (I Corinthians 1:10), His vessels of mercy (Romans 9:23), and will answer our radical prayers again and again and again in bigger fashion. Therefore, His name will be hallowed bigger and better as the Name of Jesus becomes much more famous through us. We must proclaim radically His mercies, extend radically His mercies and fight radically for His mercies to make sure no one our Father sends our way is denied the same exact mercies that we received.
6. Just as Yahweh made a way out of a situation for the Israelites where there was no way out, He will do that same thing again and again, and in bigger fashion for us.
We know that Jesus Christ reigns with great power. We must embrace, cherish, value, believe, and act on that fact right now. God the Father is saying to us that the only thing we need to do is trust Him and obey Him radically without delay in everything He wants us to do. Charles Spurgeon said it well in stating that, "The Christian life should be a mosaic of minute obediences." We must become real radical partakers and dispensers of God our Father's ALL inclusive, All sufficient, All Radical, All irrevocable, All uncompromising, and All unlimited, super powerful Grace!
7. People must notice that when we as Christians show up anywhere, God our Father shows up in the fullness of His splendor, majesty, glory and power. Therefore, the opportunity of salvation, reconciliation, restoration and healing of the LORD for those people, has arrived through us. Hence we must pray radically for precise discernment and deeper capacity to suffer with those people with deeper compassion.
Let's then Proclaim Grace, Extend Grace and Fight for Grace