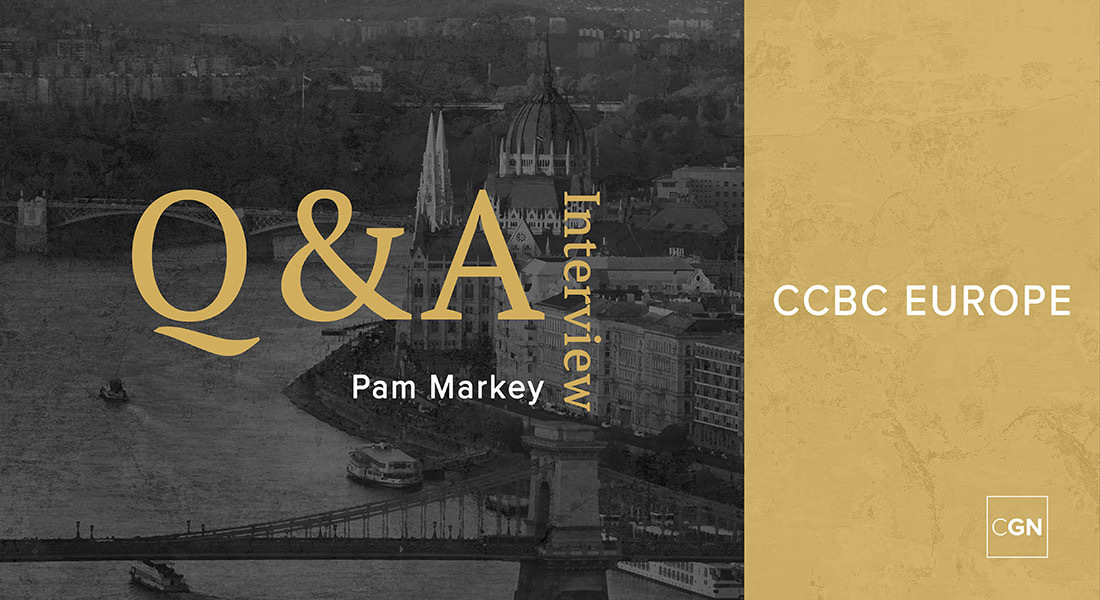 We at CGN and CalvaryChapel.com were able to interview a representative of CCBC Europe, Pam Markey, about the college and biblical training opportunities under the CGN Training Initiative!
1. What is the vision of CCBCE?
The vision of CCBCE is to be instrumental in raising up, equipping and sending out Christians to fulfill the mission of God that is to take the message of the Gospel to all nations at home, near and distant. We seek to do this through a systematic study of the Scriptures, discipleship and practical opportunities to reach out into the world.
2. Is there a verse that sums up the vision of CCBCE?
While it is difficult to sum up the vision of CCBCE in a verse, 2 Corinthians 5:17-20 is one that is key when to understanding who we are in the light of the Gospel.
"Therefore, if anyone is in Christ, he is a new creation. The old has passed away; behold, the new has come. All this is from God, who through Christ reconciled us to himself and gave us the ministry of reconciliation; that is, in Christ God was reconciling the world to himself, not counting their trespasses against them, and entrusting to us the ministry of reconciliation. Therefore, we are ambassadors for Christ, God making his appeal through us. We implore you on behalf of Christ, be reconciled to God."
3. What is the mission of CCBCE?
As part of our mission, we at CCBCE desire to:
. Instill students with a love for the Word and a deeper relationship with God.
. Encourage each one to have a personal encounter with Jesus.
. See them increase in the knowledge of God and His heart for the world that they too would have His love for the world. ( A love for the world and not of the world.)
. Help them go out and be a part of teams that plant churches everywhere i.e. at home and abroad
4. What are the CCBCE beliefs?
While our student body and guest teachers come from a range of church traditions, CCBCE is an evangelical institution that is part of the Calvary Chapel family of churches.
5. What is the history of CCBCE?
Millstatt, Austria: 1994 -2002
During the years while CCBCE found its home in Austria, it was mainly a place where mature believers came to grow deeper in their knowledge and understanding of the Word in order to be raised up as passionate disciples for Christ. A high priority was placed on principles of leadership as CCBCE began to take a much more serious approach toward the discipleship and raising up of pastors and ministry leaders throughout Eastern Europe.
Vajta, Hungary: 2002 – 2017
In moving to Hungary, the focus became more missional. When we first started the program in Hungary, there would be between 30-60 Hungarians onsite who were being raised up to go plant churches or become involved in ministry at their church. Even though there was an outreach focus in Austria, outreach became more of the lifeblood of the campus when it moved to Hungary. With so many church plants so relatively close to each other, it was very easy for the students to build and grow in relationship with local fellowships and help them grow, evangelize and become healthier in general. In moving to Hungary, we truly became a birthplace of missionaries.
Budapest, Hungary: 2017 – Present (2020: new announcement!)
Over our years in Vajta, the missional focus has only grown. CCBCE is a launching pad for missionaries, church planters and leaders in this generation. It became clear that the Great Commission lived out through this ministry would be best exemplified in the heart of one of Europe's largest cities. Budapest provides many opportunities for our students to invest themselves in the many church plants in and around the city. We are encouraged by the different seasons and locations God has taken CCBCE. Join us as we embark on this new adventure in Budapest and see the ways the Lord might use us next in this city, nation, continent and planet!
CCBCE came to Hungary from Austria, as it was expanding in discipleship and church planting Europe. The desire was to continue discipling and equipping individuals to church plant throughout the world, including the Middle East, Asia, Africa and India, to mention a few. Geographically, it is in a unique location for training in cross-cultural ministry, since it is surrounded by seven countries with their different cultures only hours away in each direction including Austria, Slovenia, Croatia, Serbia, Romania, Ukraine and Slovakia.
6. What degree programs are offered at CCBCE?
Currently, we are offering two programs at CCBCE:
Option one: We are offering, a two year non-accredited Bible College education that Calvary Chapel has offered for decades with an added emphasis on cross-cultural evangelism and church planting.
Option two: School of Mission. This is a two-semester, plus 40-day program, which offers more focused training and equipping for those students who feel a specific call for cross-cultural missions and church planting. As part of the program, a 40-day practicum is completed by the student under the leadership of a church chosen in agreement with the student and the leadership of the college. This practicum can be completed during the winter or summer break between semesters.
7. How would you best describe the local culture for prospective students?
Our students enjoy the benefits of living in downtown Budapest, Hungary. Hungary has an incredibly rich history, and the capital of Budapest shows it off in style. Even though the city has a population of just under two million people, the city feels much smaller and more intimate. Our students enjoy the daily benefits of ever-growing coffee culture, the beautiful Danube river cutting the city in two, and an endless number of places to explore! Above all, we have the benefit of living in an environment where we get to take the classroom to the streets daily!
8. Are there outreaches/ministry opportunities students can look forward to engaging in?
Literally, every night students have the opportunity for ministry and outreach. By living downtown, as a major European capital city, our students have opportunities to live out what they are learning in class as soon as they step out of their apartments! From working with evangelism teams, ministering at skate parks, ministering to the homeless or serving in a number of churches, there is almost an endless list of ministry opportunities. Also, as a part of our school program, students are encouraged to go on weekend outreaches to local churches throughout Hungary and our neighboring countries.
While there, the students will work alongside the church and missionaries and help impact the community and encourage people to come to church. Additionally, each semester, all of our students go on a 10-day outreach to a number of locations throughout Europe. This semester, we have students ministering in Spain, Ireland, Ukraine, Hungary and Romania. It is always an exciting time as the students are stretched in areas of serving and ministry! The churches and missionaries that we partner with absolutely love having the teams come, as they are able to do larger events for the community, such as organizing and running a VBS for the kids in the community!
9. How can people apply?
The best and easiest way to apply is through the CCBCE website.
10. What is the best way to contact CCBCE?
For all questions and any general information, our registrar can be reached at office@ccbce.com.
Article updated on May 8, 2020.