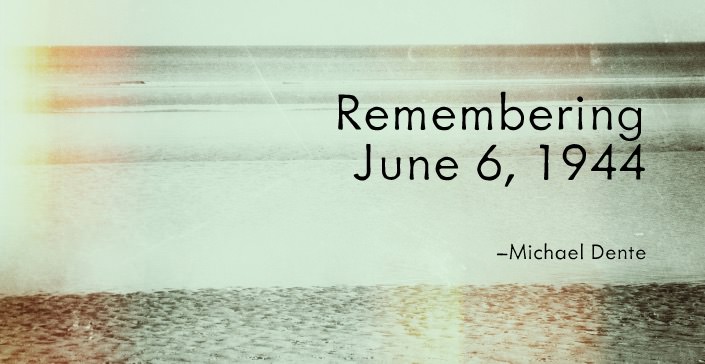 "Are you going to the the 70th anniversary D-day ceremony" she inquired from behind her sunglasses. Our neighbor wasn't just asking because she knows we are American, she was asking because her family is from Normandy and she wouldn't miss it for the world. For over a year, preparations have been made, hotels booked, publicity everywhere, even the subway system. One French website site stated, "All eyes will be on the beaches of Normandy!". If any still believe that France has forgotten the sacrifice made in the Invasion of Normandy by the Allied forces on June 6, 1944, they should quickly book a flight to Caen before the ceremonies begin!
Whenever I can, I take friends and family to the D-Day Memorial in Colleville-sur-Mer, (otherwise know as Omaha Beach.) There is nothing like surveying the field of crosses and stars of David which stand up from the perfectly manicured lawn like stalks of wheat in an immense harvest. I've walked through the crosses in the rain when hardly a soul was present, I've sought shelter under the trees while the sun beat down and the grounds were covered with visitors from all over the world. I've never gotten over the prevailing hush as one looks over the thousands of lives laid down to save Europe from Nazi oppression.
Last time I visited this sacred ground, it was a particularly cold day with a light wind sweeping off the shore finding its way into my bones. I was with my daughter and a group of friends. We walked over to the edge of the Memorial to a stone wall that stands waist high to take in the breathtaking view of the beach. Three shades of blue appear to be painted as if by the brush strokes of the wind, sun and waves. The beach itself, covered with white sand, so quiet, it could have been a postcard picture of any other place in the world, if it were not so terrible, not so… hallowed. I mulled over the words of the troops assuring General Eisenhower before loading up, « Don't worry about it General, we'll take care of things for you». As I admired the landscape they saw as they gave their lives, I thought over how they kept their word.
Even amongst friends, the ride home is less talkative. It's takes some time to process through the heaviness of such a scene. As I drove home that day, I couldn't help thinking about all that's changed since the invasion. Here I was, a US born citizen, a pastor of a church in Paris, France, living in a suburb that as I was told by a man who lived there during the Occupation, was once "inhabited by German officers in black uniforms". I wouldn't be here, nor would my church, nor would many of the gracious people I've met over the years in France. Those men who gave their lives that day are heroes.
As I pondered over all that I had taken in that day, I was reminded of a place in Scripture that also describes heroes of the faith who paid the ultimate price – not so much as soldiers but as those who lived by faith and testified in death to God.
Hebrews 11:35-38 Women received their dead raised to life again.Others were tortured, not accepting deliverance, that they might obtain a better resurrection. Still others had trial of mockings and scourgings, yes, and of chains and imprisonment. They were stoned, they were sawn in two, were tempted, were slain with the sword. They wandered about in sheepskins and goatskins, being destitute, afflicted, tormented— of whom the world was not worthy. They wandered in deserts and mountains, in dens and caves of the earth.
Those of whom the world wasn't worthy… They are heroes too. We don't know their names, but if not for them, something great would be missing. Our lives would not be the same because each one had a role to play in the glorious work of God throughout the ages. We may not know the impact now, we may not even get to visit the place they fell for the Kingdom, but we long to join them in Heaven.
That's when my mind turned to the many unsung heroes who are still tortured, executed, imprisoned and excluded for their faith, even today. These men, women, children, and even the elderly lay down their lives, oftentimes willingly. We know they are given a special measure of grace, that they receive eternal rewards, but we also know they cry real tears. Some hunger and thirst, crying out in vain for proper medical attention. They pray with all they have within them for freedom. Their pain is real and their lives will probably never go back to normal. These are my heroes too. They probably would have chosen a different lot for their lives, if they and been given the chance, but what a precious place they will have in the Kingdom of Heaven which was won by the innocent death of our great Lord and Savior.
Hebrews 13:3 Remember the prisoners as if chained with them—those who are mistreated—since you yourselves are in the body also.
As I pulled in to my house that evening, I had a new perspective. I want to remember those men fallen on June 6, 1944. In the same way, I want to remember those saints who died through persecution. I also want to remember those who are suffering right now for the name of Jesus.
It's true, we can petition our Representative on their behalf but may we never forget them and may we pray for them like we do for our own family. After all, in Jesus, that's who we are; adopted sons and daughters through grace.