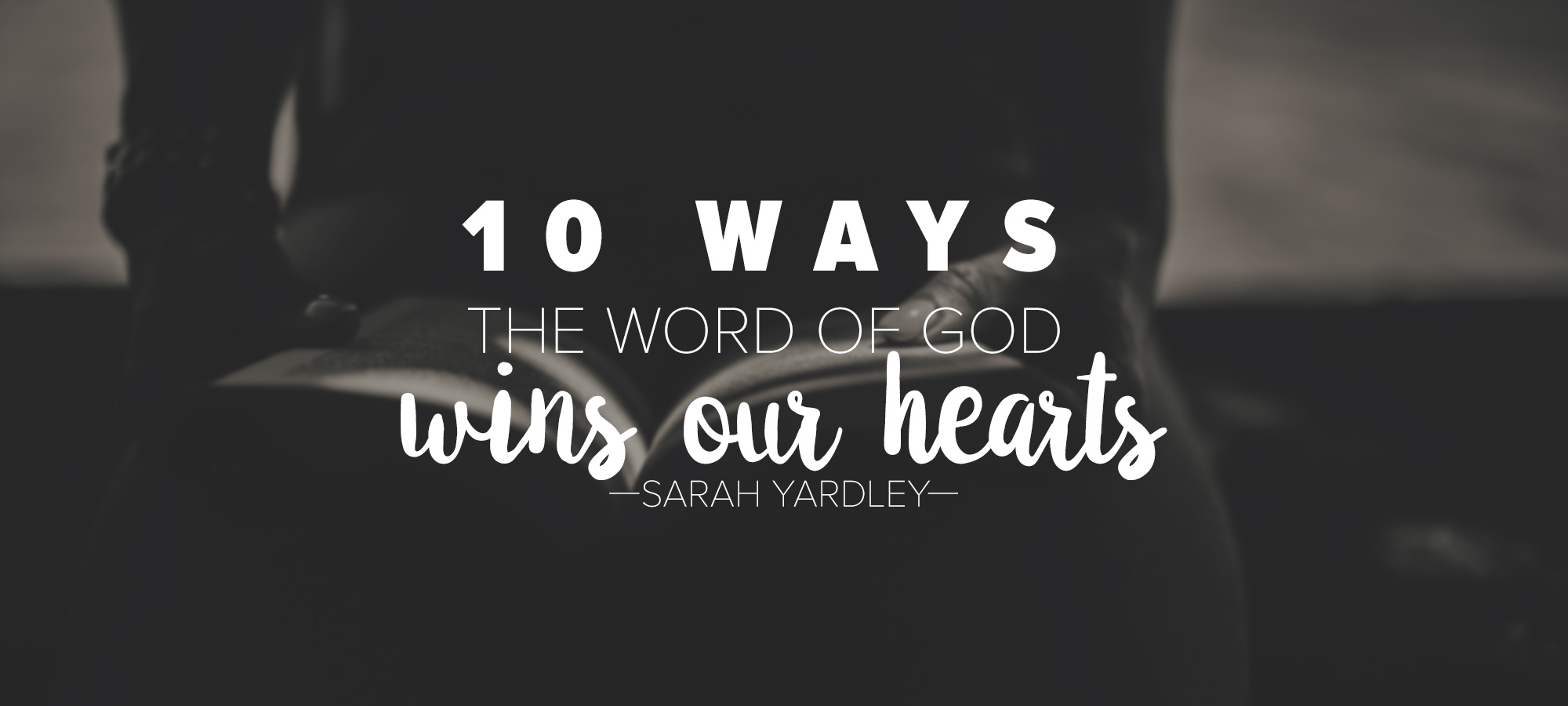 The Word of God is very precious to us. Within the Calvary Chapel movement, we have learned it from Genesis to Revelation, verse-by-verse, book-by-book. Throughout my years of ministry, I am increasingly passionate about the power of the Word of God for our lives.
Over the past two years, as I live in England, I am also increasingly convinced of the truth of these words:
"All word and no spirit, we dry up; all Spirit and no Word, we blow up; both Word and Spirit, we grow up."-David Watson, "I Believe in the Church"
From Psalm 119, here are 10 ways the Word of God wins our hearts by the power of the Spirit.
1. It guards us against sin.
"I have stored up your word in my heart, that I might not sin against you" (Psalm 119:11).
The Gospel tells us clearly, powerfully, that our sin has separated us from God. Every sin. The "big ones" like adultery and the "small ones" like gossip and greed. We stand together, sinners, facing the cross, and as we read the Word of God, it reads us. As we literally store it within our hearts, it builds a holiness and purity within our lives.
2. It gives strength in sorrow.
"My soul melts away for sorrow; strengthen me according to your word!" (Psalm119: 28).
Our souls melt away from sorrow. Daily, we experience the pain of a world still broken by sin and suffering. In the places of deepest pain in my life, the greatest comfort has come from Scripture. I think of grieving the death of a friend, and the way my brother read Lamentations 3 over my bedside. The reminder that the "steadfast love of the Lord never ceases," carried more weight than any good advice or counsel ever could.
3. It directs our hearts and eyes to worthwhile things.
"Turn my eyes from looking at worthless things; and give me life in your ways" (Psalm 119:37).
To quote my good friend Mike Doyle, "The average 18-34 year old spends 3.8 hours a day on social media. Wow. What would our lives be like if we spent that same amount of time worshipping, praying, reading the word, learning about Jesus, serving others, evangelizing? I'm not being judgmental, I'm seriously pondering that…"
Psalm 1:1-2 – "Blessed is the man who walks not in the counsel of the ungodly, nor stands in the path of sinners, nor sits in the seat of the scornful; but his delight is in the law of the Lord, and in His law he meditates day and night."
Time is one of our most precious gifts. The Word of God directs our hearts to the things that will matter eternally.
4. It gives us a reason to sing in our sojourns.
"Your statutes have been my songs in the house of my sojourning" (Psalm 119:54).
My singing voice leaves…something lacking, but the reminder within this passage is that the Word of God inspires a song in our hearts and within our lives. Music can communicate in a language that reaches our hearts, not just our minds. The Word of God carries joy for our daily journey, no matter how far or short that may be in geographical miles.
5. It gives us a relationship with our Creator God.
"Your hands have made and fashioned me; give me understanding that I may learn your commandments" (Psalm 119:73).
Pastor Chuck used to tell an old story about a little boy who loved his gingerbread man doubly, because first he made him, and again because he bought him. This is the way Jesus loves us; first, He made us. Then, He bought us. The Word of God carries a love letter from the One who created us. He knows us intimately, and He loves us still. His commandments give understanding to our lives.
6. It gives us the perspective of eternity.
"Forever, O LORD, your word is firmly fixed in the heavens" (Psalm 119:89).
Our faith allows us to walk in the legacy of an unending story. "In the beginning was the Word, and the Word was with God, and the Word was God" (John 1:1). Our story of faith did not begin yesterday, nor will it end tomorrow. Knowing the Word of God allows us to walk with the confidence of a firm foundation of faith and a glorious future. Lately, I've seen much suffering; dear friends suffering from malignant cancer, the unexpected death of a 38-year old mother, the heartbreak of suffering children. The Word of God reminds us that in eternity, all things will be made new.
7. It directs our paths like a lamp or light.
"Your word is a lamp to my feet and a light to my path" (Psalm 119:105).
God has used the light of Scripture to direct me personally in many ways. Isaiah 49 was the Word He used to call me to Cornwall, England. He has directed the big and small moments of my life through His Word. In the places where we seek direction, I am confident that the Word of God holds daily light for our paths.
8. It becomes our testimonies.
"Your testimonies are wonderful; therefore my soul keeps them" (Psalm 119:129).
A testimony of God's grace is the most wonderful story ever told. Merriam Webster defines testimony as, "Proof or evidence that something exists or is true." The truth of God's word, woven through our lives, is a beautiful truth. In my own life and the lives of countless friends, I have seen the words of God carry life, freedom, joy and peace for our souls.
9. It is well tried and faithful.
"Your promise is well tried, and your servant loves it" (Psalm 119:140).
I have never heard anyone say, "I regret committing my life to God. I regret following Him faithfully. I regret reading His word." I have seen many regret the places where they walked in sin and faithlessness. The words of God are well tried. His promises are faithful. His servants, the ones who joyfully obey Him, love to walk with Him. We are bondservants of love.
10. It gives great peace.
"Great peace have those who love your law; nothing can make them stumble" (Psalm119: 165).
Don't get tripped up, burnt out, fall out of faith. Don't allow the pitfalls and heartaches of daily life to distract you from the simple peace that comes from knowing God and reading His word. The love of God, expressed in the word of God, wins our hearts. Thanks for reading this article. I hope you click close, stop and pick up the book He wrote to tell you how far He has gone to pursue peace on earth, goodwill to men.