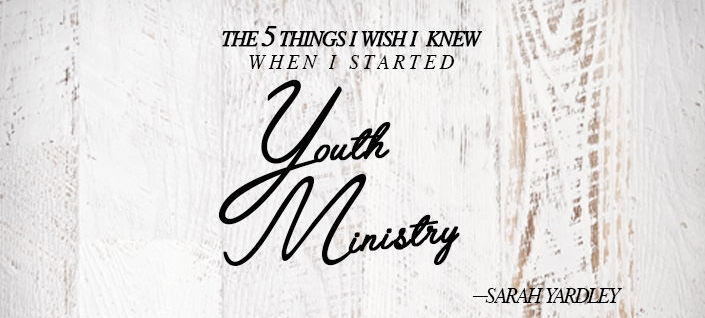 I jumped into youth ministry with a full heart, grand ideals, high hopes, and – limited experience. Eight years later, I look back at the unbelievable ways God worked and the many, many lessons learned, and wholeheartedly realize that anything good was a work of God's grace. Here are a few of the life lessons that I would share with any youth or ministry leader:
1.Look to Jesus
If this seems overly obvious, it is. But it is worth stating. Ministry is not my work for God. It is not my burden, my obligation, or my duty. Ministry is entering in as a glad participant to the ongoing work of Christ. When our leader came to earth, He chose to serve. Knowing all things, this was His great delight.
Jesus, knowing that the Father had given all things into his hands, and that he had come from God and was going back to God, rose from supper. He laid aside his outer garments, and taking a towel, tied it around his waist. Then he poured water into a basin and began to wash the disciples' feet and to wipe them with the towel that was wrapped around him (ESV John 13:3-5).
In our lives, youth ministry is a service. As we serve, we serve the young and (sometimes) foolish. Even the best taught and most passionate of our students will fail: again and again. In order to love them well, to show them grace without judgement, and righteousness without compromise, we must be in deep and personal communion with Christ. Our hearts must be so close to His that we hear and know His love for His children. There is never any substitute for this kind of relationship.
2. Read God's Word Together
In my early days of youth ministry, I listened well. I heard about every heartbreak, all the drama, all the "he said, she said". I knew who was walking with God, who wasn't, and who loved Jesus on Sunday morning and who partied on Saturday nights.
In every youth ministry, there will be drama – sometimes with students, sometimes with parents, and sometimes with the leaders. I learned, slowly but surely, that the only wisdom worth speaking into this drama was the Word of Christ. Within this, I learned two lessons:
First, let advice and conversations be deeply rooted in Scripture. Is a student struggling with:
-Eating disorders? Read Psalm 139 and ask God to reveal His wonderful love.
-Sex? Read 1 Corinthians 6:9-20 and don't tiptoe around the clear commands.
-Divorced parents? Read Psalm 27 and reflect on the faithfulness of God.
-Same-sex attraction? Read Romans 1 and let God speak for Himself.
Second, meet regularly to read Scripture with your students. They know pop culture, radio hits, TV shows, Twitter (including all the subtweets) and Snapchat. They don't know God's Word. The greatest gift you can give the students you serve with is a deep and abiding love for the Word of God. This will be the foundation for their lives.
3. Live life together
Discipleship can't be planned as a calendar appointment. The raw, real, honest conversations of life are held in parking lots and at shopping centres, in other countries and at our dinner tables, on car drives and way, way, way after normal "working hours".
I spent much of my time in youth ministry with Christian teens – those who were raised in two-parent homes, had a cell phone at 12, a car at 16, and a college acceptance by their final year of high school. These were the students who would drive to a coffee date, sit and read the Bible with me, arrive fairly on time, and ask me to pray for them.
Today, I live in England. I talk to kids on the streets, in the skate parks, at the bus stops. When I ask, "Would you like to meet and read the Bible?", I'm more likely to hear the words: "Hell, no!", than anything else. The reality is, life shared with an atheistic, 3% Christian culture looks very different.
I see in the life of Christ a deep love for all, and a willingness to live in the places where people gathered, and speak the truth in love to all He encountered. He was radically pure and radically loved. My desire is to live out this love in every culture, and be available ways to connect young people with Christ in their everyday life. Discipleship comes as we share life together.
4. Be their leader, not just their friend
Real life is messy. The basic Gospel message reminds us that we have been deeply broken by sin, are deeply loved by a Saviour, and are truly redeemed only as we walk in relationship with Him.
At some point in youth ministry, you will be exposed to deep brokenness. This may be malicious gossip with the potential to destroy a family. It might be a miscarriage or abortion with one of your students. It might be the time someone weeps to you in repentance and shares a secret that "no one else can ever know."
Your heart will break. Mine has, over and over and over again. When we walk with Christ, we experience just a fraction of the way His heart is broken for our sins.
Our calling as youth leaders is to lead. Sometimes, this means that sin must be exposed for true and genuine repentance. As adults, this sometimes includes legal responsibilities. As church leaders, this certainly involves Biblical responsibilities.
I have found the following to be incredible helpful in life and ministry:
-Create clear lines of accountability with a pastor or overseer you trust.
-Document and record information for anything shared that could have legal implications.
-Seek wise counsel from Scripture, trusted youth leaders, and the Holy Spirit for how to respond with grace, wisdom, and appropriate actions where necessary.
5. Show them grace
Our God is relentlessly loving toward us. As I seek to be more like Him, I discover that His grace astounds and bewilders me. He loves me when I am faithful, and He loves me when I am faithless.
Recently, I have read and re-read the story of the prodigal son, and meditated especially one the way that the Father loves.
He loves the son who squanders his money, and lives like a pig. He is the first to run to him with open arms and celebrate that his child was once dead, and is now alive.
He loves the son who sits in judgement and bitterness, who works and squanders love. He is the first to seek him out and invite him to the celebration.
So the final word to us who love Christ, regarding His children – show them grace.
"But as you excel in everything—in faith, in speech, in knowledge, in all earnestness, and in our love for you—see that you excel in this act of grace also"
(ESV 2 Corinthians 8:7).