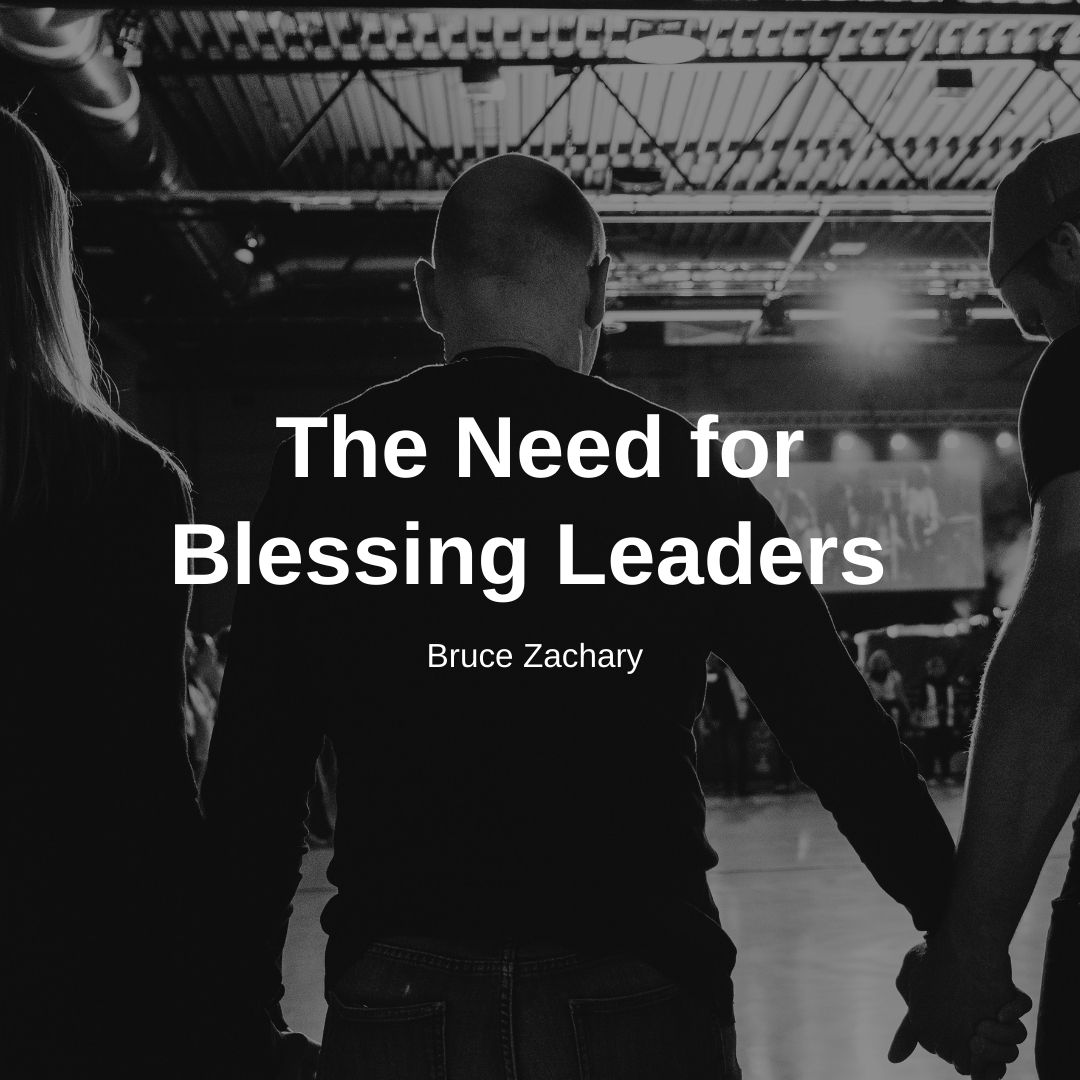 "Most assuredly, I say to you, he who believes in Me, the works that I do he will do also; and greater works than these he will do, because I go to My Father" (Jn. 14:12).
You've got the right stuff …
A. The Father's Blessing for a New Season
My teenage son and I were driving back from a retreat we attended together. It had been one of those memorable father-son experiences, the kind you know you'll remember for the rest of your life. During the afternoon, we had gone for a hike up a mountain and talked along the way about life, God, hopes, dreams, etc.
As we left the retreat center and drove home, we talked together, and I sensed God's desire for me to "bless" my son. This was something very different than a simple pronouncement after a sneeze, or merely saying, "You're a blessing to me, son" or even something along the lines of, "Here's some money; I just want to bless you." No, this was something of Biblical proportion.
Allow me to briefly digress. I was raised as an observant Jew and came to faith in Jesus as Messiah as an adult. I had experienced Bar Mitzvah as a rite of passage. Our sons similarly experienced this rite of passage as I their father, rabbi, and pastor led them through Deuteronomy 6:4-9 and explained they were now men before God, sons of a New Covenant with God and sons of God's blessings. Yet the day that I drove home with my son from the retreat, I sensed that God wanted me to bless my son again for a new season in his life … a new blessing to prepare for a new passage.
The Father blesses the Son in various important seasons of life and ministry.
This might seem a novel concept in a New Testament context, but consider that presumably Jesus experienced Bar Mitzvah in the Hebrew tradition.
Yet, when Jesus began His earthly ministry, a rite of passage, again His Father pronounced a blessing over His Son, "This is my beloved Son, in whom I am well pleased" (Matt. 3:17).
Again, at the Mount of Transfiguration: The quest to the cross began in earnest, and another rite of passage is discovered. The disciples Peter, James, and John would be encouraged by the discovery of His glory as they were being prepared for their unique leadership roles. Jesus was far greater than their understanding of Messiah as declared at Caesarea Philippi (Matt. 16:16). The blessing of the Father would also encourage the Son, "This is My beloved Son, in whom I am well pleased" (Matt. 17:5).

The Father's blessing is highly valued.
The concept of the father's blessing was critical to the Patriarchs. The yearning for the blessing caused Jacob to scheme in an attempt to secure his father Isaac's blessing (although God had assured him of the blessing), and caused Esau to lament the loss of something that he had previously neglected. The importance of the blessing caused Joseph to attempt to guide his elderly father Jacob to pronounce a blessing over Joseph's oldest son when Jacob was directing the greater blessing of God upon his younger grandson.
The twelve sons of Jacob gathered at their elderly father Jacob's bed as the patriarch pronounced blessings that foretold the destiny of each of these twelve tribes of Israel. The blessing of a father is a critical event to help prepare for the passage into adulthood and for various seasons of passage in life ministry and discovery and fulfillment of calling.
As I drove with my son from that retreat, I too sensed that I was to bless my son. Then the words came forth, "I believe that God wants me to encourage you and bless you that you will do greater works than I ever have or will do." These were words that I had never previously spoken to my son. They were words of great weight and were spoken with conviction. The experience was profound.
A father is a source of great influence for his children. When they become adults, he's to be a mentor as he continues to train equip and encourage them for the seasons they encounter and prepare them for the ones that lie ahead. He's to assure them that they have the right stuff!
The blessing, "In whom I am well pleased" is not conditioned upon perfection or performance but flows from the relationship of father and son or a mentor and disciple.


It's only natural for parents to want their children to have a good life. But to want them to truly do greater things, especially greater Kingdom work, is supernatural. Unfortunately, that blessing can be impeded by a father's competitive nature. A father who competes with his adolescent son in sports, resisting the son's desire to beat (do greater than) his father, might find it difficult to yearn for his son to do greater than he has done. The difficulty pronouncing that blessing might say more about the nature of the father than the nature of the son.
B. The Son's Blessing for a New Season
Nevertheless, a blessing apparently flowed easily from the lips of Jesus as He prepared the disciples for their rite of passage in the Upper Room when He declared," Most assuredly, I say to you, he who believes in Me, the works that I do he will do also; and greater works than these he will do, because I go to My Father" (Jn. 14:12).
The commencement address: You will do greater works …
Imagine the disciples hearing those words in the Upper Room. They were being prepared to continue the Kingdom work Jesus had groomed them for. The work would continue through them, and this was the time for their rite of passage. Certainly they would be confounded by the idea that they could possibly do greater works than Jesus. They had witnessed miracles performed by Jesus.
As they considered their own frailties and insecurities, they likely couldn't imagine these encouraging words as an actual declaration of prophetic truth. Yet, true were the Savior's words. For indeed the scope, magnitude, and influence of Christ's disciples would in some respects be greater works. In the span of about fifty days, three thousand converts would enter the Kingdom at Pentecost in response to Peter's anointed proclamation of the Gospel.
This sum would represent more than all of the recorded converts in Jesus' entire earthly ministry. Soon thereafter, the number of converts would measure five thousand. Today the total is estimated in excess of two billion—a far greater number than the 120 who gathered in the Upper Room awaiting the gift of the Holy Spirit at Pentecost. Similarly, Jesus' earthly ministry was essentially within a thirty-mile radius of His home at Galilee. The Book of Acts records the spread of the Gospel to the known world, and today, the four corners of the globe.
Jesus' declaration that they would do greater works is the outpouring of the blessing of a Kingdom leader to prepare Kingdom leaders.
He was letting them know in no uncertain terms that they had the right stuff because they were His disciples (he who believes in Me). He not only blessed them to prepare them for their calling, but He would help and strengthen them for that work by sending forth the Holy Spirit who would be with them just as Jesus had been with them.


C. The Need for Blessing Leaders

Church leaders who are focused on developing their personal kingdom are generally more like the competitive dad with his adolescent son. They are okay with their disciples doing good, and maybe even great, but are reluctant to bless encourage and help their disciples to do greater than their mentor. Again, this dynamic may speak more in regard to the nature of the church leader as opposed to the disciple. Kingdom leadership requires a transition from the competitive mentor to the blessing mentor who truly desires his disciples to do greater works.

The need for greater works to be done to accomplish Christ's commission

Here's an interesting concept that can help motivate church leaders towards Kingdom leadership: the success of the disciple enhances the reputation of the mentor. For example, the success of Joshua in regard to bringing God's people across the Jordan River and leading the conquest of the Promised Land actually enhances Moses' reputation. Similarly, the many miracles of Elisha are connected to his mentor Elijah. Certainly the works of the twelve elevate the reputation of Jesus. Yet, this reality is not the proper motive for being a blessing leader.
What should motivate us to bless like Jesus is a genuine love for God and others—and an understanding that greater works are needed to accomplish Christ's commission locally and globally.
The desire to bless leaders to do greater works than their mentors leads to action in regard to the allocation of resources.


Time, talent, and treasure are focused on emerging growing Kingdom leaders to equip, encourage, and empower them to do greater works.
I began to seek to live this principle during the last few years in the context of training disciples and teachers and preparing church planters. I began intentional training with a group of men who had Kingdom potential as Bible teachers and church planters. It required some hours a week of my time and theirs. I encouraged them as their growth as teachers and leaders became evident during the course of training.
Furthermore each of them sought to discern their calling for the next season of ministry in the Kingdom. Some of them went on to plant churches, some were called to significant teaching and leading roles at our local church, but all of them were blessed with the words, "I pray that you will do greater works than I have ever done or will ever do."
Presently, I have committed time, talent, and treasure resources to continue to coach these men (and others) and support the work God has called them to. And I've discovered the wonderful experience and contentment of yearning to see these men whom I disciple do greater works than me, their mentor.
Remember, not only do they have the right stuff, but so do you!
Contemplate and Consider:
1. Who in your sphere of influence do you see as having Kingdom potential (the right stuff)?
2. How can you encourage prepare and assist them to walk in their Kingdom calling?
3. How can you communicate blessing to encourage them that they will do greater works than you and that you desire to assist them to do so?