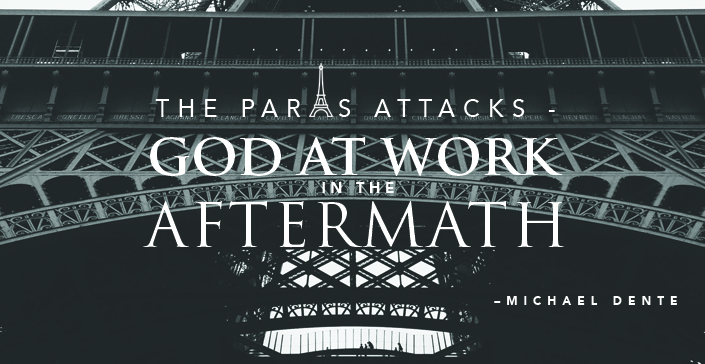 On the night of Friday, November 13th, Paris was hit by the worst terrorists attacks since World War II. A team of men rented cars in Belgium, drove to Paris and divided up into three groups. One group became suicide bombers outside the Stade de France during the France-Germany soccer match, another attacked a rock concert massacring eighty-nine people (until police intervened), and another drove through the city shooting at restaurant terraces full of people.
Every day the casualty list grows, and it seems that everyone knows someone affected by these attacks. At CC Paris the news stunned us. This happened in the neighborhood where many of our congregation live, especially the young, single ones who have no family nearby. The grueling process of contacting each person to make sure that everyone was accounted for lasted until 3:30 in the morning.
During this time, we received hundreds of messages that people all over the world, from every continent, were praying for Paris. We cannot express how much help that was. When despair crept in, such as when we couldn't find someone, we would receive a verse or a song or a prayer from someone far away. You, the church, are an amazing group of people and your prayers have changed things.
The French government called for three days of mourning and a state of emergency as the manhunt began to find and bring to justice the terrorists involved. On Monday France launched massive air strikes against ISIS strongholds in Syria, as the French President Francois Hollande called the attacks not just a terrorist attack but an act of war. The French government needs your prayers right now, as they are making decisions at this very moment that will have a great impact on the world we live in.
It has been only nine months since the terror attacks in Paris against the satirical newspaper, Charlie Hebdo, and against a Jewish supermarket, but we can see that this time things are different. With a few days' perspective, we can see how God has been gracious and merciful during this time. For instance, this year, from June to October, we had one outreach after another. During summer and fall, we were out on the streets with people from all over the world sharing the gospel with Parisians. We were able to give out 400 plus Bibles, thousands of gospel messages and tens of thousands of tracts. We have never seen a more fruitful season in the life of our ministering in France (since 1997). Personally, we faced many spiritual attacks, with our kids, finances and health. The enemy was trying very hard to discourage and dissuade us from pressing on, but the church is strong, growing, and thriving.
How are the Parisian people doing? The average Parisian is heartbroken, bitter, frightened, angry, determined, confused, and some are prayerful. Spray painted at the bottom of the Statue of Mariane in the Place de la Republique reads, Tu Ne Tueras Pas (Thou shalt not kill). One lady who was interviewed spoke of "loving one another." A news anchor reported that we all need to be in communion with one another, and all over the Internet we read #prayforparis. Things are very different this time.
The church is doing amazingly. This Sunday, as we drove in, the city with a metropolitan population of 13 million looked more like a ghost town. We didn't know what to expect as we prepared for a unique service. Yet God was present as He poured out His Spirit of peace and courage on the congregation. By the end of the service there was standing room only in the back. Most of the congregation was there, and people that we had never seen before were coming in as the Spirit of peace drew their weary, terrified souls unto Himself. It was a sober but strong and profound love that filled the room. There were tears. There were stories of how the Lord worked and protected them. How the Lord urged them to go home early, or to go to the other side of Paris, or to leave restaurants just minutes before the shootings began. It gives me chills to hear how the Lord protected His people. Every person from CC Paris is safe and sound. We know that much of this is due to your response to pray for us and for the congregation.
Now, we as a church are on a heightened state of alert because God is working in a new way, doing great things in the hearts of the people. Our world has indeed changed over the weekend.
Many of you have asked how you can help. More than ever we need prayer. Prayer for people to come to the light and know God, and that there would be real change in people's lives. Pray for the Spirit of God to move, for love to soften hearts. We need new, innovative, culturally sensitive evangelism, there is so much to do. We need discernment to know where God would have us to go and invest. There are only five Calvary Church planters in France, and there is only one Calvary in the city of Paris. It's a good start but not enough for this nation of 66,000,000 souls. Add to this, there is only one evangelical church for every 33,000 people. Calvary has been influential over the years, our songs are used, our books are translated. We've formed relationships and met with our mayors, the local clergy, school teachers. But we still need more church planters. We also need a new generation of French-speaking elders, Bible teachers, pastors, and a Bible college. If you would like to be a part of this work, if the Lord is tugging on your heart to either come join us or support the work we are already doing here, please contact us.