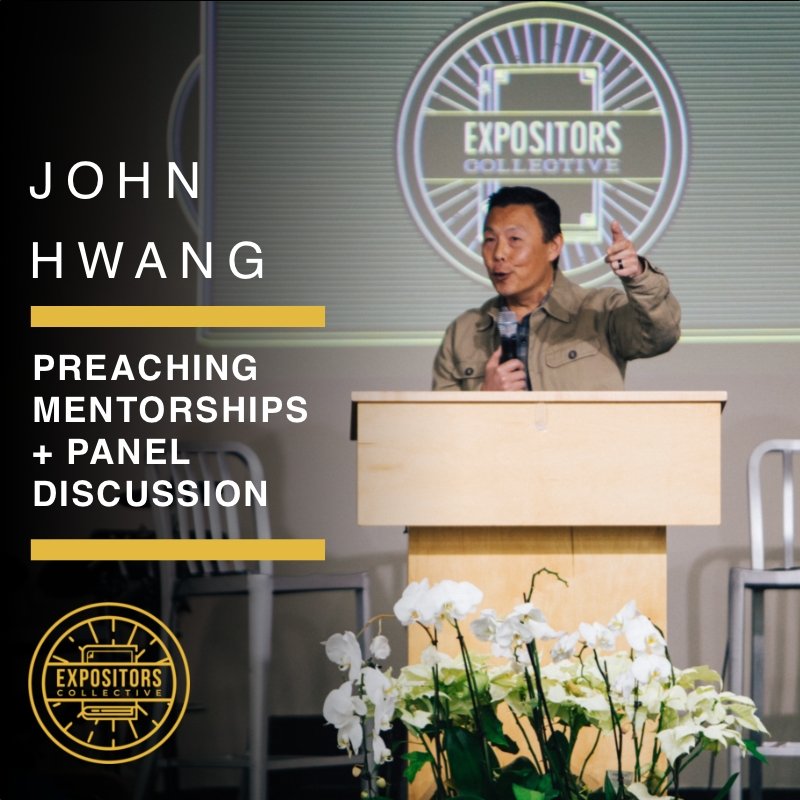 John Hwang uses three words that describe Mentorship: TRAINING, MODELING, and COMMISSIONING. He recounts the positive impact of his mentor, Richard Cimino, and encourages us to seek out older and more experienced preachers to coach and correct us, and also to seek out younger and less experienced preachers to encourage and nurture.
You then, my child, be strengthened by the grace that is in Christ Jesus, and what you have heard from me in the presence of many witnesses entrust to faithful men, who will be able to teach others also. – 2 Timothy 2:1-2
Appendix
15 things I learned in a mentorship relationship – John Hwang
Keep your eyes open for those God brings into your life to mentor.

Enter the lives of those you mentor and invite them into yours.

Esteem character above gifting; this includes showing them what a sincere, humble confession of sin and an honest, Gospel-shaped dependance on God looks like.

Affirm their calling and spiritual gifts and be supportive along the way.

Teach them to equip them for the rest of their lives, not just for the immediate moment.

Teach them how to read and study the Bible.

Model preaching for them by inviting them into your moments of preparation, prayer, and presentation.

Model for them how to love and serve all people – not just a particular group – in preaching.

Teach them by word and deed to aim for quality over quantity; Christlikeness over cultural-relevance; Spirit-empowered preaching over Spirit-less ingenuity, creativity, and eloquence.

Make time with them to have conversations about doctrine and ministry, keeping Christ the center of them all.

Introduce them to other Christian voices. Teach them how to listen, teach them how to read, and discuss with them what they are learning.

Be willing to take risks with them.

Correct when correction is necessary and encourage when encouragement is needed.

Don't attach your identity and worth to their success and failures but show them what a true understanding of your identity and worth in Christ looks like.

Be thankful and present when you have them and be thankful and hopeful when God takes them to other places and other people.
Recommended Episodes:
The Value of Preaching Mentorships – Michael Payne:https://www.expositorscollective.com/podcast/2020/12/8/the-value-of-preaching-mentorships-michael-payne
Preaching Mentorships – Clay Worrell:https://www.expositorscollective.com/podcast/2019/1/22/episode-31-preaching-mentorships
Preaching Mentorships Q+A San Diego:https://www.expositorscollective.com/podcast/2019/11/4/episode-72-preaching-mentorships-qa
Richard Cimino interview:https://www.expositorscollective.com/podcast/2019/7/2/episode-54-learn-from-others-but-be-yourself
Our next in-person Training Weekend for men and women of all ages will be in Boise, Idaho on October 14-15, 2022 at Calvary Boise. In this interactive seminar, attendees will meet in groups and build ongoing relationships. Register at https://www.expositorscollective.com/
Join our private Facebook group to continue the conversation: https://www.facebook.com/groups/ExpositorsCollective
The Expositors Collective podcast is part of the GoodLion podcast network, for more thought provoking Christian podcasts visit https://goodlion.io