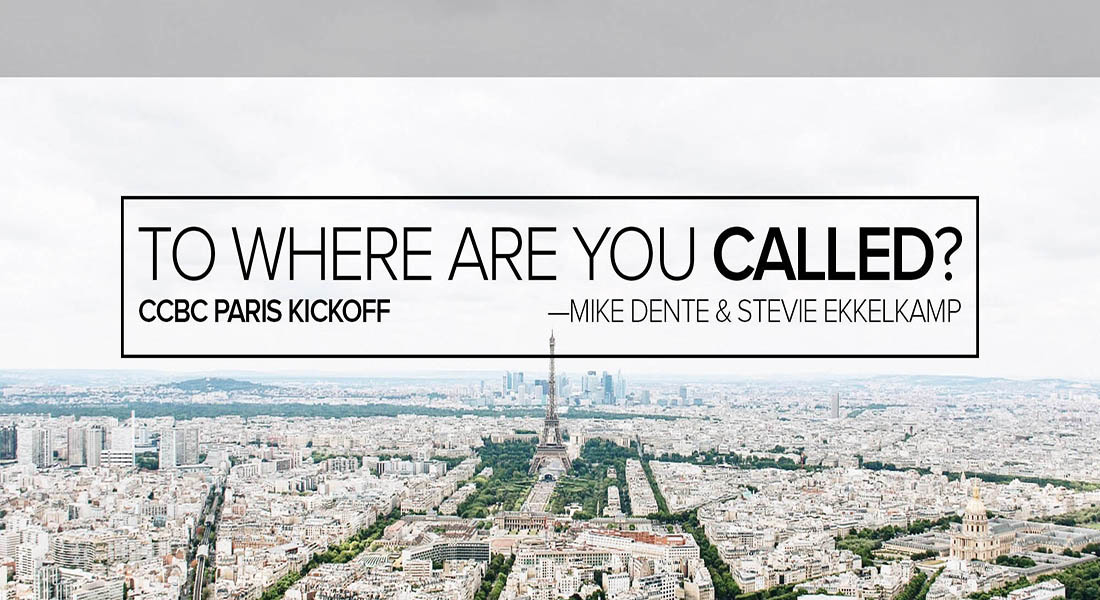 Calvary Chapel Bible College has opened a new extension campus in Paris, France. President, Mike Dente, and Director, Stevie Ekkelkamp, share the history, vision, mission and cultural context surrounding CCBC Paris below. If you are interested and would like to attend a semester, you may apply now!
Mike Dente:
"Opening an extension campus of Calvary Chapel Bible College in France is part of a long time dream. It reminds me of 20 years ago when we first worked with Calvary Chapel Nice's pastor, Pierre Petrignani. Often times he would joke at staff meetings being weekly 'conferences' for Calvary Chapel France. Though he was being witty, he was also casting vision. We talked about opening a Bible College on several occasions, and the need to train up new leaders. France is a literary society and so education matters. People feel more comfortable in their calling when they have proper training.
When we think about the need, we remember the French-speaking world is vast – it is present on almost every continent. We are thankful for the work of Sebastien Frappier in Montreal and all he's done to raise up new leaders for the mission field. We praise God for Rob Dingman and Loren Combs and their work training pastors in the Democratic Republic of Congo, not to mention all the ceaseless work that continues in Haiti by pastors Bastia and Poteau to train up new leaders. Yet, even with all this, there is so much more to do. Consider the fact that in France alone, there is only one evangelical church for every 33,000 people.
Over our years of service in France, we've seen people that wanted to go farther to be better equipped for the ministry and expand their knowledge of God. We sought to give them the same options that we love in Calvary Chapel Bible College, and we encouraged them to join foreign campuses. We were able to get a few people to go, but there was always the difficulty of the language and cultural barriers. This is why we feel the solution is a campus in France.
Thankfully, the Lord brought a young, dynamic couple, Stevie and Chelsea Ekkelkamp, into our lives with experience in running a Bible College. They've worked for years under the ministry of Wayne Taylor at Calvary Fellowship in the Seattle area and at CCBC Seattle." -Mike Dente
Stevie Ekkelkamp:
"After bringing the CCBC Seattle students to Paris on a missions trip, we quickly realized the nature of the French population. With identity being found in academics and the need for Jesus seemingly nonexistent, my wife and I felt the call that a Bible college in this part of Europe was incredibly necessary.
We saw the beauty of a school where we could build up students with the biblical foundation to speak on the level of the Parisians. Our goal is to build students up with a fuller understanding of the need of the grace of Jesus, the awe of God and the fullness and the truth of the Bible. With bible-centered classes, we focus on the aspects of Jesus' teachings, the history of redemption and the spreading of the gospel. Thanks to Mike and Becky Dente's work in France, it was evident the soil is soft and ready for something as unique and exciting as a Bible College.
As a school, we want to teach the Bible and also provide opportunity for the students to step out in faith and obedience by reaching the nation of France. This creates a student that is not only pouring into their studies but finds purpose in them through the practical outpouring of living in a different culture that requires intense, stretching steps of faith.
One thing that transcends place, upbringing, or language is the emptiness that we all search for that only Christ can fulfill. Paul shows us in Acts 17:23 when he comes across the alter that says, "To a god that is not known," that all of us desire the real God by the emptiness we feel. We see this written throughout history in many cultures by many people. Augustine, Pascal and C.S. Lewis writes the same thing, "If I find in myself a desire which no experience in this world can satisfy, the most probable explanation is that I was made for another world." (Mere Christianity). This understanding is the purpose of the school.
As CCBC Paris kicks off this semester, we are deliberately defining this school to be building up students with a biblical foundation for their own faith and a heart of spreading the good news of Christ in France and the french speaking world. We will accomplish this with classes like French Language, Church History from a French Perspective, Evangelism and Discipleship. With distinctive classes, field trips, immersed culture, international teachers and clear vision, CCBC Paris offers a once in a lifetime semester. Please join us in prayer for the school as it starts this fall, that the Lord would move mightily and for CCBC Paris to become integral in the Calvary Chapel movement.
Consider joining us whether as students, teachers or partners in support, and contact us." -Stevie Ekkelkamp