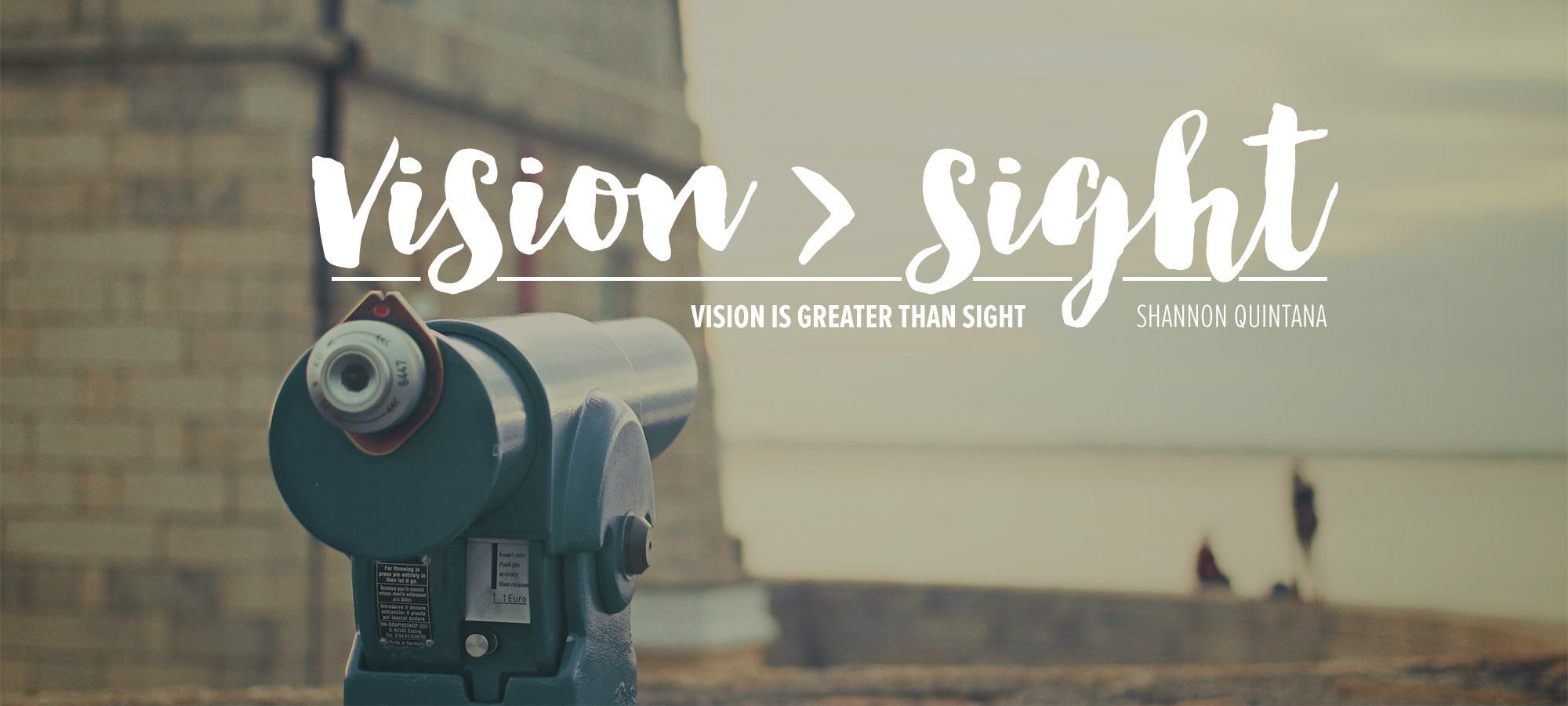 Did you know there is a difference between vision and sight? I started exploring this the other day after my husband and I had a good conversation about wanting vision for our future, wanting to know what God's plans are for us. After a little Google search, which led me to countless optometry sites, I found that sight has to do with seeing what you are looking at while vision is making sense of what you're seeing, where it is and how you should react to it. Having good vision means that your eyes are working in sync, which optometrists refer to as "binocularity."
In a nutshell, you can see but have horrible vision.
Hmm, binocularity…doesn't that make you think of binoculars? We only use binoculars to see things that are far away and out of focus to our naked eye. You wouldn't use binoculars to look at your cup of coffee or the person in the same room, but you might use them to look around the Grand Canyon or to search for a monkey in the rainforest. The only way you can make sense of something that is far away is by looking through it with different eyes. Isn't walking with Jesus that way? Sometimes we have so much stuff in front of us that we can see, but we can't really understand it. We need God to give us His vision for things to make sense.
Do you remember history projects in school when you had to plot out someone's whole life on a timeline? There was an end, a beginning and a middle with little dots marking important parts of that person's life. You were basically hovering over this person's life, getting a bird's eye view of their entire existence on earth. This is the way God sees our lives. His Word says that He sees the end from the beginning (Isaiah 46:10), and He sees all the dots in between. All we can see is the past and the dot we are currently on; and sometimes, that little dot feels pretty huge. Maybe it's a struggle in your life right now that you can't wait to be done with. You can't see the future or even begin to wonder how God will work things out for good.
This is where we need God's vision. We need Him to come in and help us see with new eyes, His eyes.
Proverbs 29:18 (KJV) says that without vision the people perish. What truth that is. When we lose our vision, we lose our passion. When we lose our passion, we lose our patience. When we lose our patience, we lose our desire for God because we lose sight of why we decided to follow Him in the first place. So, how can we get past just seeing what is in front of us and having God's vision for what HE may have for our future? The book of Jeremiah is full of verses that I'm sure you have seen crocheted on a pillow or printed on a coffee mug at one time or another. God tells us to CALL to Him, and He promises to ANSWER (Jeremiah 33:3). He also tells us that when we SEEK Him, we will FIND Him, when we are seeking Him with all of our hearts; and that when we PRAY to Him, He will LISTEN to us! (Jeremiah 29:12-13) You guys, these are promises straight from the mouth of God. Notice that our job is to call, pray, seek, and God has vowed to listen, answer and to be found by us. His Word says He isn't hiding anything from us, on the contrary, He longs to show us great and mighty things. If you feel like you have lost your vision and you're only seeing what is right in front of your face, it's time to seek God for that restored vision.
When you have God's vision, that passion for what God has for you and your future will be restored.
You will begin to not only see but also understand all the little dots on your timeline that have led you to where you are now. And you will be filled with excited anticipation just waiting to see how God will make everything come together for His glory and for your good. Keep looking for Him, you'll find Him and see Him more and more clearly through the process!