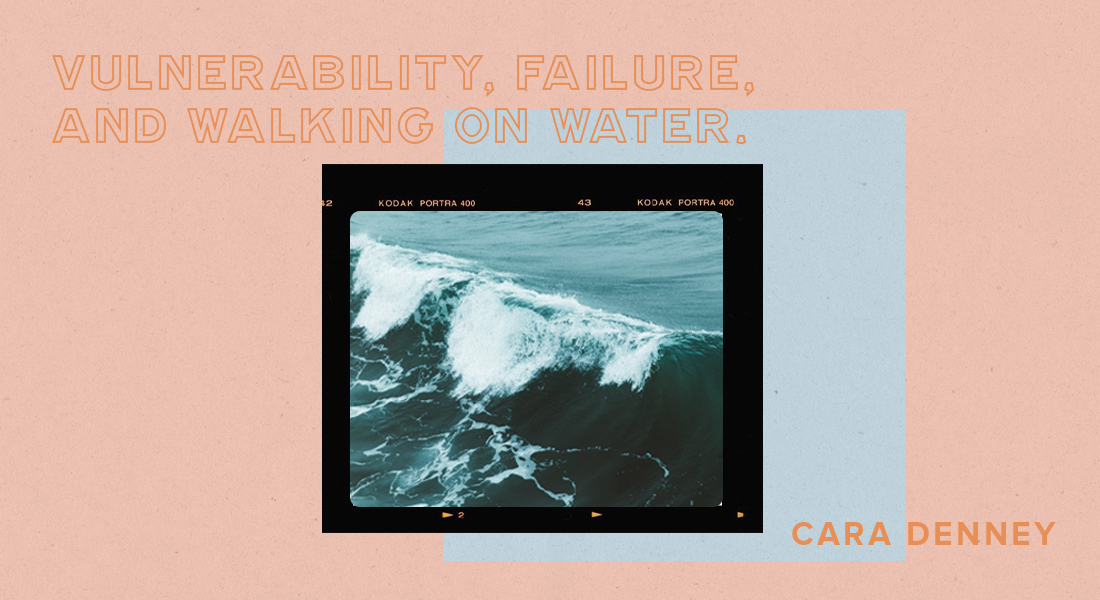 "What would you do if you knew you couldn't fail?" That was the motivational catch-phrase of years past.
Current best-selling author Brené Brown has added a significant twist by asking, "What's worth doing even if I fail?", crediting Theodore Roosevelt when he said, "If he fails, at least fails while daring greatly."
Brown should know: She's a researcher on vulnerability and shame whose first TED talk about these issues hit a record-breaking 10 million-plus viewers on YouTube. Her five NY Times best-selling books have been translated into numerous languages, and her various seminars, talks and articles dominate the internet, translated into many languages. The message Brown is telling the world is that vulnerability (merely showing up and being present, win or lose) is the secret to "wholehearted" living. And the world is listening.
Vulnerability in Christian Leadership
But what about the Church, particularly us as leaders within it? Are we listening (not necessarily to Brown but to this idea of vulnerability)? One would correctly argue that the Church has a different goal than the world. As the Westminster Shorter Catechism clearly states: "What is the chief end of man? To glorify God and to enjoy Him forever."
So, we know that the "right answer" for Christians is not about succeeding or failing (or even "showing up") but rather to "glorify God." However, if we're honest, the idea of glorifying God rarely allows for anything close to what one would consider "vulnerability," let alone "failure."
Ministry ventures that deliver "lackluster" results are often judged to be "lacking proper planning and faith" or being "outside of God's will." A change of direction in ministry without "logical reasoning" can also be suspect. However, might the result of those ministries' be precisely what God had planned? Is there a possibility that those ministries fall perfectly within His will?
Peter – A Portrait in Vulnerability
In Matthew 14, we see the famous story of Peter walking on water. It began with the disciples in a boat as a storm started to form. Jesus had sent them off without Him, and then, early in the morning, He came walking across the water. They were frightened, thinking Him a ghost.
Jesus comforted them, saying, "Don't be afraid. Take courage. I am here!"
It was only Peter who responded: "Lord if it's really you, tell me to come to you, walking on the water."
In this passage, Peter's "impulsiveness" is often made to be the focus despite the text speaking to the contrary. In reality, Peter demonstrated healthy caution ("If it's really you") coupled with submission shown in words ("Lord") and actions, all with a willingness to wait on Jesus' command ("tell me to come to you").
It really was the Lord, and He did call Peter out. How frightening and exciting that must have been!
If Jesus had answered, "No, stay there!", before Peter jumped out of the boat, those who remain critical of Peter's impulsiveness might have grounds to criticize. Peter didn't act impulsively, but instead, was merely obedient. Jesus called, and he came.
The story goes on to say how Peter saw the crashing waves and was understandably terrified, and began to sink. Thankfully, Jesus didn't abandon him to sink completely. Peter cried out, "Save me, Lord!" And Jesus reached out and grabbed him.
Walking on Water is Not the Goal
There are many great things to observe and learn from this passage. But it is the oft over-looked conclusion of this story that may be the most critical point in the entire narrative.
"When they climbed back into the boat, the wind stopped. Then the disciples worshiped him. 'You really are the Son of God!' they exclaimed."
They saw that it was Jesus and worshiped Him!
Look at what happened here:
▪ Peter demonstrated supernatural discernment: He recognized it was the Lord when the others were afraid, thinking He was a ghost. However, that didn't convince those in the boat that it was indeed Jesus.
▪ Bold declarations of submission to Jesus' Lordship and willingness to bravely obey any command ("LORD – call me out!") didn't cause those in the boat to worship.
▪ A definitive "call from the Lord" on Peter's life still didn't make the others in the boat realize who it was out there on the water.
▪ Even Peter's ability (albeit short-lived) to perform a supernatural manifestation (walking on water) had no positive impact on those in the boat.
It was when Peter began to sink, and Jesus rescued him, that those in the boat finally recognized that it was the Lord. Each one of those former fishermen had likely gone overboard at one time or another, but none of them had ever been able to save themselves. It was in Peter's attempt to be obedient that the common weakness of his humanity revealed the strength of Jesus' divinity. Only then was Jesus seen and worshiped by those still in the boat. To put it plainly, Peter's "not being completely up to the task" showed how much Jesus was.
Long before He called Peter out, Jesus knew that Peter would begin to sink. From the start, Peter was insufficient for the call, but Jesus wasn't. And He called Peter out anyway, just as Jesus has called many of us out.
Afraid of Vulnerability
Among those who strive to serve the Lord wholeheartedly, fully aware of our weaknesses, there is comfort in understanding that we are not expected to walk on water or be perfect. We know this. We remind ourselves of the truths in scripture such as, "we have this treasure in jars of clay." So often, however, we work hard not to let any cracks in our "ministry pots" show. Like Instagram influencers setting up for a selfie, we're sure to display only our "best side" in ministry, lest any perceived weakness or vulnerabilities show.
And this is understandable because Brown's research overwhelmingly reveals that people equate vulnerability to weakness. In actuality, vulnerability is simply the potential for weakness. Brown's study also showed that both acknowledging and walking into vulnerability was the most effective way to prevent mistakes and combat weaknesses. For believers, this should sound familiar, reinforcing what we accept as true; that "His strength is made perfect in weakness."
Brown goes on to assert, "When we pretend that we can avoid vulnerability, we engage in behaviors that are often inconsistent with who we want to be." And yet, even as Christians, so often we do exactly that; we run away from vulnerability and straight into behavior that is principally opposed to who we are and what we believe.
Because being vulnerable is frightening. Walking out on the water means we might start to sink. So, missionaries carefully craft newsletters to put the right spin on projects that didn't turn out as planned. Photos are cropped to show a full hall, not empty chairs. Pastors stay in the pulpit even when they begin to sense a call to a different field. Changes in ministry direction are filed under the heading, "Well, we all miss God's will sometimes." Everything from tightly scheduled events going off schedule, to sparse turnout, to our programs, to less than "smooth operation" of our churches, you name it. And the critics send us into a tailspin of blame (self-directed more often than not), as well as doubt and depression.
So somewhere along the line, a few things begin to happen. We're already following Jesus. We're even gotten into the boat when so many stayed on the shore. But we can't see everything clearly, and we begin to get frightened. So, we stop asking Jesus to call us out further. Or we don't step out when He does call. Even if we do step out, instead of enjoying the thrill of obedience, walking with Him into the impossible, we're preoccupied with not sinking. And when we do start to sink (as He knew we would before He even called us out), we work on damage control for those who might have seen us go under.
Jesus already knew what would happen when He called out to Peter, yet He called him out anyway. In the same way, He knows where and when we will start to sink, but He calls us out nonetheless. Why? Because God's ultimate goal for us is not to walk on water. God's ultimate goal (and therefore ours, too!) is that others would see Jesus and worship Him, using whatever it takes.
Embracing Vulnerability
George Markey, the founding pastor of the CC work in Ukraine, used to say, "Where we admit that we are weak, there God will be our strength. But where we try to be strong by ourselves, there God will be weak in our lives."
This concept is made most explicit in Jesus' life. The vulnerability that allowed Him to be tortured and crucified must have seemed like a failure to many looking on. But when God raised Jesus – fully man, dead in the weakness of human flesh – to new life, all of Creation saw Jesus, the resurrected Messiah, and worshiped Him. Showing the weakness of His humanity highlighted the strength of His divinity.
God does not ask us to be vulnerable because He delights in embarrassing us. Nothing could be farther from the truth! Rather, God's great desire is to take us into His presence, beyond the fear of our limitations, and into the freedom of His limitless love! He invites us to be crucified with Him "in order that we too might walk in newness of life!" Vulnerability leads us to die to our sense of control, our pride, our fears and into the safety of His love. God wants us to know the power that comes when "perfect love casts out all fear." God called His own Son to walk as a man, in ultimate vulnerability, so that Jesus might be the perfect demonstration of God's perfect love. Jesus became vulnerable for love's sake, and it's for love's sake that God calls us to vulnerability as well.
Stepping Out of the Boat
Peter stepped out. Peter made himself vulnerable, and he attempted to do what God was calling Him to do. Peter understood something that Pastor Paul Billings has said so well: "The truth is, if we don't attempt, then we have already failed. The absence of failure is not 'success.' I wonder how many of us feel that we are succeeding in what God wants for us just because we aren't experiencing failure. I would suggest that if you aren't experiencing failure at times, then you probably aren't attempting much."
So, there's Peter. He was bold, but he was also cautious. Peter waited on Jesus' call and obeyed. He was also human, and he sank in the waves when he doubted. But he stepped out! Jesus taught him through this. More importantly, when Jesus rescued Peter out of his "human-ness," others watching recognized that Jesus was the Savior, and they worshiped Him. Peter knew the love of his Savior. It was that love that spurred him headlong into some of the most vulnerable places of obedience.
Similarly, may we understand the love of our Savior, who modeled vulnerability to the point of death for us. May we also be willing to embrace vulnerability at His bidding; because it's then that Jesus is revealed. And those who are watching will worship Him.