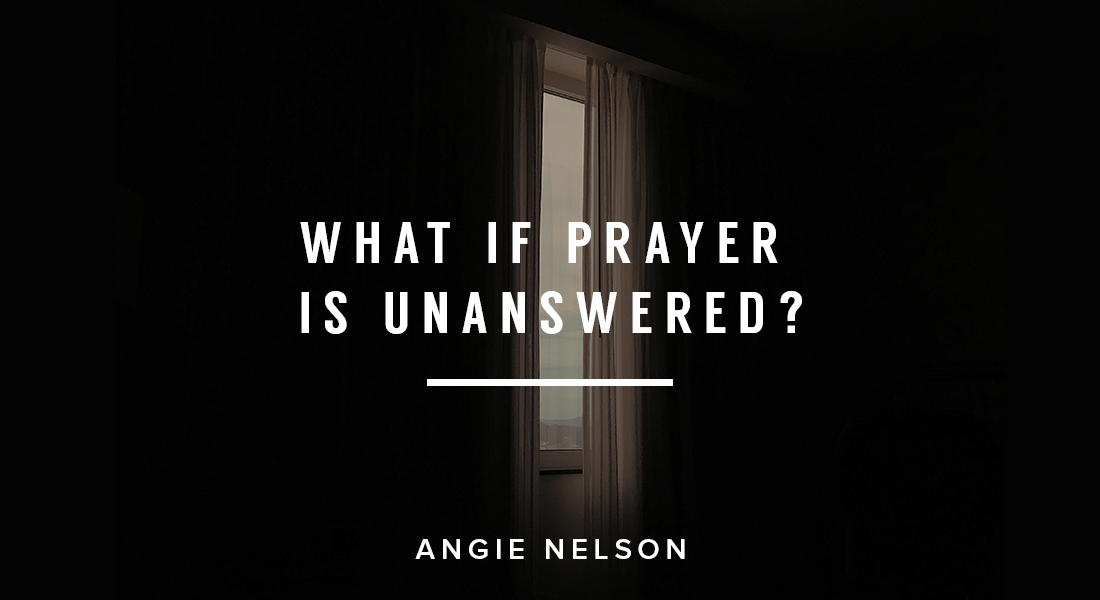 Life is unexpected. Have you noticed that things often do not turn out the way we think they will, even when we pray? Perhaps you have been praying for a certain friend or loved one, and you have not gotten the answer you had hoped for. Or perhaps you have been praying for a job or a mate, and it has not happened in the timing or the way you would like. Just like the disciples, we often do not get what God is doing. We don't see the whole picture. Things don't always turn out the way we think they should.
Jesus told His disciples to ask – to pray about everything.
He told us our Heavenly Father loves to give good gifts to His children. Jesus said, "Ask, and it will be given to you; seek, and you will find; knock, and it will be opened to you. For everyone who asks receives, and the one who seeks finds, and to the one who knocks it will be opened" (Matthew 7:7). Sometimes though, our God seems to say "no" or "wait" to our asking and seeking. I have wondered what scripture has to say about these times, and I have found scripture does address these questions in many places.
Perhaps the oldest book of the Bible – Job – is an account of human suffering and records discourse about, and directly to, Almighty God. Job talks to God at length about his suffering and cries out for help and understanding. It is not clear from the text how long Job suffers before God answers, but it is clear that he had to WAIT on God's timing. In Job's case, God did eventually answer his prayers very clearly and with a blessed ending, though he would not see his children that had passed – ever again on this side of heaven.
The psalms are one big collection of communication with God through prayer and song.
Very often what we find in them is that God's answers to prayer come slowly and sometimes very differently to what was expected. I think of Psalm 69 where the psalmist says:
"I sink in deep mire, where there is no standing: I am come into deep waters, where the floods overflow me. I am weary of my crying: my throat is dried: mine eyes fail while I wait for my God" (Psalm 69:2,3)
And I remember again Psalm 27:13,14:
"I would have lost heart, unless I had believed that I would see the goodness of the LORD in the land of the living. Wait on the LORD; be of good courage, and He shall strengthen your heart; wait, I say, on the LORD!"
I am also reminded of the account of David as he prayed for the healing of his first child with Bathsheba. He fasted and prayed and cried out to God for this child to live, but God did not answer his prayer with a "yes," (Read the account in 2 Samuel 11 & 12:1-23).
Another more familiar account of an unexpected and very clear "no" in prayer was recorded for us in 2 Corinthians 12 by Paul the apostle. This was a man who had experienced so many supernatural miracles of healing. He had seen a man raised from the dead in response to his prayers (Acts 20:9-12)! And people of Paul's day only needed to hold a handkerchief of his in faith in order to receive healing (Acts 19:11-12). But we have the account in 2 Corinthians (12:7-10) of a time when his own prayers failed to prevail, in the sense that he did not get a "yes" from God. He shares this account with us:
"Because of the surpassing greatness of the revelations, for this reason, to keep me from exalting myself, there was given me a thorn in the flesh, a messenger of Satan to torment me—to keep me from exalting myself! Concerning this I implored the Lord three times that it might leave me. And He has said to me, 'My grace is sufficient for you, for power is perfected in weakness.' Most gladly, therefore, I will rather boast about my weaknesses, so that the power of Christ may dwell in me. Therefore I am well content with weaknesses, with insults, with distresses, with persecutions, with difficulties, for Christ's sake; for when I am weak, then I am strong."
Paul shares the wisdom he gained from this experience with us. He basically says, "I prayed deliberately three times about this and God said 'no' to me," but he says, "God also showed me that it was for my good." And Paul says that what he learned from that is that the "no" of God is for our good. God is still at work in our lives, and we can learn to rejoice – even in God's "no's," because God still has our good in mind.
I am comforted by the truth that it's not just my praying that doesn't always bring my expectations to pass.
At the end of the day, I know God is God, and I am His. He has the final say in how things turn out. And I know that God is working something much better than I could think of, something "exceedingly abundantly above all I could ask or think" is what He has said (Ephesians 3:20). However, I know I have a very limited viewpoint from this side of eternity. I am unable to see the Big Picture that God has in mind. Paul says in 1 Corinthians 13:12, "For now we see in a mirror, dimly, but then face to face. Now I know in part, but then I shall know just as I also am known." I know I have to trust God and believe Him for things to come, for the substance of the things yet "unseen" (Hebrews 11:1).
One more example of seemingly unanswered prayer comes to mind in closing. In the Garden of Gethsemane, Jesus prayed to the Father, "Abba, Father, all things are possible for You. Take this cup away from Me. Nevertheless, not what I will, but what You will" (Mark 14:36) (See also Matthew 26:39; Luke 22:42). And the Father's response, we know, was NOT to take the cup of suffering, the wrath of God upon the sin of the world, away from Jesus. Jesus HAD to drink that cup, and He willingly did in the will of God. And we thank God that He did! Jesus willingly laid down His life, so that we might take up ours before God for eternity!
I was recently discussing this topic with our son Isaac and was blessed by the thoughts he shared with me. I will conclude with his comments on the subject. He said:
"As I struggle to reconcile with suffering and unanswered prayer, here lies my hope – That God who was faithful to fulfill His promises from the Old Testament in the person of Christ, will surely be faithful to us until the end. Even when we cannot possibly see how our circumstance could be part of God's redemptive plan, when we can't explain how a good God would not respond to our plea, we can reflect on how the same was said of Jesus' sacrifice. Yet, God used the death of His own son to bring about salvation, that we all might become His children."
Isaac concluded, "I realize that God doesn't want to just give me gifts. He doesn't just want me to find Him. He wants to beckon me into His home, so I can know Him intimately and experience His love in full as his child."
Knowing that is true, I want to continue to press into God. I want to "seek, ask and knock," because in the process, I will get to know my God better. I may come to know "with all the saints what is the width, length, depth and height" (Ephesians 3:18) of Christ's love, even through the tough circumstances in my life.