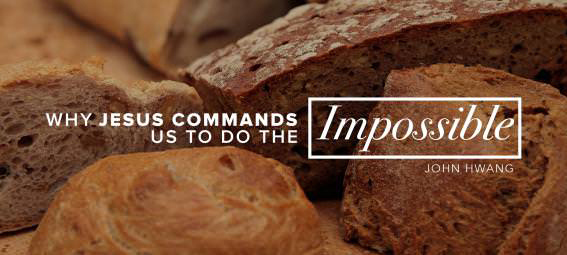 I recently found myself reading Luke 9:10-17 again.
It tells of when Jesus miraculously fed 5,000 men with five loaves of bread and two fish. There was probably more people present, when you add the women and kids, but Luke specifically noted the men who were there (maybe because food generally matters more to us men than to others). This was an awe-inspiring moment in the ministry of Jesus. It is one of a handful of miracles that all four Gospel writers include in their Gospels about Him. It demonstrates the compassion, power and deity of Jesus.
I admit, however, when I came to this story, I didn't approach it with awe. It had become so familiar to me – having read it over and over again – that I planned on rushing straight through it, without giving it a second thought; but things turned out differently.
By the time I reached the end of the story, my confidence in the Bible, as being the living word of God, was reinforced.
God brought fresh insights that spoke directly to the state and situation of my life. He fed me with the five loaves and two fish, and I would love to share with you something from a full basket He graciously supplied.
In Luke 9:13, Jesus commanded His disciples to do something they were inadequate and incapable of doing on their own: "You give them something to eat." The crowd was large, and their resources were insignificant compared to the need. The immediate supply at hand were two fish and five loaves of bread. How could these 12 men give this crowd something to eat?
Jesus' command was intended to show His disciples their inability and His sovereign, supernatural ability.
Christ did something His disciples couldn't do.
He gave the crowd something to eat. He took the little the disciples had and, having blessed it, multiplied it and fed the multitude to the point that everyone was satisfied. What I find so exciting in this story is that Jesus did the miracle, but He had His disciples "give the people something to eat." He enabled them to do what they couldn't do earlier; that is, to obey His command.
This is how God works in and through our lives as well. He brings us into situations, where the need is real and pressing, and then commands us to do something we are inadequate and incapable of doing on our own.
In our challenging marriages, God says, "Wives, submit to your own husbands, as to the Lord" (Ephesians 5:22) and "Husbands, love your wives, just as Christ also loved the church and gave Himself for her" (Ephesians 5:25).
When we are being unfairly mistreated, He tells us, "Love your enemies, bless those who curse you, do good to those who hate you, and pray for those who spitefully use you and persecute you" (Matthew 5:44) and "Be forgiving one another, even as God in Christ forgave you" (Ephesians 4:32).
Built-in to God's commands is that which shows us our weakness and need for Christ and Christ's sufficiency and enabling power to meet the needs at hand.
Both are happening, and we need faith to see it and act upon it. When we surrender our schemings to resolve our own problems and dilemmas in our own strength and wisdom, God acts on the basis of His mercy and grace.
He supplies the resources and enabling to do what He commands us to do.
St. Augustine said, "Lord, command what You will, and will what You command." He demonstrates His power by enabling me to "give them something to eat." Let's admit our need for Jesus, turn to Him and trust in Him to demonstrate His sufficient and super-abounding grace through you and me – He will.
"The Lord said to me, 'My grace is sufficient for you, for My strength is made perfect in weakness.' Therefore most gladly I will rather boast in my infirmities, that the power of Christ may rest upon me" (2 Corinthians 12:9).