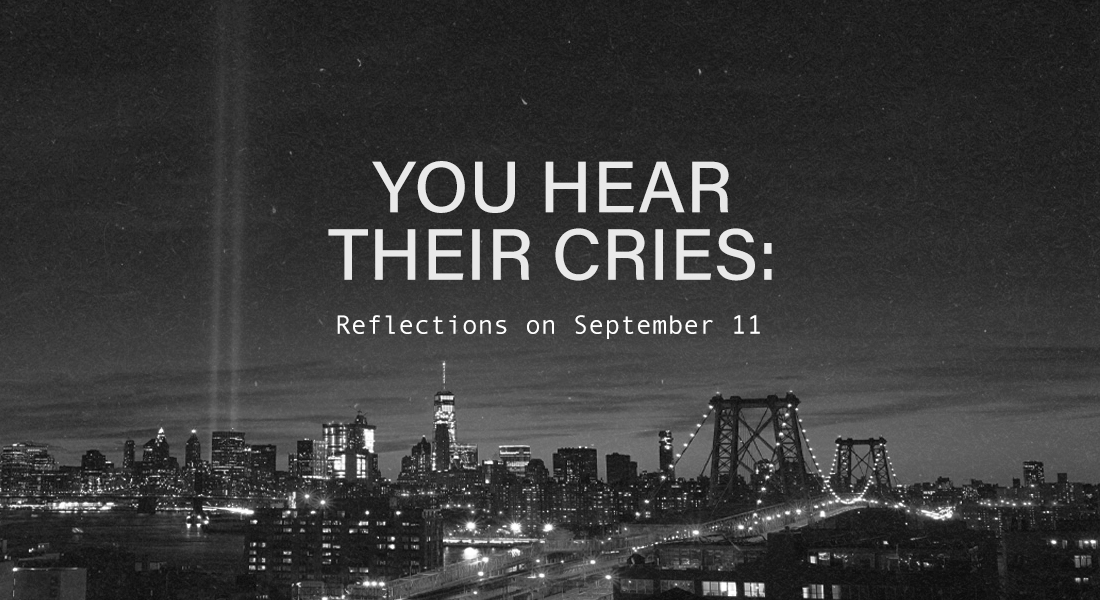 I will never forget September 11, 2001. We were living and serving at the castle in Austria. We were busy with a new semester of Bible college students and preparing to move our operations into Hungary. Austria is six hours ahead of New York, so it was late afternoon when we learned about the horrific terror attacks on American soil. As we watched what was happening, I was filled with anger and wished I could somehow be involved in protecting our country. I longed for a sense of justice and maybe even vengeance on those responsible.
Living in Austria, we weren't directly involved in what took place in the USA after the attacks but watched what was happening, as people flocked to churches and turned to God in order to find comfort and somehow make sense of what was happening. What a beautiful time it was as people forgot some of their petty, political differences, came together on what unites them– being American, and more importantly, followers of Jesus Christ.
In the politically charged environment in the USA in recent years, it would be good for people to reflect on the things we have in common rather than concentrating on only what divides us. May the masses once again seek God in order to make sense of our current state of turmoil. The pandemic continues to rage, and the aggressive, political divisions in our country are a cause of stress and anxiety. But the Lord is the source of our tranquility.
"I have said these things to you, that in me you may have peace. In the world you will have tribulation. But take heart; I have overcome the world" (John 16:33, ESV).
___________________________________________________________________________________________________
I was in an early morning, mentoring telephone conversation with a close friend, a missionary in one of the "stan" countries. Sherry called upstairs for me to come to the TV and see what was going on. I continued the intense, very personal conversation, as I saw the burning buildings. I told my friend what I was seeing with shocked incomprehension, in a paragraph inserted in our conversation. I gasped as the first building collapsed and suddenly the line was dead. I stared at the phone and began to realize that our phone line went through destroyed building. That crushed conversation was a powerful metaphor for the crushing of the current narrative that ascendancy of Western liberal democracy would bring peace and prosperity to the world.
Later that morning, I started my theology class at Western Seminary with a TV on the table, so we could keep track of what was happening. We paused the class several times to ponder and pray. As the story of flight 593 crashing in Pennsylvania emerged, we recognized the Christ-centered response to the presence of evil at work. We adopted the phrase, "Let's roll" as a slogan for our proclamation of hope. People who had not been in church for years came to prayer meetings, seeking meaning and community in the smoke of the ruins of the naïve hope, "We are all alike and will do fine, as we get together in a connected world." Believers went seeking places where they could provide immediate help to stranded folk in their neighborhoods, as well as New York and the rest of the world. While many responded with angry, violent retaliation, we committed to taking the gospel of Jesus to the violence-racked world, especially the largely bypassed Muslim world. We proclaimed, "Do not be overcome by evil, but overcome evil with good (Romans 12:21).
___________________________________________________________________________________________________
I was on my way to work at our church and got a call from my wife on my cell phone. She asked me if I had heard about an airplane that hit one of the twin towers. We both thought perhaps it was a small airplane that accidentally lost control. An hour later, I'm standing with our church staff in the front office, watching the towers fall on live TV. I distinctly remember tears rolling down so many faces in stunned silence.
Flash forward a month ahead, I'm living in Philadelphia and our church had coordinated a chaplaincy effort to go minister to the firefighters, law enforcement, and hundreds of locals digging out the rubble in NYC at Ground Zero. We had so many conversations with people who were still reeling from the loss of life and attack on our nation, but they were simultaneously stunned by the amount of love and care that was coming from the churches. We got to pray with them, feed them, hold them as they wept, give them copies of the scriptures, and tell them of the love of Jesus in the midst of the chaos. That message still stands today, 20 years later, and people are just as in need for the church to show up in their mess, and love them to the hope found at the cross.
___________________________________________________________________________________________________
"I will make your descendants as numerous as the stars in the sky and will give them all these lands, and through your offspring all nations on earth will be blessed" (Genesis 26:4).
In 2001, I took a life-changing trip to Israel. After flying home, my wife and I were awakened the next morning from a jet-lagged sleep when the phone rang. A good friend was calling, clearly upset.
"Turn on the television, now!" She was barely able to get the words out. "We're being attacked."
It was September 11. Four commercial jetliners had been hijacked by terrorists and used as deadly weapons against American citizens. We began checking with other friends and traveling companions. Several of the team members who had traveled with us to Israel had left on a later flight. They landed in Newark, New Jersey, and were stranded on the tarmac, where they could see smoke billowing from lower Manhattan. Some ended up hitchhiking home across the country.
With this direct attack on US soil, everything changed. Even though the attack was launched against New York City and Washington DC, Israel was the key. The terrorists hated its existence and hated the United States for supporting the Jewish state.
Just days earlier, I took part in a vine planting ceremony in the city of Ariel. That day, kneeling in the dirt, working the soil, and planting new vines, the importance of God's people impacted me. I had studied prophecy for decades, but on that afternoon, I knew the fate of the world revolved around Israel. I had come face to face with a new understanding of prophecy. It is not just the geography of Israel that is important to our understanding. Israel and her people are the center of our world, our history, and our future. Israel is more than a prophetic clock on the wall.
God had a beautiful goal in mind when He promised Abraham, "And in you all the families of the earth shall be blessed" (Genesis 12:3). No one is left out of this promised blessing. God manifested His love and grace from the very beginning. We all are His chosen people through the covenant He made with Abraham.
__________________________________________________________________________________________________
I will never forget that day as long as I live! We had an early morning 6 AM prayer meeting at the church that day. So I was up early and rushed off to pray with a small group assembled at the church. I had not checked my phone or the news, so I had no idea what had happened. As we began to pray, someone notified me of what had happened. I was in shock. We concluded the prayer meeting, praying for our country and loved ones, and those who's families had been directly impacted by the attack. I raised home from the prayer meeting, flipped on the news, and began watching the horrific images of the planes hitting the towers and the towers collapsing. I would have never thought it possible for America to be so vulnerable to an attack like that. I kept thinking, "The state of the world has changed forever."
In the coming days and weeks that followed, my heart was filled with mixed emotions. On the one hand, I was truly blessed to see so many people turning to the Lord. The Sunday following the attack, our church was packed with people desperate to meet with God. I gave an invitation that day, and many people responded. I was blessed by the large amount of Christians across the country who responded immediately to the relief efforts, and jumped into the fray to be the hands and feet of Jesus. And I was encouraged by the sense of national pride that welled up in so many, a sense of banning together in order to overcome. I really felt proud to be an American.
But there was also a sense of consternation that filled my heart in that time. I really felt that we missed a moment as a nation. President Bush, who I was always a strong supporter of, had the opportunity to call our nation to repentance, to really get on our faces and seek God, and to realize that this was a wake-up call for our country. But instead, our president sent a message that we needed to pull ourselves up by our boot straps and show a sense of, "We were not going to be knocked out."
I understand why we sent that message, but I do think that we missed a very important, spiritual moment as a country. Within two weeks, it was sort of back to business as usual, and people were no longer focused on the Lord. As I look back on those events from 20 years ago, I can't help but think that we experienced a similar situation in 2020 with the pandemic. Rather than really turning to God in humbleness as a nation, people have been so focused on their own needs, rights, and the longing for things to get back to normal. I think we are living in a new normal, and the Lord will continue to allow these type of things to happen, in order to get our attention in hopes that we as a nation might humble ourselves, turn from our sin, and turn completely to the Lord. Praying for Revival.