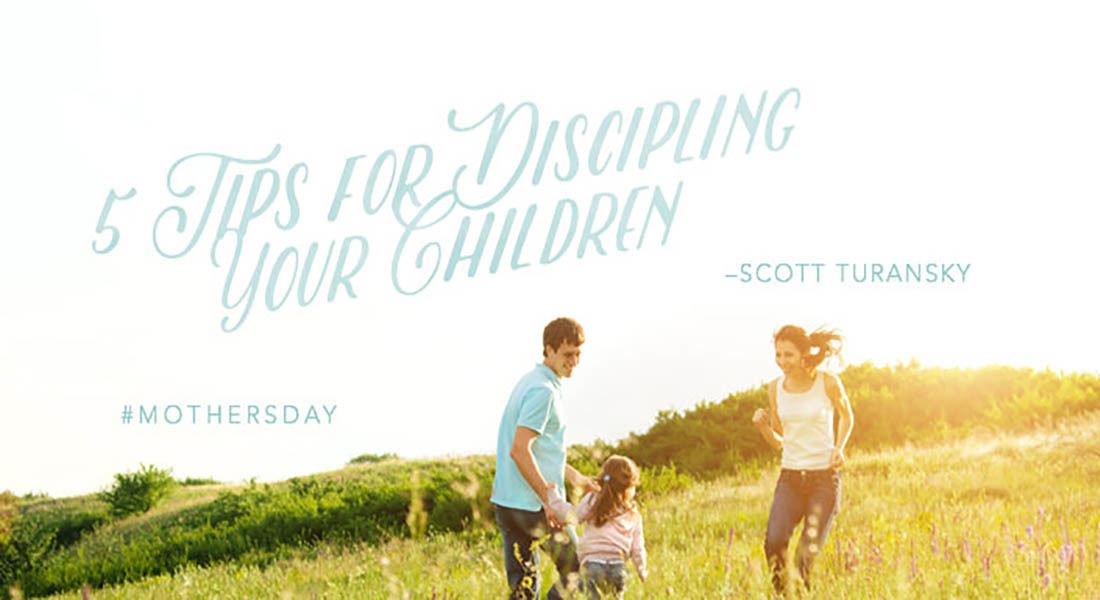 Passing the faith on to our kids is the most important job we have as parents. But how do you do that when kids seem to be at different levels of development and vary in spiritual sensitivity? Faith development isn't like baking cookies where adding the right ingredients produce a predictable outcome. Rather, spirituality grows when the Holy Spirit connects with the human heart and kids experience God's grace. Although that doesn't happen with a formula, there are certain things we can do to encourage spiritual growth in our kids.
Parents help their children grow spiritually by creating the structures where they can meet Jesus. Some of those are easy, such as taking kids to church, praying before meals, and memorizing scripture. And some are more complex, such as spontaneous prayer, wrestling together with God's will, and applying biblical truth to life.
Here are five principles from Deuteronomy 6 to guide your thinking as you seek to help your child build their own personal relationship with God.
1) Start with yourself.
If you are growing spiritually, your kids will see it. Deuteronomy 6:6 starts the process by focusing first on the parents' own spiritual growth. "These commandments that I give you today are to be on your hearts." Jesus reminded us of the same truth in Luke 6:40 when he said, "A disciple is not above his teacher." As you work on discipling your child, make sure your own heart is growing in God's grace.
You might make it a habit to keep a prayer journal about specific things you're praying for each of your children. Or, look for scriptures that apply to your family and to the needs of your children. As you see God at work in your life, you'll have something to share with your kids.
2) Build relationship.
Family life can become strained at times when all the busyness of life generates pressure. Remember that it's through relationship that values and convictions are passed. That's why, when referring to the commands of God, Deuteronomy 6:7 says, "Talk about them when you sit at home and when you walk along the road, when you lie down and when you get up." Use relational moments to teach, explain, and illustrate God's Word.
Mornings and bedtimes are mentioned in the passage, and both provide strategic opportunities for worldview discussions and how the Scriptures apply to life. Walking along the road, or in more modern times, driving in the van, is also a time when conversations can take a spiritual bent. In fact, you might want to plan a story or a specific scripture to share in those moments.
Sometimes the relational times can be scheduled such as a family time focused on a spiritual truth. Other times the relational opportunities will come spontaneously. Always be ready to direct your children's attention to the work of God.
3) Share scripture.
In verse 7 of Deuteronomy 6 we have a specific goal stated for parents. When referring to the commands of God, it says, "Impress them on your children." It's not enough to share your own ideas about how to be successful in life. Be sure to share God's truth with your kids.
When sharing scripture, be careful about overemphasizing the wrath, justice, and holiness of God. Although those are valuable truths, remember that Jesus died to satisfy God's holiness and emphasized the fatherly qualities of God. Children need to experience God as a compassionate, caring father who loves them and wants to empower them to do what's right. Those who tie specific offenses to verses in the Bible may be giving their kids a picture of God as judge. Many verses talk about God's grace and how He is working in us to move us in the right direction.
4) Be creative.
Deuteronomy 6:8-9 says, "Tie them as symbols on your hands and bind them on your foreheads. Write them on the doorframes of your houses and on your gates." The goal is to help the child bring God's commands into daily life, viewing them as relevant and practical.
Keep in mind that the language of children is activity. For every Bible story or theological truth, you might look for some kind of activity to communicate it. For ideas, consider the teaching techniques of Jesus. He used creativity and life experience to communicate kingdom principles to His disciples. When He wanted to teach what it means to be a good neighbor, He told the story of the Good Samaritan. In order to teach His disciples about being a servant and the importance of being willing to do dirty jobs, He washed their feet. When He wanted to correct them for criticizing each other, He gave them an illustration that may have come from His own childhood growing up in a carpenter shop. He encouraged them to get the plank out of their own eye before removing the sawdust from their brother's eye.
Your kids will view the Bible as relevant, practical, and exciting when you use activity to communicate biblical truths. You might act out Bible stories with young children or use science experiments with elementary age kids. Hebrews 12 talks about running a race toward Jesus without being entangled by sin. You might run two races, one without baggy clothes and the other loaded down with Dad's coat and shoes. Using activity with kids helps them get excited about God's Word.
5) Discuss the lesson learned.
Deuteronomy 6:20-21 says, "In the future, when your son asks you, 'What is the meaning of the stipulations, decrees and laws the Lord our God has commanded you?' tell him." Be sure to ask the question, "What's the lesson learned?" Kids, as well as adults, need to know how to apply the Scriptures to their own lives.
When you're growing spiritually, building relationships, sharing scripture, being creative, and discussing how God's Word applies to your lives, then you position yourself well to pass on the faith to your kids.
One more piece of advice: Stop the activity when the energy level is high. When your son says, "Let's do it again," go over the lesson learned and then tell your son, "Yes, we'll do it again when we have devotions again in a few days." Now your kids will be begging for more!
If you're looking for resources to tie activity to Bible stories, you might check out the Family Time Activities books from the National Center for Biblical Parenting.
Dr. Scott Turansky is a Calvary Chapel pastor in New Jersey and is the co-founder of the National Center for Biblical Parenting. He and his wife Carrie have five children and four grandchildren. Learn more at www.biblicalparenting.org.