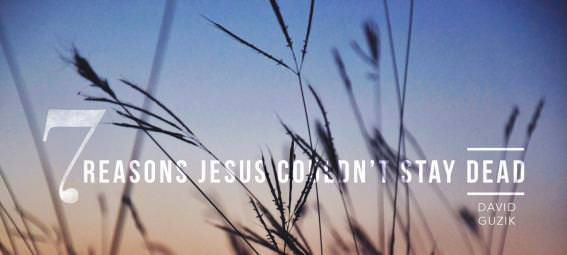 The Bible tells us that Jesus of Nazareth rose from the dead on the Sunday after Passover. The risen Jesus met with and spoke with people for 40 days following that, including up to 500 people at a time (1 Corinthians 15:6). At the 40 day mark, He ascended to heaven, as His disciples watched. Ten days after that, on the day of the Jewish festival of Pentecost, one of His disciples preached about the risen Jesus to thousands of people. In that sermon, Peter spoke of Jesus as the one, "…Whom God raised up, having loosed the pains of death, because it was not possible that He should be held by it" (Acts 2:24). Many years ago, that phrase caught my attention, and I am still amazed by it: It was not possible for Jesus to remain dead in the tomb. He had to rise. In the season of Easter and Resurrection, it's good for us to think deeply about how Jesus had to live, had to die, and had to rise again.
Here are a few thoughts on why Jesus had to rise from the dead. It's a short and incomplete list – feel free to add your own thoughts in the comments.
Jesus had to rise from the dead to fulfill the promises of the Old Testament.
The resurrection of the Messiah was described in the Hebrew Scriptures in Psalm 16:10 and spoken of in a prophetic sense in passages such as Hosea 6:2 and Jonah 1:17. Another example is the scenario in Genesis 22 where Isaac, as a picture of Jesus, is "raised" on the third day of their journey, at the beginning of which Abraham had reckoned his son dead.
Jesus had to rise from the dead to fulfill His own promises.
The promises Jesus made that He would raise from the dead are recorded in Matthew 16:21, 17:23 and 20:19 and in many other passages. If Jesus did not rise from the dead, then He and His promises were lies. It was impossible for the One who is the way, the truth, and the life to remain dead.
Jesus had to rise from the dead to prove that the price was paid at the cross.
The price was paid at the cross, just as He said with His last word before giving up His spirit: It is finished, which could also be understood as paid in full. Yet, every payment needs a receipt. The empty tomb was the evidence that Jesus remained God's Holy One (Acts 2:27), through the whole ordeal of the cross. God had to raise His Holy One from the dead. The resurrection of Jesus proved that He bore our sin without becoming a sinner.
Jesus had to rise from the dead to make certain of our resurrection.
1 Corinthians 15:20 says that Jesus is the firstfruits of the resurrection that is promised to all His people. He was the beginning, and if it was real for Him, it will be real for all who have put their trust in Him. Romans 8:11 says it beautifully: "He who raised Christ from the dead will also give life to your mortal bodies through His Spirit who dwells in you."
Jesus had to rise from the dead to show that death was defeated.
If death could not hold Jesus in the tomb, it proved that death had no power over Him. If death was defeated for Jesus, then it is defeated for all those who put their faith in Him who are identified with His death and resurrection. No wonder Paul could almost taunt death by saying, "O Death, where is your sting? O grave, where is your victory?" (1 Corinthians 15:55)
Jesus had to rise from the dead to bring hope and security to His followers.
Because of the victory Jesus won through the empty tomb, His people don't have to live in fear of death or anything in our future. Hebrews 2:15 says that one aspect of the work of Jesus at the cross and resurrection was to release those who, through fear of death, were all their lifetime subject to bondage. For Jesus' people, the fear and torment of uncertainty is gone.
Jesus had to rise from the dead to demonstrate the greatness of God's power.
In Ephesians 1:19-20, the Apostle Paul prayed that believers would know the greatness of God's power, which He worked in Christ when He raised Him from the dead and seated Him at His right hand in the heavenly places (Ephesians 1:20). This is ultimate power, the power to give life to that which is dead. This is the power that God gives to us in Jesus Christ, and power for us to know and live in.
During this season of Easter and resurrection, think deeply on why Jesus had to rise, and especially all that His resurrection brings to those who repent and put their faith in Jesus. It's something to not only know, but to live.