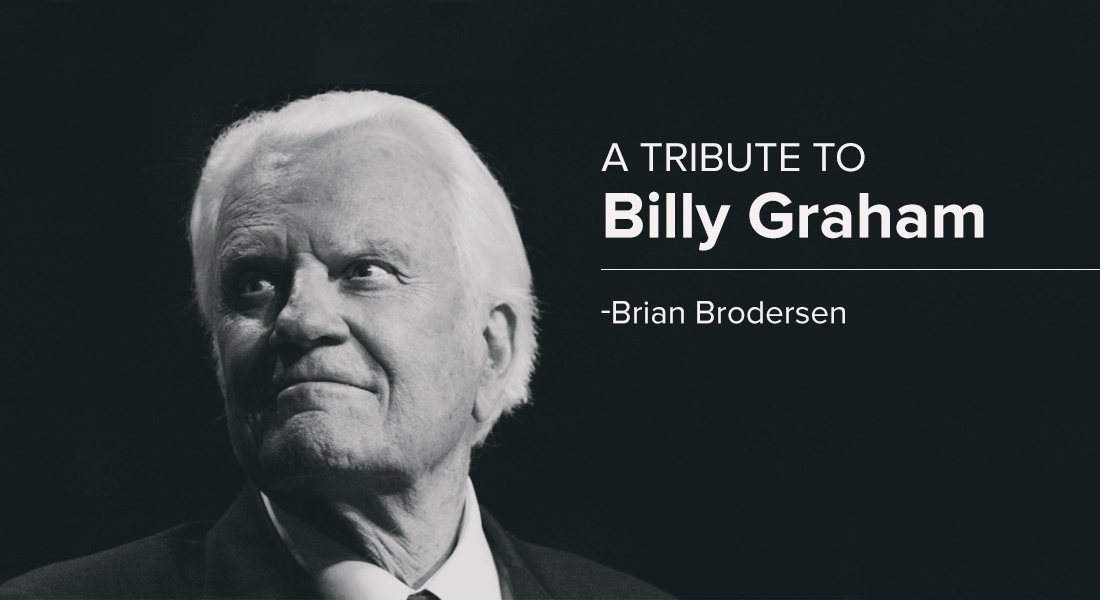 When I awoke this morning and made my way downstairs, the first thing Cheryl said to me was that Billy Graham had passed away. I immediately responded with a smile and the words, "Good for him." The reason I responded like that was because years ago, I read Billy's autobiography, Just As I Am. I recalled how he concluded his story: "I know that soon my life will be over. I thank God for it, and for all He has given me in this life. But I look forward to Heaven. I look forward to the reunion with friends and loved ones who have gone on before. I look forward to Heaven's freedom from sorrow and pain. … most of all, I look forward to seeing Christ and bowing before Him in praise and gratitude for all He has done for us, and for using me on this earth by His grace–just as I am." Today, that longed for experience was realized for Billy Graham.
Billy's life and ministry were extraordinary, to say the least.
When Cheryl and I visited the Billy Graham Museum at Wheaton College a few years ago, we were both astounded at the magnitude of Billy's influence and impact on America and the world. Of course we already knew quite a bit about Billy and his ministry. But seeing firsthand the photos, newspaper articles, and film coverage of his relationships with presidents, prime ministers, kings and queens, religious figures, celebrities of all sorts, and the coverage of his crusades gave me an appreciation and respect for his life and ministry even beyond what I already had.
There are a number of things that stand out about Billy as a Christian and as a minister of the Gospel. At the top of my list would be his genuine humility. Billy displayed a Christlike humility that only increased with the passing of time. When one considers how often fame and success lead to arrogance and pride, Billy was a bit of an anomaly, even among religious leaders. Many people were taken aback by his sincere meekness and humility while he simultaneously spoke out boldly for Christ.
Billy was, as a preacher, both simple and profound. When I would listen to him preach, I would find myself marveling at the simplicity of his messages, yet at the same time, being in awe of their power. With Billy I always sensed what the apostle Paul expressed in his letter to the Corinthians: "My speech and my preaching were not with persuasive words of human wisdom, but in demonstration of the Spirit and of power, that your faith should not be in the wisdom of men but in the power of God" (1 Corinthians 2:4-5).
Billy's power was due to his faith in the power of God's Word.
One of his most common sayings was: "The Bible says …" For Billy, what the Bible said is what mattered most, and whenever he was preaching, being interviewed, or answering questions, he always made a beeline for the Bible.
I think my favorite Billy Graham quote is this: "It is the Holy Spirit's job to convict. God's job to judge, and my job to love." Billy did indeed love people and wanted to get the Gospel to as many as he could. His love for others did at times cause him to be highly criticized and falsely accused of compromise. He was pejoratively referred to by some Christians as "ecumenical" and compromising because he associated with Roman Catholics, Orthodox, Liberal Protestants, and Jews and would invite them to participate in his crusades, even to the point of having them occupy the stage with him. I remember hearing him say in response to these accusations that if anyone compromised, it was not him but those who disagreed with his theology and yet participated in the crusades. He said with absolute conviction: "I have never compromised the Gospel." I would have to agree that he never did compromise the Gospel but preached it faithfully to the end.
Well done, Billy. You fought the good fight, you finished the race, and you kept the faith. Now there is in store for you "the crown of righteousness, which the Lord, the righteous Judge," will give to you on that day (2 Timothy 4:8).