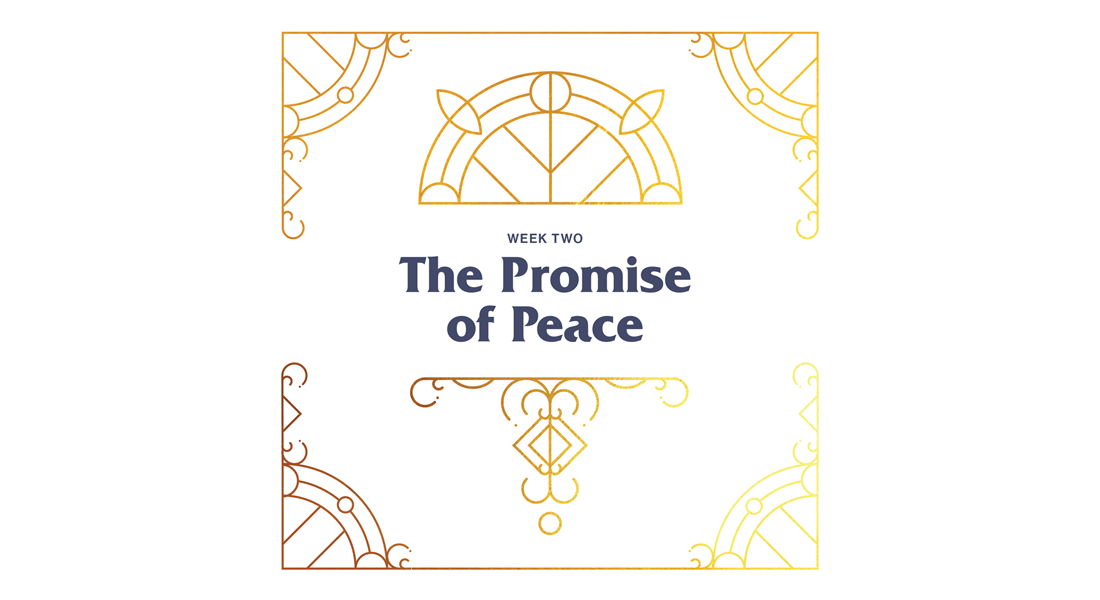 CANDLE-LIGHTING LITURGY
Enjoy your meal and fellowship together. Set a time before everyone leaves to walk through this Advent Candle-Lighting Liturgy together. Before you get started, light the Hope candle (the first purple candle). Gather everyone at the set time, and begin.
01 | READ OVERVIEW
Host:
"Last week we started our Advent season talking about the theme of hope. This week we're talking about another big idea connected to the Christmas story, and that's the idea of peace.
Does anyone remember what the angels sang when they appeared to the shepherd boys after Jesus was born? (Pause for responses.) That's right. They said, "Glory to God in the highest! Peace on earth to those with whom He is pleased."
At beauty pageants, sometimes contestants are asked, "If you had one wish, what would you wish for?" What do they always answer? "World peace",
of course! Yes, that's a good answer, but what is peace exactly? In the Bible, it's the word shalom, and it does mean an end to war and conflict, but it also means "complete" or "whole"— maybe another way to say it is "not broken."
Our world is broken. It's interesting that the angels said that Jesus, the Messiah, would come to bring peace. But how does Jesus un-break our world? How does He bring wholeness and completeness to God's good world? Tonight, we're going to explore that kind of peace together in Scripture, prayer, and worship."
02 | READ A PSALM TOGETHER
Host:
"Let's begin by reading the following selections from Psalm 23 aloud. Make these ancient words the prayer of your heart tonight."
Participants:
"The Lord is my shepherd; I shall not want. He makes me lie down in green pastures. He leads me beside still waters.
He restores my soul.
He leads me in paths of righteousness for His name's sake.
Even though I walk through the valley of the shadow of death, I will fear no evil,
for You are with me;
Your rod and Your staff,
they comfort me.
Surely goodness and mercy shall follow me
all the days of my life,
and I shall dwell in the house of the Lord forever."
03 | CREATE SILENCE
Host:
"Now let's create a few moments of silence. Palms up. Eyes closed. Deep breath. Exhale. See yourself offering anything that's troubling you to God."
(Take 1–3 minutes. Break the silence with a short prayer for peace to end this section.)
04 | READ SCRIPTURE
Choose a child (if available) and another reader for this section.
Host:
"_________ & _________ will be reading our next passages of Scripture tonight."
Child (if available):
"How beautiful on the mountains
are the feet of those who bring good news,
who proclaim peace, who proclaim salvation,
who say to Zion, 'Your God reigns!'" (from Isaiah 52:7)
Reader:
"These verses from Isaiah 53 tell us the ways in which God promises to give us peace through Jesus. Listen closely as I read:
'He was despised and rejected by men,
a man of sorrows and acquainted with grief; and as one from whom men hide their faces He was despised, and we esteemed Him not.
Surely He has borne our griefs and carried our sorrows; yet we esteemed Him stricken, smitten by God, and afflicted.
But He was pierced for our transgressions;
He was crushed for our iniquities;
upon Him was the chastisement that brought us peace, and with His wounds we are healed.'
This is the Word of God."
Participants:
"Thanks be to God!"
05 | LIGHT THE CANDLE
Choose one person (a child if available) to light the second candle (purple) and someone to read.
Host:
"Tonight _____________ is going to light our second Advent candle. Last week we lit the Hope candle. Tonight we light the Peace candle (second purple candle).
What would peace look like for you right now?" (Pause for responses.)
Reader:
"This passage also comes from Isaiah. Listen for the promise of peace as I read:
'The people who walked in darkness have seen a great light;
those who dwelt in a land of deep darkness, on them has light shone.
For to us a child is born,
to us a son is given;
and the government shall be upon His shoulder, and His name shall be called
Wonderful Counselor, Mighty God, Everlasting Father, Prince of Peace.
Of the increase of His government and of peace there will be no end,
on the throne of David and over his kingdom, to establish it and to uphold it
with justice and with righteousness
from this time forth and forevermore.
The zeal of the Lord of hosts will do this.'"
06 | SING A SONG
Host:
"Okay it's time to sing another Christmas carol together. You know the rules: sing badly if you must, but sing you must! This is a safe space for loud singing, so don't hold back. Let's sing."
HARK! THE HERALD ANGELS SING
Participants:
Hark! the herald angels sing, "Glory to the newborn King; Peace on earth, and mercy mild,
God and sinners reconciled!"
Joyful, all ye nations, rise, Join the triumph of the skies; With the angelic hosts proclaim, "Christ is born in Bethlehem!" Hark! the herald angels sing, "Glory to the newborn King!"
Hail the heav'n-born Prince of Peace! Hail the Son of Righteousness! Light and life to all He brings, Ris'n with healing in His wings.
Mild He lays His glory by, Born that man no more may die, Born to raise us from the earth, Born to give us second birth Hark! the herald angels sing "Glory to the newborn King!"
07 | PRAY FOR ONE ANOTHER
Host:
"Let's take a moment to pray for one another. These don't need to be long, eloquent prayers. But let's lift one another up to God in prayer now."
(Ask for prayer requests, and allow time for everyone to pray who wants to pray.)
08 | CONSIDER THE FUTURE
Choose one person from your gathering for the final reading.
Reader:
"The purpose of this reading is to turn our hearts from what has happened and awaken our hopes for what is to come.
These are the words of Jesus found in John 14:
'These things I have spoken to you while I am still with you.
But the Helper, the Holy Spirit, whom the Father will send in My name,
He will teach you all things and bring to your remembrance all that I have said to you.
Peace I leave with you;
My peace I give to you.
Not as the world gives do I give to you. Let not your hearts be troubled, neither let them be afraid.
You heard Me say to you, "I am going away, and I will come to you."
And now I have told you before it takes place, so that when it does take place you may believe.
I will no longer talk much with you, for the ruler of this world is coming. He has no claim on Me,
But I do as the Father has commanded Me,
so that the world may know that I love the Father. Rise, let us go from here.'
This is the Word of the Lord."
Participants:
"Thanks be to God forever."
09 | PRAY A FINAL PRAYER
Host: "Let's pray."
(Pray a closing prayer.)
10 | PRONOUNCE A FINAL BLESSING
Host:
"We like to dismiss our gatherings by pronouncing a blessing on all who attend. This priestly blessing is found in Numbers 6, and it has been spoken over the people of God for the last 3500 years."
Host (or a child):
"Now may the Lord bless you and keep you;
The Lord make His face to shine upon you and be gracious to you; The Lord lift up His countenance upon you and give you peace."
Host:
"Thanks for worshipping with us tonight. We'll see you next week."
[END OF CANDLE-LIGHTING LITURGY]
Downloadable Resources
Advent Week 2 – Daily Advent Worksheet