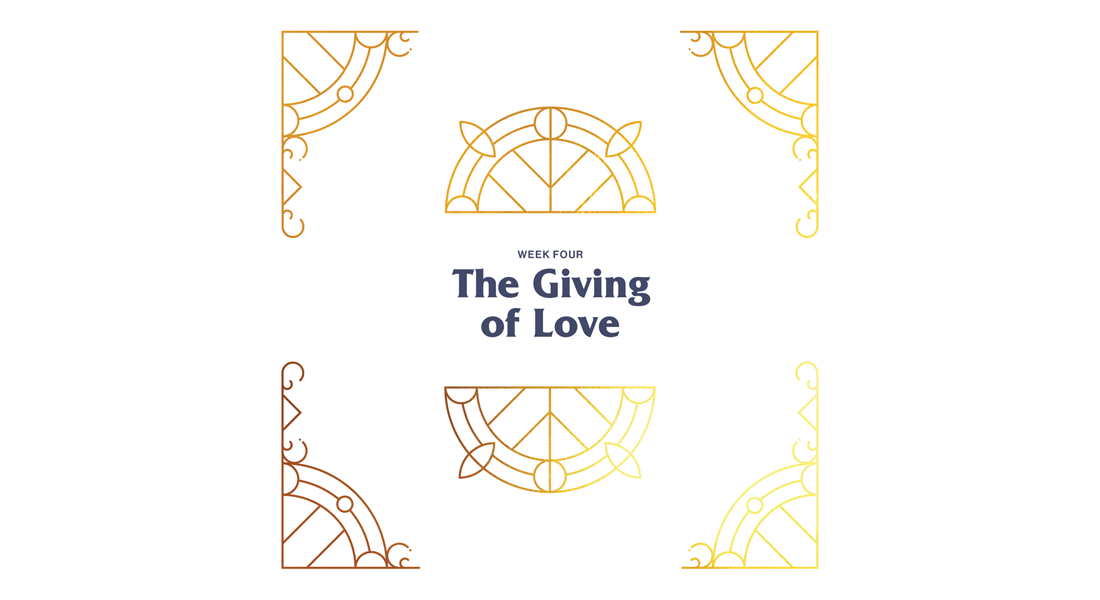 CANDLE-LIGHTING LITURGY
Enjoy one another's company for a while, just remember to set a time before everyone leaves to walk through this Advent Candle-Lighting Liturgy together. Just before you get started, light the Hope, Peace, and Joy candles (all three purple candles) before you begin. Take 10 –15 minutes, and walk through this Advent home worship service together.
01 | READ OVERVIEW
Host:
"In this Advent season thus far we have considered the Christmas themes of Hope, Peace, and Joy. Tonight we will light the fourth of our Advent candles (pink candle), the Love candle.
Jesus told us love is the meaning of life. The greatest commandment, He says, is a commandment to love. But there's a problem. In English, we use the word love for a whole lot of things. It's not a very precise word. We love our friends. But we might also love a particular sports team. We love our family. But we also love Netflix TM. We love God. But we also love ice cream. See the issue? If love is the greatest commandment, what does love actually mean?
The word love in the Bible is often associated with breathtaking acts of trust and sacrifice. In fact, the first time the word love is used in the Bible, God puts Abraham's love to the test by asking him to make an unthinkable sacrifice.
He says, "Take your son, your only son, whom you love, and offer him as
an offering." Of course, we know Abraham passed the test. But the point is that in the Bible, love is not just a feeling. Love is an act, a sacrifice you make, a gift you give.
Tonight we're going to explore the theme of the giving of love."
02 | READ A PSALM TOGETHER
Host:
"Let's all read the following selection from Psalm 116 aloud. Make these ancient words the prayer of your heart tonight."
Participants:
"I love the Lord, because He has heard my voice
and my pleas for mercy.
Because He inclined His ear to me, therefore I will call on Him as long as I live.
Gracious is the Lord, and righteous; our God is merciful.
For you have delivered my soul from death, my eyes from tears,
my feet from stumbling;
I will walk before the Lord in the land of the living.
What shall I render to the Lord for all His benefits to me?
I will lift up the cup of salvation and call on the name of the Lord!
I will offer to You the sacrifice of thanksgiving and call on the name of the Lord.
Praise the Lord!"
03 | CREATE SILENCE
Host:
"Now let's create a few moments of silence. Palms up. Eyes closed. Deep breath. Exhale. See yourself offering anything that's troubling you to God."
(Take 1–3 minutes. Break the silence with a a short prayer about God's love.)
04 | READ SCRIPTURE
Choose a child (if available) and another reader for this section.
Host:
"_________ & _________ will be reading our next passages of Scripture tonight."
Child (if available):
"For God so loved the world, that He gave His only Son, that whoever believes in Him
should not perish but have eternal life." (from John 3:16)
Reader:
"Tonight's Scripture reading comes to us from Psalm 13.
'How long, O Lord? Will You forget me forever?
How long will You hide Your face from me?
How long must I take counsel in my soul and have sorrow in my heart all the day?
How long shall my enemy be exalted over me?
Consider and answer me, O Lord my God; light up my eyes, lest I sleep the sleep of death, lest my enemy say, "I have prevailed over him," lest my foes rejoice because I am shaken.
But I have trusted in Your steadfast love;
my heart shall rejoice in Your salvation.
I will sing to the Lord,
because He has dealt bountifully with me.'
This is the Word of God."
Participants:
"Thanks be to God!"
05 | LIGHT THE CANDLE
Choose one person (a child if available) to light the fourth candle (pink) and someone to read.
Host:
"Tonight _____________ is going to light our last Advent candle before Christmas Eve. We've already lit the candles for Hope, Peace, and Joy. Tonight we light the Love candle."
In what ways has someone's love been given to you this week?" (Pause for responses.)
Reader:
"This passage comes from 1 John 4:7–12.
Listen for the biblical definition of love as I read these verses.
'In this the love of God was made manifest among us, that God sent His only Son into the world,
so that we might live through Him.
In this is love,
not that we have loved God
but that He loved us and sent His Son to be the propitiation for our sins.
Beloved, if God so loved us, we also ought to love one another. No one has ever seen God;
if we love one another,
God abides in us
and His love is perfected in us.'
This is the Word of God."
Participants:
"Thanks be to God forever."
06 | SING A SONG
Host:
"Okay, it's time to sing! You know the rules: sing badly if you must, but sing you must! This is a safe space for loud singing, so don't hold back!"
O COME ALL YE FAITHFUL
Participants:
O come, all ye faithful, Joyful and triumphant!
O come ye, O come ye to Bethlehem! Come and behold Him,
Born the King of angels;
O come, let us adore Him,
O come, let us adore Him,
O come, let us adore Him, Christ, the Lord!
Sing, choirs of angels,
Sing in exultation,
Sing, all ye citizens of heav'n above: Glory to God,
all glory in the highest!
O come, let us adore Him,
O come, let us adore Him,
O come let us adore Him,
Christ, the Lord!
For He alone is worthy, For He alone is worthy, For He alone is worthy,
Christ the Lord.
07 | PRAY FOR ONE ANOTHER
Host:
"Let's take a moment to pray for one another. These don't need to be long, eloquent prayers. But let's lift one another up to God in prayer now."
(Ask for prayer requests, and allow time for everyone to pray who wants to pray.)
08 | CONSIDER THE FUTURE
Choose one person from your gathering for the final reading.
Reader:
"The purpose of this reading is to turn our hearts from what has happened and awaken our hopes for what is to come.
These are the words of Jesus in Revelation 5:1–11.
'Then I saw in the right hand of Him who was seated on the throne a scroll written within and on the back, sealed with seven seals.
And I saw a mighty angel proclaiming with a loud voice,
"Who is worthy to open the scroll and break its seals?"
And no one in heaven or on earth or under the earth was able to open the scroll or to look into it, and I began to weep loudly because no one was found worthy to open the scroll or to look into it.
And one of the elders said to me, "Weep no more!
Behold, the Lion of the tribe of Judah, the Root of David,
has conquered, so that He can open the scroll and its seven seals."
And when he had taken the scroll, the four living creatures and the twenty-four elders fell down before the Lamb, each holding a harp, and golden bowls full of incense, which are the prayers of the saints. And they sang a new song, saying,
"Worthy are You to take the scroll and to open its seals,
for You were slain, and by Your blood You ransomed people for God from every tribe and language and people and nation,
and You have made them a kingdom and priests to our God, and they shall reign on the earth."'
This is the Word of God."
Participants:
"Thanks be to God forever."
09 | PRAY A FINAL PRAYER
Host: "Let's pray." (Pray a closing prayer.)
10 | PRONOUNCE A FINAL BLESSING
Choose a reader, a child if possible, to read the final blessing.
Host:
"We always like to dismiss our worship services by pronouncing a blessing on all who attend. This is an ancient priestly blessing from Numbers 6:
Reader (a child if possible):
"Now may the Lord bless you and keep you;
The Lord make His face to shine upon you and be gracious to you; The Lord lift up His countenance upon you and give you peace."
Host:
"Thanks for worshipping with us tonight."
[END OF CANDLE-LIGHTING LITURGY]

Downloadable Resources
Advent Week 4 – Daily Advent Worksheet