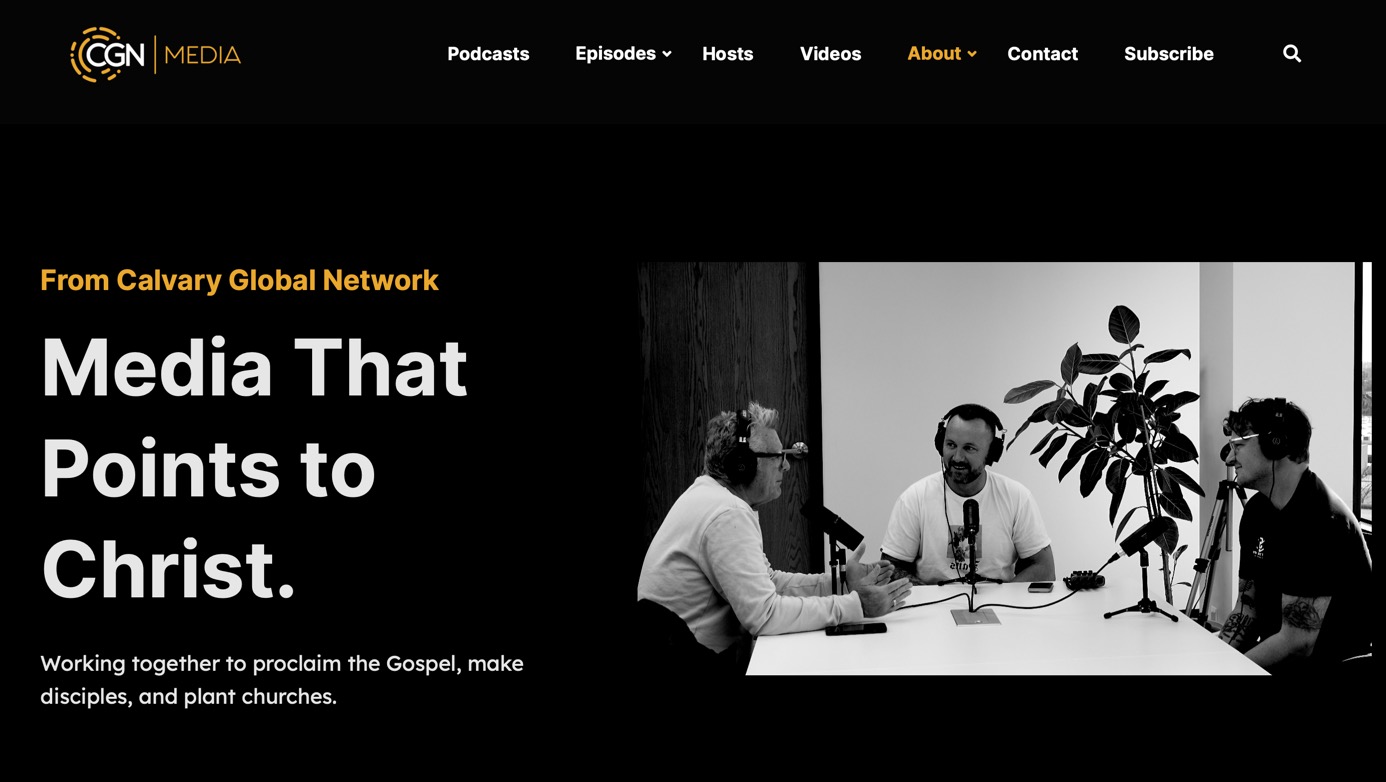 Introducing CGN Media!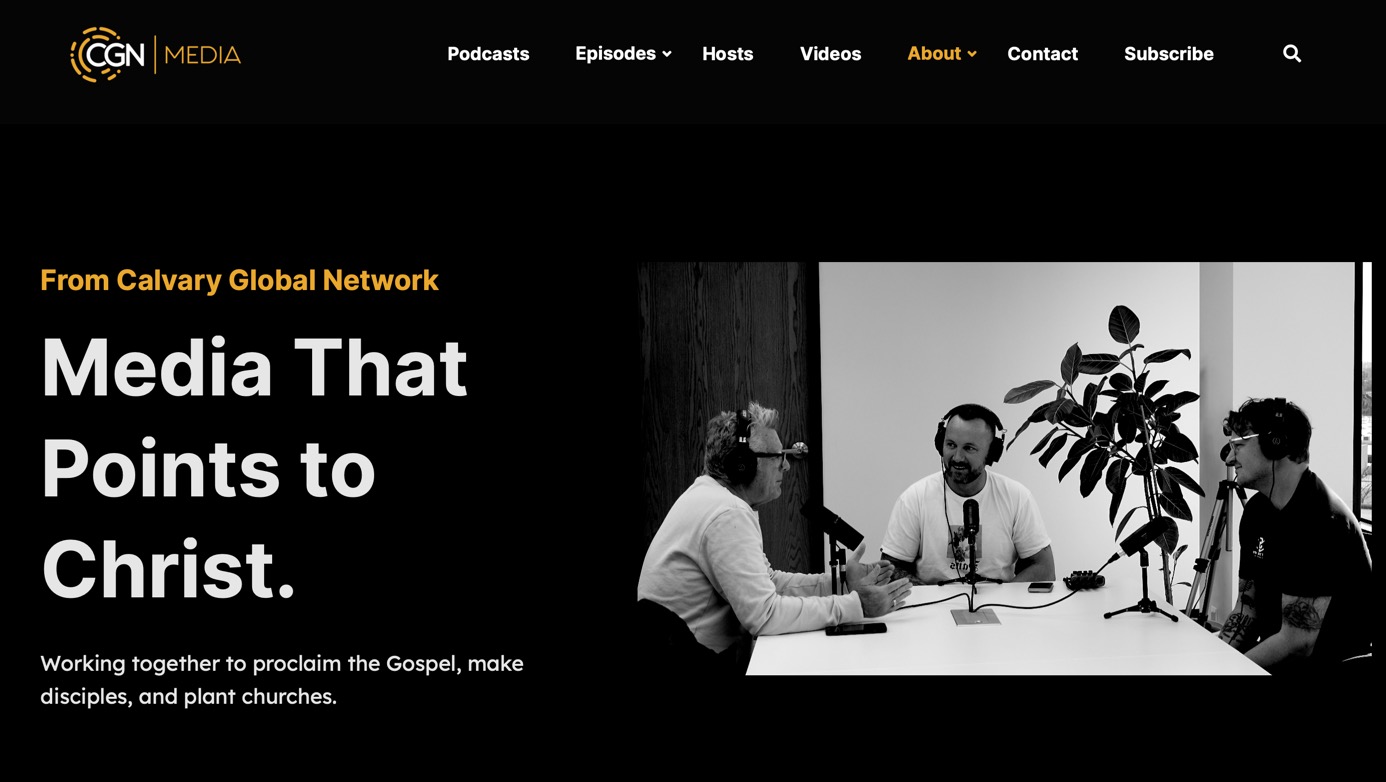 We're excited to announce an exciting change: CGN's "GoodLion Podcast Network" is being re-branded as CGN Media, the new home for podcasts, videos, music (coming soon), and other great content from Calvary Global Network.
Our mission is to produce excellent and inspiring content that encourages and equips our audience to proclaim the Gospel, make disciples, and plant churches. We've partnered with pastors and leaders throughout our network of churches to create a wide variety of high-quality shows that center on Christ and His Kingdom.
We firmly believe that the best content is not "content for the sake of content," but rather, quality work created with the intention of enriching the lives of our listeners and providing a platform to share the love and Way of Jesus with the world.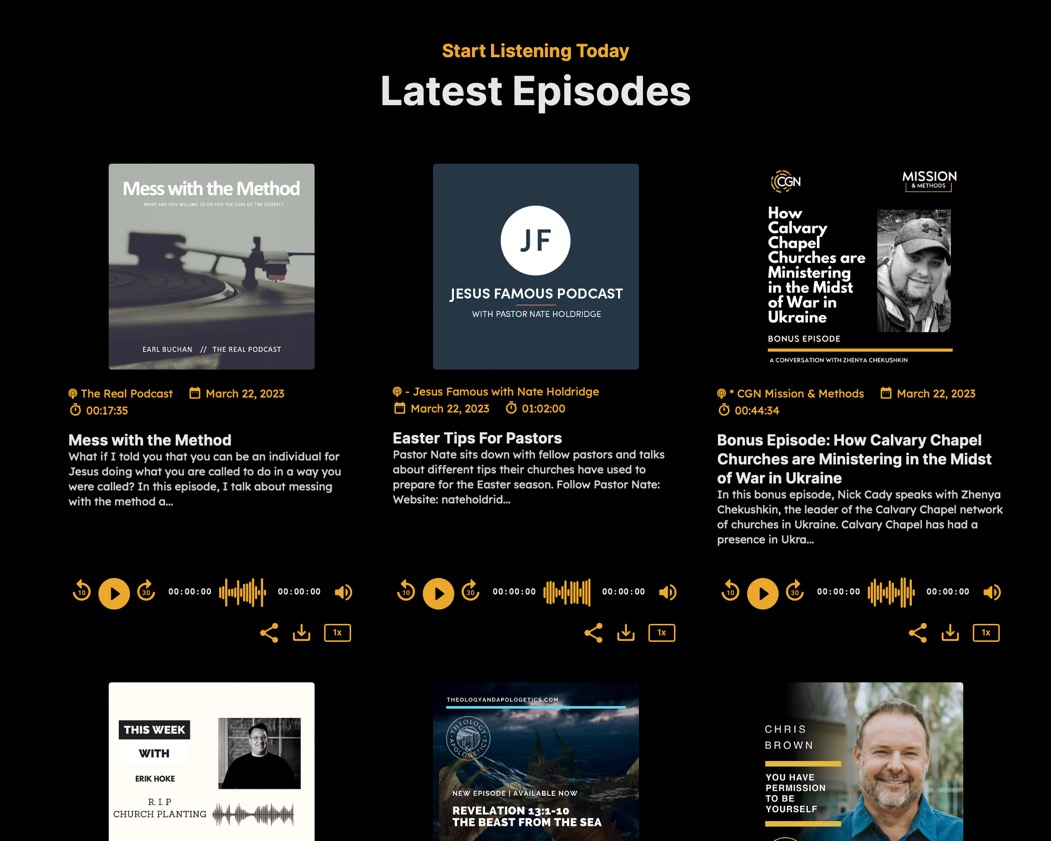 We've got tons of great podcasts for you to listen to! Check out the "latest episodes" feed on the home page!
Our Theology and Culture category features in-depth discussions on theological concepts and the intersection of faith and culture. We believe that understanding culture and its relationship to faith is critical in helping Christians navigate the complex and ever-changing world we live in, learn how to be cultural missionaries, and grow deeper in their understanding of the Kingdom of God.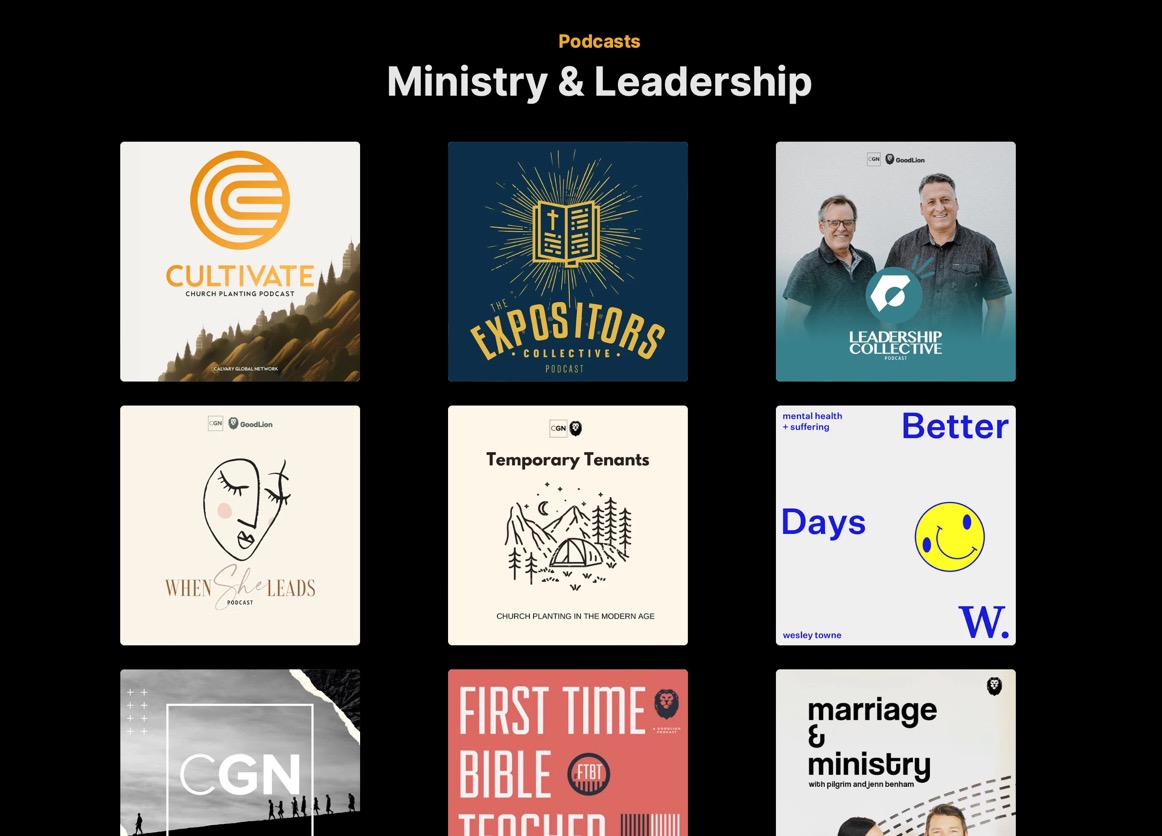 Our Ministry and Leadership category is designed to help pastors and church leaders hone their skills and become better equipped to lead their congregations. This category includes shows that focus on practical skill sets like preaching and church planting, as well as shows that provide practical advice and strategies around the vital topics of church leadershipand women in ministry. We even have shows that dive into specific concerns like mental health in ministry.
Our Christian Living category is designed to encourage and empower our audience to live their lives in a way that reflects their faith, and our Education and Questions category is perfect for those seeking answers to the deep questions of theology and apologetics. These shows provide biblical perspectives on current events and address common misconceptions about Christianity. Additionally, they equip believers with the knowledge they need to defend their faith.
A Little History
Pre-CGN, the CalvaryChapel.Com team worked together with Calvary Chapel Costa Mesa to produce a variety of video and podcast series, including the Things That Matter podcast. A few years after the formation of CGN, the GoodLion podcast network was built to cultivate more great shows within the network.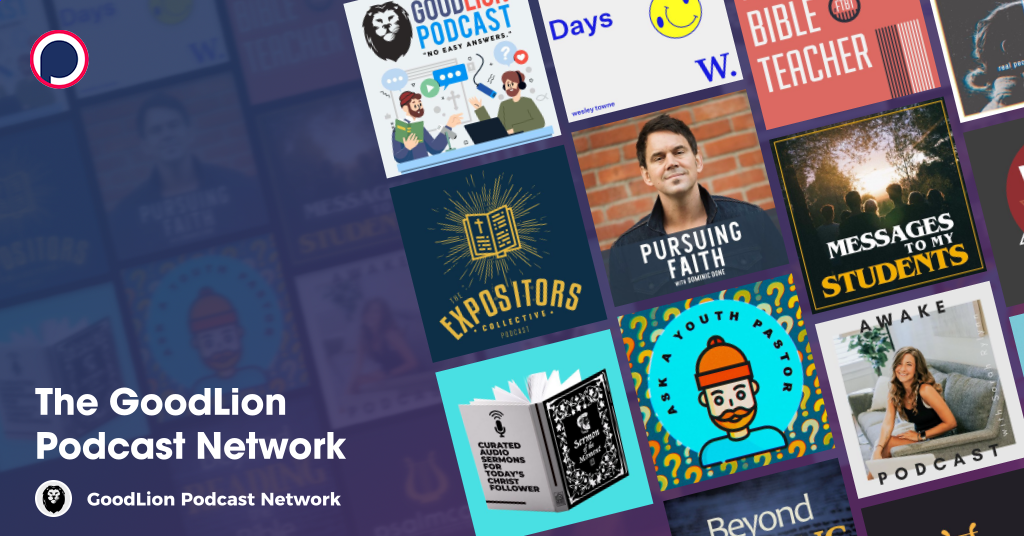 CGN Podcast & Content Director, Aaron Salvato, reflects on how it all happened. "The podcast network actually began in 2019 under the name GoodLion. It was a small indie network that I started with Brian Higgins, Mike Neglia, and a few others. Then CGN approached us about teaming up, and it's been an incredible journey! Since joining CGN and working together, we've grown to over 40 shows! It's been humbling and inspiring to see the fruit of our labor and hear how our shows are making a difference around the world."
With the move to CGN Media, you can expect nearly all of the same great shows that ran on GoodLion, with room to grow and expand. CGN is proud to collaborate with pastors and leaders throughout our network of churches to create content that inspires and encourages people on the path of discipleship. Our podcast network provides a platform for these leaders to share their wisdom and expertise with a broader audience, making a more significant impact for the Kingdom of God.
A New Platform for a New Season
We've decided to lean into our CGN identity and re-brand our podcast and media efforts. As the vast majority of our shows are from CGN leaders who are invested in the vision and mission of the network, it only makes sense to better emphasize the CGN brand.
Our new platform, CGN Media, will continue to feature shows produced by the CGN Ops Team and Executive Team, as well as other pastors and leaders throughout our network of churches. We believe that by streamlining our efforts under the CGN banner, we can create even more focused and impactful content that truly resonates with our audience.
At CGN, we're dedicated to creating high-quality shows that inspire and encourage spiritual growth, and we hope to build even more outstanding programs that touch people's hearts and inspire meaningful connections with God.
We believe that this shift will allow us to better serve our audience and community, and we're excited to see where this new chapter takes us.
What's Happening with GoodLion?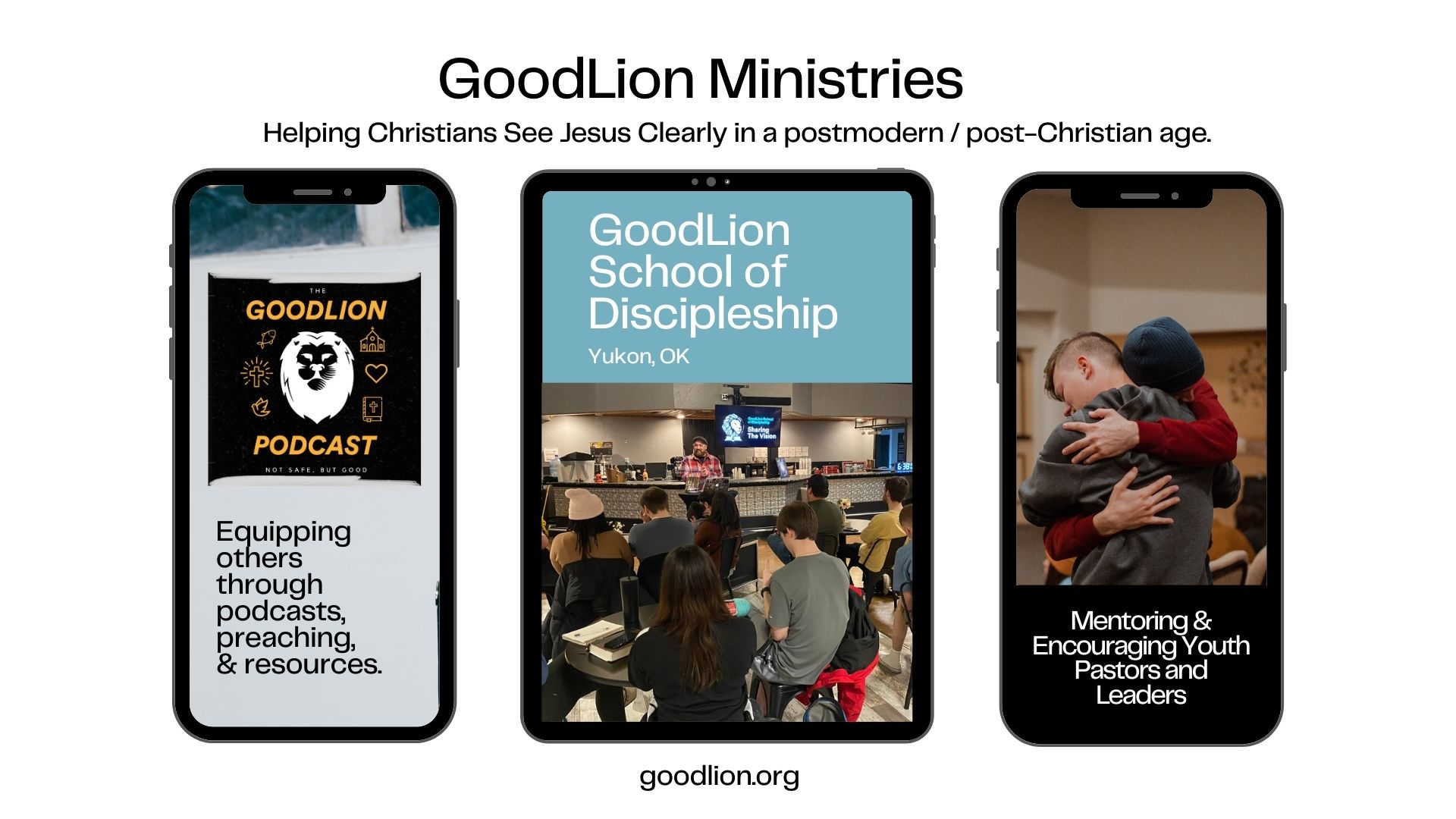 We're not discontinuing the GoodLion brand; rather, we're supporting Aaron and his team in their efforts to refocus it as less of a podcast network and more of a ministry within the CGN family.
"When we first started GoodLion, the goal was to create something that focused on pointing young Christians to the God who is not safe, but good, as C.S. Lewis describes Aslan in the classic Narnia quote," Aaron says. "The idea was to focus on helping people navigate complex and 'un-safe' topics like doubt/deconstruction and help them center on Jesus.
Over time, we saw that vision evolve from a podcast network to a full-blown ministry effort … it became more than just podcasts. It became a way for us to reach young people around the world, help churches through classes and workshops, and even included our most recent effort of establishing a small school of discipleship in Oklahoma to help local churches. We're incredibly grateful to CGN for all their encouragement and support throughout the history of the podcast network, and we're excited to see what this next chapter holds."
We're Excited about the Future
We're incredibly excited about the future of CGN Media and the impact it'll have on people's lives. We believe that our shows provide a unique perspective on Christianity and the world around us, and we're thrilled to share this perspective with our audience.
Our new website is designed to make it easy for you to find and access our shows. We've organized our content into categories to make it easier for you to find the shows that are most relevant to you. We're also excited to be branching out into video content, and we're partnering with YouTubers across CGN to produce Christ-centered content for our audience.
If you're a YouTuber who creates Christ-centered content and want to work with us, please get in touch. We're always looking for new partners to collaborate with and create exciting new content for our audience.
Helpful Links and More
Thank you for your support and encouragement as we seek to make a difference in the world. We believe that the content we produce has the power to inspire and encourage people in their faith journey, and we're excited to see how it'll impact the lives of our audience.
Check out our new website, and listen to some of our shows – we think you'll be glad you did!