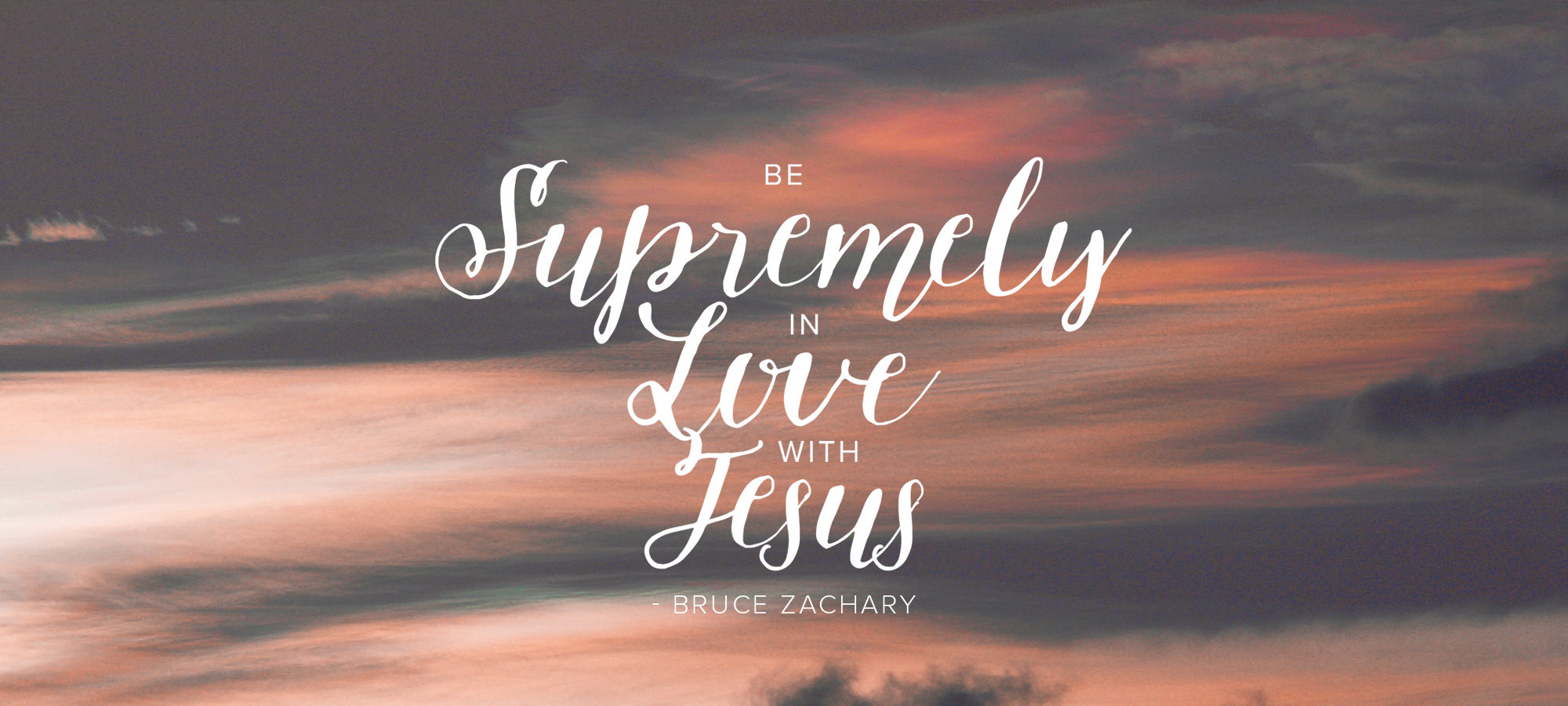 Have you ever been in love? Have you experienced compelling, intense, strong feelings or emotions for someone? Have you yearned to spend time with someone because it felt so good to be in his/her presence?
Have you ever dreamt about spending the rest of your life with him/her? Have you ever eagerly anticipated reading a love note and wondered, what will he/she say?
I am passionately in love with my wife. I love to spend time with her. Being with her feels great to me. The twenty-five years that we've been married have been the best years of my life. And I don't want to imagine life without her. My wife assures me that she loves me too, but she has also confessed that there is another man in her life. She has no shame about it either. Furthermore, on more than one occasion, she has let me know that her feelings for Him are stronger than for me. Although the first time she told me I was upset, I've now come to accept that this is how it should be. It's not that we have some forward-thinking marriage; it is because we have an upward-thinking marriage. The man is Jesus. Jesus is the master passion of a disciple's life.
Jesus wrote a love note to the church at Ephesus [Rev. 2:1-7]. It was delivered through the Apostle John about thirty years after Paul wrote his letter to the Ephesians. It is a love note from a Man who appreciates the one He loves and offers abundant praise for her many good traits and behaviors. But He also confronts to the one He loves that she has drifted from Him. He wants her back because she is loved, and He urges her to return to her first love, because she needs Him, whether she realizes it or not. In essence, Jesus commends, corrects, and offers a cure.
The commendation
Jesus praises the church in verses 2-3, "I know your works, your labor, your patience, and that you cannot bear those who are evil. And you have tested those who say they are apostles and are not, and have found them liars; and you have persevered and have patience, and have labored for My name's sake and have not become weary." The church was commended for good works, steadfast faith, and sound doctrine. First, it is wonderful and encouraging to know that Jesus is aware of all that we do for Him. Second, the commendation is impressive. Any church that does good works to advance the kingdom, patiently endures through steadfast faith, and is known for doctrinal integrity is deserving of an accolade or two. What were the conditions that created such a praiseworthy assembly? We can attribute the health of the church to the legacy of great leaders connected to the church at Ephesus: Paul, Aquila and Priscilla, Apollos, Timothy, and the Apostle John. Undoubtedly, the church's passion to make disciples, develop leaders, and reach their world for Jesus influenced the commendation.
But I believe the clue that reveals the key to their commendation is found in the correction …
The correction
Jesus corrects them in verse 4, "Nevertheless I have this against you, that you have left your first love." First, I believe this is the clue that reveals why this church was praiseworthy. Because they loved Christ supremely, they passionately sought to advance His kingdom and remained steadfast during adversity. The love for Christ was kindled by the sound doctrine they received. And they sought to live (apply) the solid teaching, because they loved Christ supremely. Yet, the church was corrected for drifting from Jesus, "You have left your first love." First, love speaks to priority not chronology. They had made Christ their master passion, but over the course of time, other passions, unbridled objects of affection, had crept in. At first, the seemingly innocent flirtations of these other affections appeared harmless enough. There was still so much to commend about this sure union. But then the love letter is delivered, and we are gently confronted by the One who has loved us supremely. The One who not only knows our good works, but also knows our hearts better than we know our own. And unless we have become completely callous to this One whose love has been so compelling towards us, we are convicted if He delivers this letter to us.
Nevertheless the words not only bring conviction, but they bring comfort, even before we consider the cure. These words bring comfort to every disciple, because they confirm that there was a time when Jesus was the master passion of their life. It reveals that they are loved, and even though they have drifted, the One they have loved continues to love them supremely, and He wants them back. I am yearning to come back, and when I wonder how, I discover that He has made the way.
The cure
Jesus reveals the cure in verse 5, "Remember therefore from where you have fallen; repent and do the first works …" First, we are called to remember from where we have fallen. In essence, reflect upon a time in your life when you were supremely in love with Christ. What did it look like? Remember your passion for Bible learning. Recall how you read the Scriptures like you were reading a love letter from God and hanging on every word.
Reflect upon your prayer life, worship, sharing your faith, service, giving, and relationships with other believers. Second, we are called to repent. I need to change my thinking about God, my drifting from Jesus, and the reality of allowing other affections to obscure the One I'm committed to truly love. Then third, return and do the first works. When we return and do the first works, there is the depth of mature love. A passion that is distinct from the zeal of young love. A supreme love is that which has been nurtured through seasons of testing, discovery, and realization that no other love satisfies, like being supremely in love with Jesus.
Lifework
1. Describe a time in your life when you were supremely in love with Jesus.
2. Reflect upon your current situation. Have other affections obscured your love for Jesus? What might they be?
3. If Jesus is currently your supreme love: Rejoice. If Jesus is not your current supreme love, consider what changes you will make to return to Jesus.