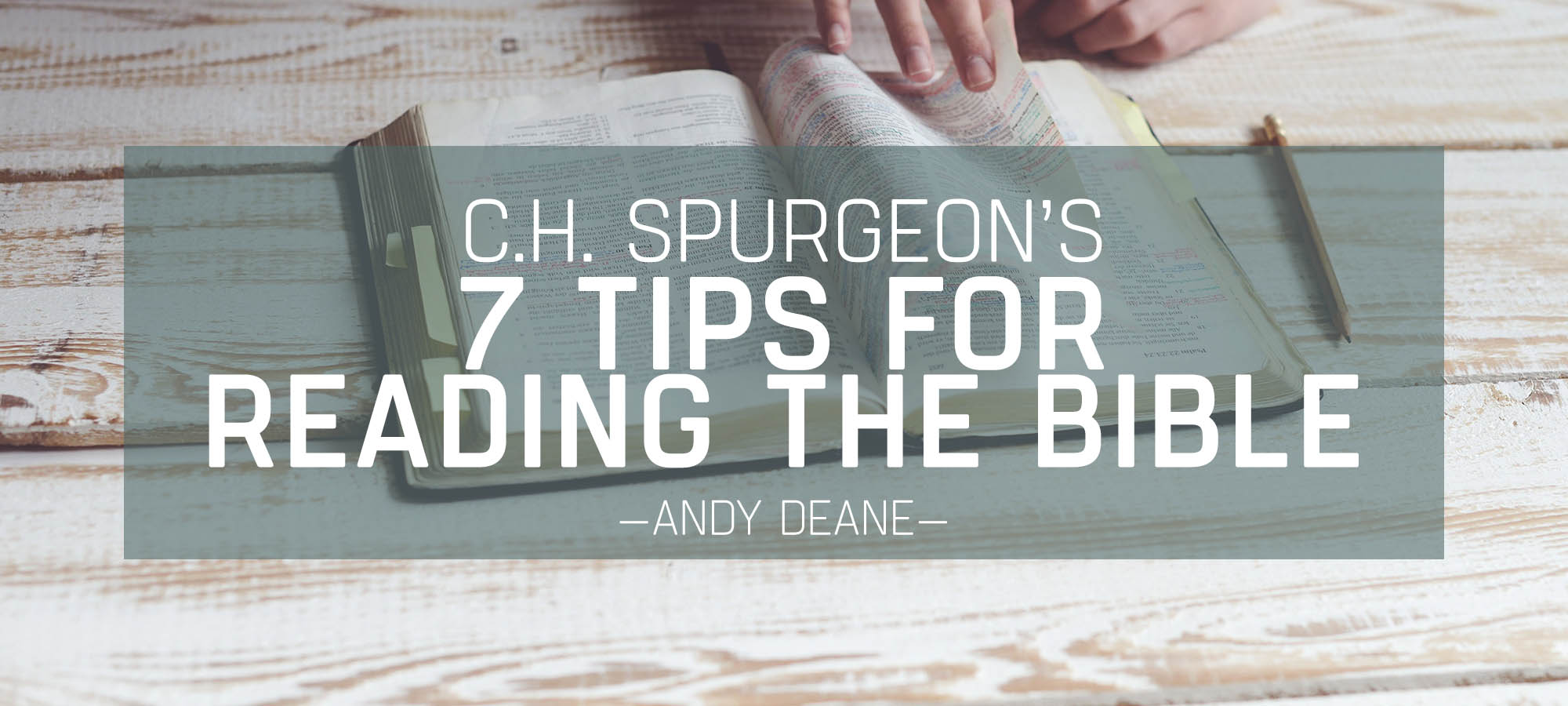 Most believers understand reading the Bible each day would be a great benefit to their walk with the Lord, and yet only a small portion develop such a healthy habit consistently. A recent Barna report stated, "About one-third of all American adults report reading the Bible once a week or more. The percentage is highest among Elders (49%) and lowest among Millennials (24%)." In fact, a LifeWay Research report supports this, stating, "The only time most Americans hear from the Bible is when someone else is reading it."
Maybe you're experiencing the same struggle. Do you feel like you just don't have enough time? Are you too busy? Is the Word just not enjoyable to you? As I explored in a previous post, studying believers from times past can help us overcome these obstacles. C.H. Spurgeon, a man who loved to devour the Scriptures as precious food for his soul, was another great encourager of the faith who gave the following seven practical suggestions for deepening our enjoyment of God's Word.
1. READ & DEPEND:
"Look up, reader! The next time the book is in your hands, look up before you open it—and while your eyes are running down the page, look up and ask that God would shine upon it!"– C.H. Spurgeon
It is of paramount importance that we do not "just" open our Bibles, read and close them. Jesus declared in John 14:26 that, "…the Helper, the Holy Spirit, whom the Father will send in My name, He will teach you all things…" We must depend on the Holy Spirit to illuminate the passage as we read. Offering a heartfelt request to God before, during and after we read is a necessary declaration of our dependence on the Holy Spirit to aid us.
2. READ & MEDITATE:
"For lack of meditation, the truth of God runs by us and we miss and lose it."– C.H. Spurgeon
Reading the Bible is a great start, but our souls are most nourished by mediating on the Scriptures. Much of King David's strength came from this practice of meditation. He revealed his heart when he wrote in Psalm 119:15, "I will meditate on Your precepts, And contemplate Your ways." We too must slow down and ask questions about what we are reading. If we fail to chew on the Word, then we may read too quickly and forget what we have read.
3. READ & APPLY:
"Do with the Bible as the sick man does with the doctor's prescription—follow it by personally doing what it bids you."– C.H. Spurgeon
James delivers a warning to believers when he wrote, "But be doers of the word, and not hearers only, deceiving yourselves" (James 1:22). True understanding of the Word leads to application of the Word to our lives through practical obedience. Changing our ways to follow His ways is how transformation begins. Ask God for the grace you need to repent and live according to His Word.
4. READ & PRACTICE:
"The world will learn better and will more likely be brought to know Christ when the lives of Christians are better, and when the Bible of the Christian life shall be more in accordance with the Bible of Christian doctrine!"– C.H. Spurgeon
As we begin to apply the Word privately, we must also look for opportunities to practice it publicly! The Apostle Paul didn't confine his ministry to letter writing or preaching in house churches alone. He wrote in Acts 20:20 that he, "…taught you publicly…"
5. READ & PRAY:
"A text is like a treasure chest which is locked—and prayer is the key to open it—and then we get God's treasure!"– C.H. Spurgeon
As we discover God's heart in the written Word, we can use the scripture as a conversation starter that encourages and builds our relationship with Him. Nothing breathes life into the Word more than prayer. The psalmist desires intimacy with God as he cried out in prayer, "Give ear to my prayer, O God, And do not hide Yourself from my supplication."
6. READ & TRY:
"If you even have a doctrine of God in your mind, find out the text or texts which prove it! If there should happen to be other texts which seem to point the other way, do not cut and pare any of them down, but accept all and wait until the Spirit reveals wherein they really agree! Scripture is not to fit your opinions, but your opinions to conform to the blessed word!"– C.H. Spurgeon
We are to examine our personal and cultural beliefs against Scripture to see if they represent a true and right way to live (Psalm 12:6). Test everything like the Bereans (Acts 17:11).
7. READ AND TELL OUT:
"When you read a passage of Scripture and have any enjoyment therein, go to your sick neighbor and tell what God has said to you." – C.H. Spurgeon
Being generous with what God has given you in the Word, it actually becomes a really effective way to help us remember God's Word each day. Find a way to share it with others, and you'll bless them and God (Romans 10:15). Make it a habit to discuss the Word with your family each morning or with your coworkers at lunch.
I've offered a brief synopsis of his ideas, but I encourage you to read all of his 150-year-old sermons. If you think these tips are helpful, take a moment now and write these seven concepts down in your Bible or journal, so that you can begin practicing them today.