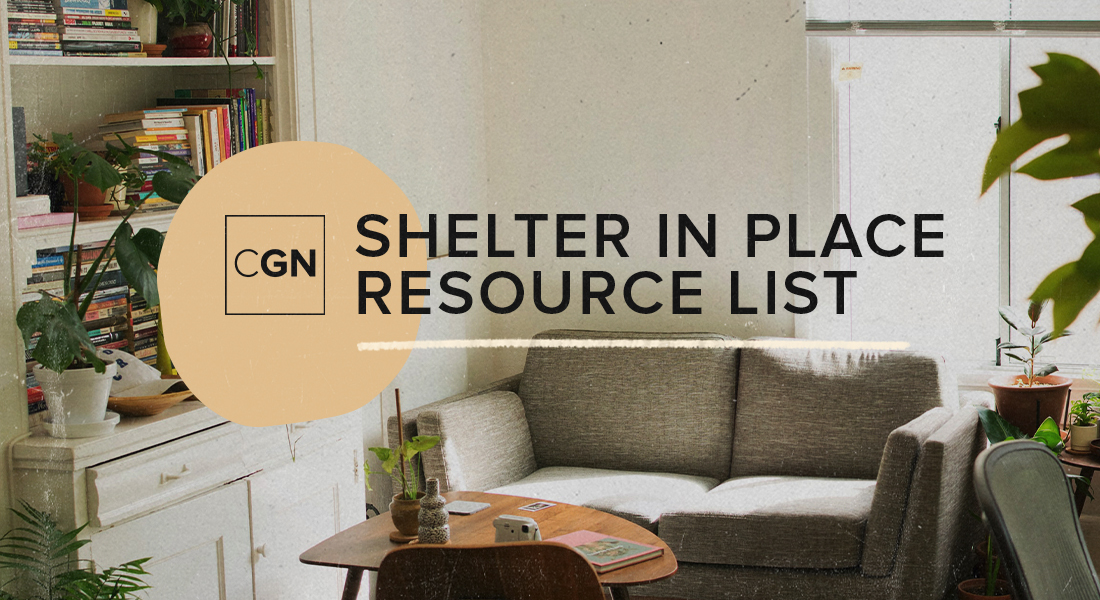 While many are under "shelter in place," lock-down, quarantine or self-isolation orders from their local governments, the team at CGN wanted to provide a list of resources to help encourage, educate, and edify you, your families and your churches. While many of us are still working from home, and some might be busier during this global crisis than we usually might be, we all are experiencing a dramatic increase in time at home.
The following is a list of resources we've compiled with the hope that your time away from your friends, family and churches can still be a time of connection, growth and fun. Check back often, as we will keep adding to the list as we find new, interesting things.
Church Resources
Below is a list of tools that some of our CGN network churches and friends have put together to support their local church members. These are free tools for personal or church use, but they can also be an inspiration for finding creative ways to care for the members of your local church.
https://cccm.com/?an=coronavirus-spiritual-toolkit – Calvary Chapel Costa Mesa has compiled a "Coronavirus Spiritual Toolkit" that includes sermons from Pastors Brian Brodersen and Chuck Smith, children's ministry resources and youth resources.
https://www.calvarysd.com/calvarykids – Calvary Chapel San Diego has created some great tools for children's ministry, including videos, worksheets, and projects.
https://www.youtube.com/channel/UCgCXbIYesAzrRsB8oLE7fZw – Pastor Riley Taylor of Calvary Fellowship in Seattle, WA, created a series of YouTube videos about social distancing and the Church.
https://cclasvegas.org/coronavirus-updates/ – Calvary Chapel Las Vegas has some great ideas/examples of some ways to reach your local community.
https://www.refugecf.com/covid-19 – Refuge Christian Fellowship in Santa Rosa, CA, also has some great resources and ideas/examples of ways to support & reach your church community.
https://www.parkhillsd.church – Park Hill Church in San Diego, CA, also has some great ideas on how to reach out to your church members.
News Resources
In a time of such fear and confusion, it's helpful to have a few places to go for updates that give data without the fanfare or partisan bias. Here are some reputable sites and tools where you can gain real-time data without the drama and find insightful articles relating to public health and safety.
who.int – World Health Organization
cdc.gov – Centers for Disease Control and Prevention
coronavirus.gov – The official US Government website for coronavirus information
Coronavirus Resource Center – Harvard Health Publishing's Coronavirus Resource Center
https://publichealth.lacounty.gov/media/Coronavirus/ – Los Angeles County Public Health – Great advice for individuals, health workers, workplace managers, etc.
https://coronavirus.jhu.edu/map.html – Johns Hopkins University School of Medicine has an excellent resource center featuring a live-updating global map and other tools charting the progression of the Covid-19 coronavirus.
Personal Resources
Here are links to some great resources to help pass the time, by yourself or with your family, without passing on the intellect. Below are links to free educational videos, free virtual museum tours, and some movie/TV recommendations.
Museum Tours
https://britishmuseum.withgoogle.com – The British Museum of History
https://www.louvre.fr/en/visites-en-ligne – The Louvre Museum
https://artsandculture.google.com/partner?hl=en – Google Art Collection from all over the world, including Musée d'Orsay, Paris, The Metropolitan Museum of Art, New York City, The J. Paul Getty Museum in Los Angeles, and many more.
https://www.museivaticani.va/content/museivaticani/en/collezioni/musei/tour-virtuali-elenco.1.html – 360º Virtual tours of The Vatican
https://artsandculture.google.com/partner/rijksmuseum – The Rijksmuseum of Amsterdam
https://www.uffizi.it/en – Uffizi Gallery, Florence, Italy
https://artsandculture.google.com/partner/national-portrait-gallery – The Smithsonian Institute's art collection
https://www.benaki.org/index.php?lang=en – Benaki Museum, Athens, Greece
https://www.youtube.com/watch?v=49YeFsx1rIw – A 5-hour, 1-take tour of The State Hermitage Museum in St. Petersburg, Russia.
https://static.museothyssen.org/microsites/exposiciones/2020/Rembrandt/index_in.htm?_ga=2.85457945.1634159812.1584550656-746559554.1584550656 – The Rembrandt Collection at the Thyssen-Bornemisza National Museum, Madrid, Spain
"Balenciaga and Spanish paintings" – A collection that presents pieces of art alongside designs by the famous fashion designer referencing these works.
https://tech2.npm.edu.tw/720vr/museumen/views.html – The National Palace Museum, Taipei City, Taiwan
https://www.nationalgallery.org.uk/visiting/virtual-tours/google-virtual-tour – The National Gallery, London, England
Movies/TV
The Bible Project – If you haven't explored the Bible Project's video catalog, these are incredibly accessible, insightful Bible overviews and lessons for the entire family. While they're entertaining enough to keep kids engaged, the theological depth of lessons is robust enough for pastors and seminary students.
The Chosen – The Chosen video series is an aggregated narrative of the synoptic Gospels. While some fictional liberties are taken, they are used to intertwine the setting and characters, and never twist or distract from the Biblical source material. Steam this from your smart device to your TV for a great cinematic experience with the family. If you purchase the first season, the proceeds go straight toward funding the next season.
A Hidden Life – This incredibly moving film is set in Austria amid the rise of Nazism in Germany during World War II. It is easily one of the boldest, most transparent movies on living a faithful, godly life to come from a secular studio in a long time. Tragic, somber, but hope-filled and powerful. Available for rent or purchase from Apple and Amazon.
Inn of the Sixth Happiness – This is a great, albeit dated film about missionary and hero of the faith, Gladys Alward, as she ministered in China in the 1930s and '40s. While the story receives the glamorizing treatment of 1950s Hollywood, it is still a great testimony of compassion and love amid cultural and political difficulty. Available for rent from Amazon.
We also have a tremendous backlog of great discussions on both shows produced by calvarychapel.flywheelsites.com:
Things That Matter – Discussions hosted by Pastor Brian Brodersen on culturally and theologically relevant issues.
Living Grace – Cheryl Brodersen interviews different women to discuss their lives, ministries, and testimonies of God's Living Grace.
Radio Theater
Family radio theater is a bit of a lost art form. Once the de-facto form of in-home electronic entertainment, the medium quickly gave way to television shows. On the one hand, TV added to family entertainment by combining the audio experience with a visual companion. But it also removed the opportunity for imagination to fill in the missing visual stage. While I'm a huge advocate for reading books out loud to your kids (which the radio should not replace), I also love how engrossing stories become (even for my youngest ones) when compelling books, masterful actors, and top-notch production come together through our living room stereo. You can stream these radio plays and dramatized books to a smart tv or connected speaker from any smart device.
Most of the productions in this list are brought to life by Focus on the Family, who have done a masterful job of reinvigorating this form of family entertainment. Every radio production of theirs is top-notch. I encourage you to browse through their catalog here. Please note that while most of their offerings are available for instant digital download, some are CD-only, and require shipping time and cost. Below are a few of my top picks. Many are available via Apple and Amazon, but the prices are lower when purchased directly through Focus on the Family's website. However, if you already subscribe to Apple Music or Amazon Music Unlimited, search for these in the app, as they may already be available to you at no additional cost.
The Screwtape Letters – Andy Serkis, of Lord of the Rings fame, provides the voice of Screwtape, the diabolical demon tasked with instructing his young nephew on the nuances of oppressing Christians. A classic story penned by C.S. Lewis, this production is both an entertaining and insightful gaze into spiritual warfare and the tactics the enemy employs. Available here, on Apple and Amazon.
Oliver Twist – The classic Charles Dickens book about the life of an orphan boy, touches on themes of compassion, corruption and redemption. Available here, on Apple and Amazon.
Bonhoeffer: The Cost of Freedom – A dramatization chronicling the life of German theologian and modern martyr, Deitrich Bonhoeffer. Available here, on Apple and Amazon.
The Chronicles of Narnia – Beloved by audiences young and old, the classic epic from C.S. Lewis is a literary masterpiece. The series can be purchased as a set or as individual volumes. Clocking in at over 22 hours, this will be a fun one to chew through with the family for many nights. This is an abridged version, so if you don't want to skip any details, the books are highly recommended. Available here, on Apple and Amazon.
The War of the Worlds – Based on the H.G. Wells sci-fi classic, this production stars Orson Welles as the radio announcer tasked with announcing the news of an ensuing Martian invasion. This show is an RKO Radio production from 1938, and the production has a much more archaic quality than the previously listed, modern Focus on the Family productions, but its a classic in its own right. While intended as pure radio-drama fiction, many of the listening audience mistook the broadcast as actual news of a real emergency. While there's hardly any danger of us falling into the same error as the audience of 1938, this is still a fun, (at one time) modern retelling of a victorian era imagining of an alien invasion. Available for free on YouTube here (audio only, as this was a radio broadcast), on Apple and Amazon.
This list will keep growing, so keep checking back.