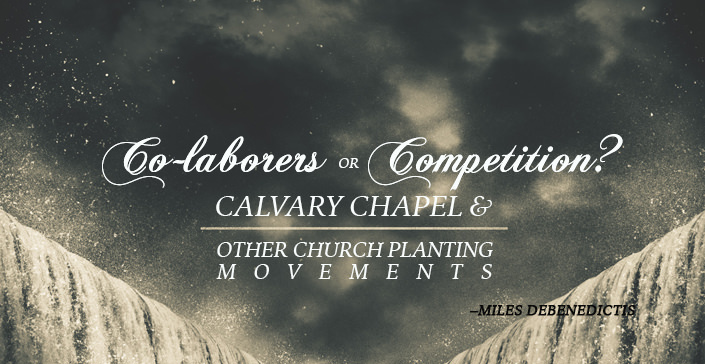 Like it or not, when something you've done for a long time becomes the mainstream, you are not viewed as the trendsetter, but just another "band-wagoner".
You may well have been born and raised a Seattle Seahawks fan, but if you wore the hat or jersey while they were sailing through the playoffs toward the championship last year, you were labeled a band-wagoner. It's just the way it is.
You may have liked Pectoralz when no one knew who the band was. It may have bothered you when they changed their name to Starfish. But once they had hits and toured under their final name, Coldplay, you were just another lame follower.
Calvary Chapel was all about church planting when it wasn't hip.
In fact, Calvary Chapel didn't even know that they were identified as a church planting movement, because they weren't planning to, or trying to be a church planting movement. But they became just that by simply doing what Jesus commissioned His disciples to do!
Today church planting is the cool thing among young American Christians. In the last decade, dozens of books have been written and nearly every denomination or group has their own opinions, positions and conferences on the topic. It's mainstream. But one of the unfortunate hazards for early followers and fans is they are inclined to become disgruntled when their thing becomes the thing.
In a nation such as ours, given to extreme excesses, there is one thing that America could use a lot more of- churches! We, as a family of churches, cannot succumb to the temptation of being irritated that others are now engaged in the work of propagating the Gospel through church planting. Sadly, in the last several years that has happened among a vocal minority in our fellowship of churches.
Anyone who is not against you is for you.
In the Gospels, both Mark and Luke record that John came to Jesus and said, "Master, we saw someone using your name to cast out demons, but we told him to stop because he isn't in our group" (Luke 9:49 NLT). So many of us know the rest of the exchange, and our familiarity can sometimes cause us to gloss over the important application. Jesus said, "Don't stop him! Anyone who is not against you is for you" (Luke 9:50 NLT).
Redeemer, City to City, Verge, Sojourn, Exponential, Acts 29, Triangle, ARC, PLNTD, Kairos, Launch, Sovereign Grace, New Breed, Stadia, and Spanish River are not in "our group". Yes, some of them baptize babies, others have a less charismatic expression in worship, and nearly all of them hold differing views on eschatology, ecclesiology and polity (i.e. church government). But they're definitely not against us, so may it be that God blesses them as He blesses us in the work of proclaiming the Gospel through church planting.