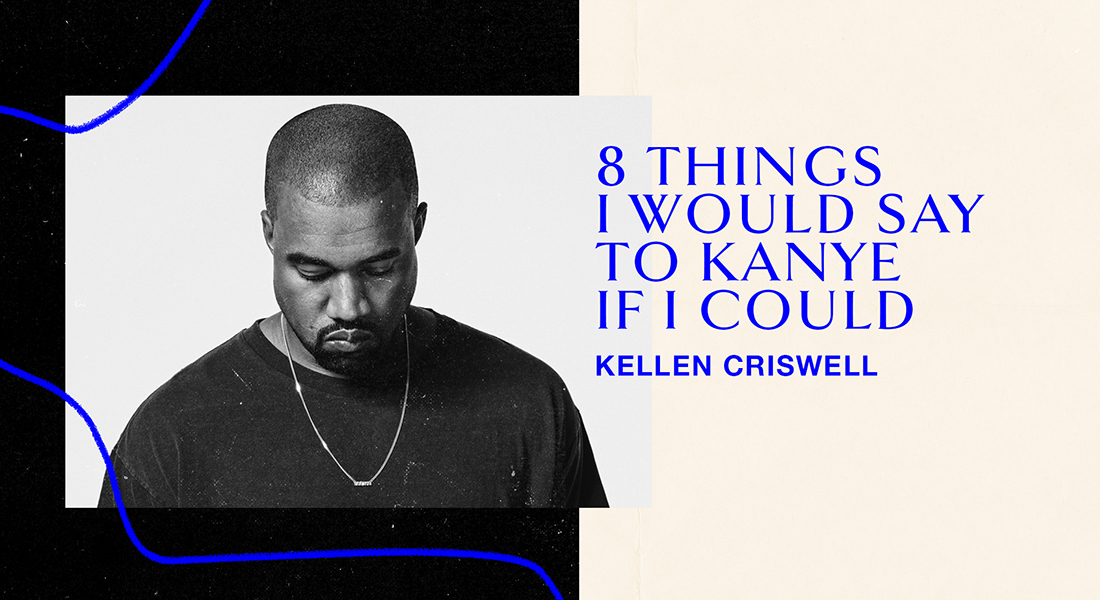 Dear Kanye,
Along with the rest of the buzzing world, I recently heard about your conversion to faith in Jesus. Like many, I was initially struck with curiosity. I wanted to find sources presenting you personally explaining what is going on in your life. As I did, my opinion is that the things you have been saying sound like what people should say when they have come to know and follow Jesus, according to the New Testament.
Next, I heard you dropped an album that is exclusively about your new faith and intended to drive others to become followers of the biblical Jesus as well. I checked it out and was really encouraged by the lyrical content, and I enjoyed it very much from a musical/artistic perspective.
What I really want to talk about, though, has to do with the ways people are responding to your faith and some important stuff to consider at this moment of change for you. What caught my attention most in responses to your public statements about conversion to Jesus, and the content of your new album, is the suspicion and doubt that has been cast on you from professing Christians (though people who are not professing Christians have also doubted your sincerity in all of this). This line from, "Hands On," on your new album, particularly grabbed my heart as I listened to it for the first time:
"What have you been hearing from the Christians?
They'll be the first one to judge me
Make it feel like nobody love me"
Sadly, as I survey the internet, it is clear that those lyrics reflect your genuine experience in the wake of your public profession of faith in Jesus. In light of this, though I likely never will, I want to share a few things I would want to say to you at this important moment:
1. You're in Good Company
You stand in a long line of genuine followers of God who have been met with suspicion and rejection while walking in the path God has for them. Two of the most notable are Jesus Himself and the Apostle Paul. When Jesus came to be the gospel to humanity, "He came to that which was his own, but his own did not receive him" (John 1:11, NIV et al). When Paul tried to join the community of Jesus' people (the Church) after he met and became a follower of Jesus, church people were scared and skeptical and said stuff like, "I have heard many reports about this man and all the harm he has done… Isn't he the man who raised havoc…?" (Acts 9:13a, 21a). Luke, the guy who told this part of Paul's story in the New Testament book called Acts, said peoples' hesitance was rooted in fear: "He tried to join the disciples, but they were all afraid of him, not believing that he really was a disciple" (Acts 9:26).
Beyond suspicion and rejection from God's people, Jesus and Paul also had other more important things in common, most of all the approval and support of God the Father. In addition, Paul also had a couple Christians who were willing to embrace and encourage him in his new faith, even in the face of what seemed to be an overwhelming response of doubt from the Christian community (Acts 9:27-28).
My hope for you at this crucial time in your life is that you would have patience with the doubters while finding encouragement and community in your God and those Christians who are ready to embrace you and help you down the path of spiritual maturity that is before you.
2. Be Patient with Your New Friends & Family
When you became a follower of Jesus, you didn't just get a new God, but a new family (1 Peter 2:9-10; Hebrews 12:22-24). You are now part of a global, multicultural, multiethnic family of people, from every tribe, tongue and nation, and from every culture and social strata (Ephesians 2:12-13; Galatians 3:28; Revelation 7:9). The most important thing we have in common is Jesus and His plan and message of reconciliation (Romans 1:16-17). Local churches are full of non-Christians, new Christians, cynical and jaded Christians, suffering Christians, thriving Christians, good theology and bad theology, true Christ-likeness and gross hypocrisy, victory and defeat. You will fit nicely into each of these circles at different times while you walk the path of your new faith.
What I would encourage you to remember as you struggle with yourself, and with the conduct of others, is that we are all midstream in a life-long, slow-cook process of personal transformation, from the inside out (2 Corinthians 3:18; 2 Peter 1:5-8). God is remaking us all to be more and more like Jesus in our affections, emotions, thought patterns, words and actions (Romans 8:29). It would be nice if this happened automatically when we first believed in the Jesus of the Bible, but it doesn't. Welcome to the journey. But while we are on this journey together, all of us are going to be hypocrites from time-to-time, and we will need God to give us un-human levels of patience for each other in the process. You will be disappointed by how slow the process of change unfolds in yourself, and in others at times. Who is doing the transformation (God), and the inevitable certainty of it (Phillippians 1:6), is our collective hope, and source of mutual humility (Ephesians 4:2).
3. Be Patient with Your Historic Friends & Family
Something that many people go through when they first meet the true Jesus is they get what we call, "zealous" (i.e. hyper-passionate, stoked). They want to tell everyone they know about the Jesus they have met. This zeal is a good thing, but it often gets expressed in spiritually immature, condescending tones, words and actions. Some have called this, "the cage fighter stage," of coming to faith. These well-intended but misguided ways of interacting often lead to the early experiences of our faith that we end up feeling embarrassed about later in our life with Jesus.
It will be important to remember that the things God has used to draw you to Himself are kindness, truth and love, not the arrogance, judgmental posture or condescension of professing Christians (John 3:16; Romans 2:4). Honesty about Jesus with others is essential. However, sharing His message in humility, patience and love will help you avoid the unnecessary burning of relational bridges. God wants to use relational bridges in your historic friendship groups, community and family to reach them as well. So while you stoke the fires of your new zeal to tell the world about the true Jesus, do what Paul said and, "Let your conversation be always full of grace, seasoned with salt, so that you may know how to answer everyone" (Colossians 4:6).
4. Keep the Real Standard Straight
There are probably some Christian leaders in your life you have already begun to value and look up to in special ways. This is a good thing. However, it is important to understand early on that even the most reputable, helpful Christian leaders will fail us. The Apostle Peter's story in the New Testament is a great example of this if you haven't checked it out yet (Luke 22:31-34; 54-62). It is important that you learn how to value and glean from Christian leaders, but that you do not get them confused with Jesus in the process. Otherwise, when (not if) they fail you, your faith can get twisted because your hope and expectations in human leaders were already twisted. Look to Jesus and His Word for the true standard and pattern of faithful Christianity and Christian manhood. In Him, you will never be disappointed (1 Corinthians 11:1; Hebrews 12:1-3).
5. Develop Tight, Christ-centered Friendships
All followers of Jesus simultaneously stand alone before God (Galatians 6:5), and as one of a large community before God (Acts 2:42-47). One of the most important things for you to develop at this transitional moment in your life is a small band of vulnerable, Jesus-loving Christians, who are committed to each others' well-being and growth (Hebrews 10:24-25). You need a crew of friends and mentors who are committed to helping each other love, serve and be transformed by Jesus, to journey with throughout the rest of your life. We all need these kinds of tight, Christ-centered relationships. I encourage you to pursue these kinds of relationships with people who display the following characteristics:
• They love the gospel of the grace of God (Ephesians 3:7)
• They know you best (Phillippians 2:22)
• They love you most (and in authentic humility, Galatians 6:2-3)
• They are not afraid to say things you don't want to hear (Colossians 3:16)
• Their motive is always your restoration (Galatians 6:1)
6. JESUS Really is King
I love the name of your new album, "Jesus is King." It is true! That truth needs to shape our hope for humanity and be the hope for global peace we point people toward. Your relationship with Jesus has ramifications in every sphere of life, including politics. However, what God is doing in your life and in His world is not dependent on politics or politicians. Partly, I say this because I have learned that you feel it is important to publicly declare your political perspectives and support for certain politicians. I would never take that away from you, but it is important to remember that Jesus is the only One who is going to bring this world into a state of absolute peace, goodness, harmony, wholeness, etc. (Revelation 21:1-5). But He will do it through the work of His Spirit, gospel, people and direct presence, not primarily through legislation and human political authority. The relationship between your faith and politics is something you will have to work out for the rest of your life. What is most important is where we place our emphasis and ultimate hope. I hope you will continue to focus on loving and promoting the gospel, ways and works of Jesus, knowing He is going to take care of the rest.
7. Stay Immersed in the Gospel
The gospel message is beautiful, simultaneously simple and profound. Every day we need to remind ourselves that Jesus lived a perfect human life on our behalf. He never sinned or messed up in any way at the level of desire, imagination, thoughts, attitudes, words or actions. He died the death we deserved to die. He rose from the dead, which we could never do, defeating death for us. If we know and have embraced Him, we are no longer guilty in His eyes, but innocent. We are no longer shamed, but our honor is restored before the eyes and kingdom of God. We no longer need to be enslaved to fear, but we are filled with power to truly change and overcome the evil we encounter on the inside and around us.
Kanye, all of this is part of the good news of the gospel you have believed. And there is much more to the gospel than what I have said here. But what I want to say is the gospel is not Christianity 101, which you will now move beyond into deeper and better things in your faith. The gospel is forever the motivation, fuel and hope of your relationship with God, personal transformation, peaceful and authentic human relationships and future. Please spend the rest of your life dwelling deep in the implications of God's love for you in the life, death and resurrection of Jesus, and that organizing principle for life will bring all other things into proper orbit (Romans 16:25; 1 Corinthians 15:1-2).
8. Welcome to the family.