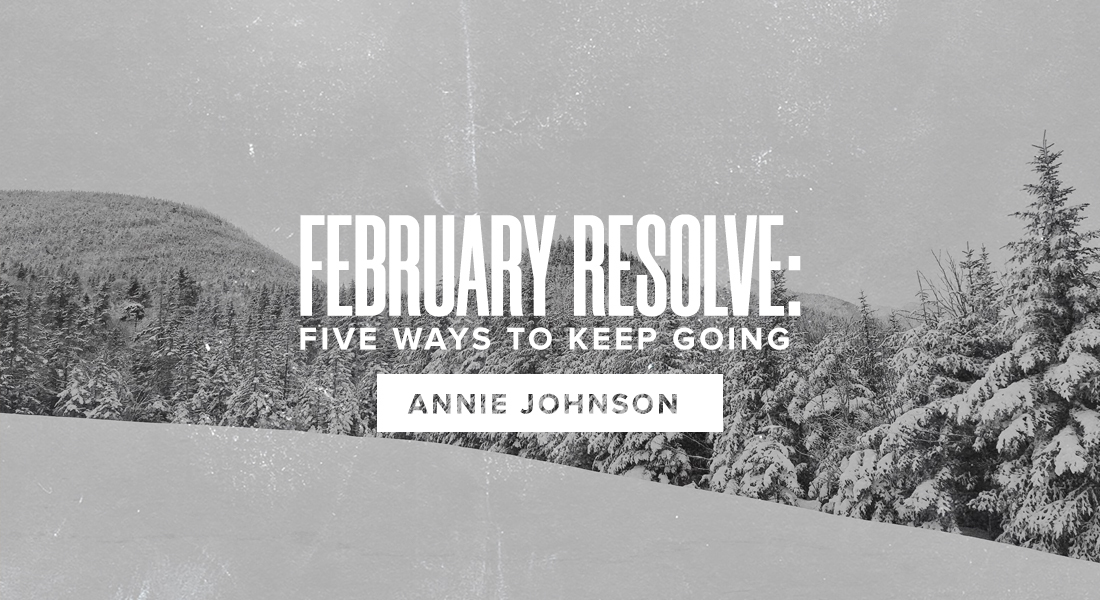 I went for a walk along the banks of a small river on New Year's Eve Day. It was snowing, and the forest was absolutely beautiful. It brought new life to my soul, and everywhere the path turned I found new inspiration and wonder. I returned to the same place a couple weeks later, on a bitterly cold, grey day, and it was dull, predictable and covered in treacherous ice. The snow was old, the way was rough, and I had to look harder for beautiful details. I didn't stay very long.
On that initial walk, I lingered long, and resolved to come back on a daily basis. But reality set in: the early setting sun restricted my time, the bitter cold and icy paths made a long walk less inviting, and the fact of the matter is that I only visited that place twice this winter.
Today I'm thinking about resolutions and how we so eagerly begin things, and how quickly reality dampens our brightest hopes and reminds us that it's cold and dreary February, and springtime is a long way off. There comes a time in winter when hibernation seems like the most sensible coping mechanism; but, unfortunately, that isn't an option, and life must go on.
Why do we do new things?
It's worthwhile to concentrate our energy and focus; it's good to have goals and see them accomplished; it's encouraging to have a fresh start and a blank page. New things are good, but new things cannot always remain new. What do we do with them once they have lost their newness and we are left with yet another thing to do?
Proverbs 24:16 says that a righteous man may fall seven times and yet rise again; is this merely a matter of dogged perseverance? Partially, some people are gifted with a natural tenacity and stubbornness, while others must simply resolve to keep going. Sometimes we give more weight to the feeling of the experience than the doing of it (a lovely, snowy path versus a treacherous, icy path, for example). But I think this matter goes deeper than a person's willingness to bite the proverbial bullet and just do the thing.
Sustainability is something I've been seeking to cultivate in my own life in the past few years. This means I cannot commit to every new idea or opportunity that comes my way. Theoretically, I acknowledge that I cannot do everything, but only over the process of time am I learning to live my life in a way that includes fewer shocking changes and more thoughtful and faithful continuances. That's what I like about the righteous man in Proverbs 24. He continues. He goes forward. He finds the path again. He keeps going.
As I seek wisdom in choosing a sustainable way of life, the idea of Sabbath continues to arise. Rest and margin in my life are necessary if I'm going to "run with endurance the race set before me." This involves laying aside unnecessary burdens (a cause for consideration) and looking unto Jesus (let's not miss the Person we're running toward). [See Hebrews 12:1-2] The thing I love about Sabbath is that it's not about getting every last bit of work done and then allowing oneself to rest. It's inserting rest into the rhythms of our lives and regularly looking back to acknowledge what has been done, and that God is still good.
It can be a burden to see no end in sight of our responsibilities and resolutions; maybe not at first while the snow is still falling, but surely once the path is covered in ice and progress is slow, we begin to wonder if it's really worth it. So, here are some things which help me insert a Sabbath mentality into my life and to sustainably keep going in the things that matter.
1. Appreciate what has been done.
Our globalized society is progressing so rapidly that it's fairly common to feel left behind. There remains so much possibility ahead that we forget to pause and look back to appreciate how far we have come. This incorporates the Sabbath into our lives: the work will never be done, but we are set free to rejoice in life as it is. This applies to one another's lives as well: I have found great joy in telling others that I notice and appreciate when they are doing something well. "Good job," helps. So does, "Ta-da!"
2. Choose resolutions sustainably.
"Saying yes to one thing means saying no to many others, including the rest you may need," some friends counseled me recently. It feels so good to have a long list of exciting new things; it feels less good when we find ourselves drowning in commitments we do not have the energy to keep. I believe saying yes is important and vital. We cannot always say no. Keeping an ongoing conversation in prayer with God about our present and potential commitments is a practice in both wisdom and humility. Once we've chosen to say yes, let's ask Him for the grace to complete it well.
3. Be on the lookout for beauty and goodness.
In the midst of dreary February and settling routines, it's more difficult to find the feeling of new inspiration. This is the time to put on our "goodness glasses" and begin looking for the goodness of the Lord all around us. For me, that means walks outside every day, looking for springtime, enjoying the sunshine when it appears, noticing the days growing a bit longer, keeping a fresh flower in my house at all times. They need not be expensive or extravagant things, but a bit of fresh goodness can bring beauty and inspiration into a normal routine. Open eyes are able to enjoy.
4. The routine is not our enemy.
While I am a massive fan of newness, I also get a bit anxious when life is in upheaval due to travel, change, holidays, etc. I have lately come to love and crave a consistent routine. With constant change comes constant decision making; I find exciting seasons to be fun but not sustainable long term, as my energies are used in the moment and not in long term progress. Boundaries on our time and schedules create healthy confines in which we can find stability and make daily progress in the right direction.
5. Peace and thankfulness.
The Bible exhorts us to "let the peace of God rule in our hearts, to which we were also called in one body, and be thankful" (Colossians 3:15). Letting God's peace rule in my heart has practical implications in my life: taking a deep breath in between tasks, getting sufficient sleep and nutrition, recognizing my own limitations (a 12-hour workday is not sustainable on a regular basis for me), not multitasking, being present in the moment and situation where I find myself, caring about the person in front of me, etc. It's accepting that a day's work has been sufficiently done and trusting the Lord and going to sleep. It's also the process of giving thanks: especially at the end of the day, when I find myself unsure if I have made any progress at all, I am helped by making a concrete list of what has been accomplished or begun or continued, and also what beauty I've noticed.
Life keeps moving forward, and so shall we. The social experiment known as New Year's Resolutions has taught us, at the very least, that it is desirable to begin new things, yet difficult to sustain them. Now is a great season to reevaluate our commitments, look for the beauty in the normal routine and look unto Jesus as we keep on walking. It's a good time of year to rejoice. It's a good time of year to look back and see what God has already done and to take a deep breath and enjoy exactly where we are, and having done so, to go on.